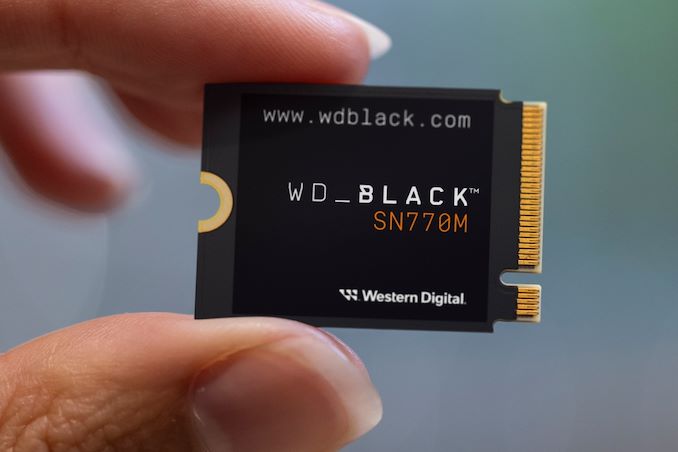 Western Digital has unveiled a compact version of its WD_Black SN770 SSD, tailored mainly for handheld gaming consoles such as the Asus ROG Ally and Valve Steam Deck. The WD_Black SN770M delivers the performance typical of a midrange PCIe 4.0 SSD, with support for features like Microsoft's DirectStorage.
As implied by its name, the WD_Black SN770M is built on the same platform as its larger counterpart, the WD_Black SN770. It offers comparable performance metrics: sequential read speeds of up to 5150 MB/s, sequential write speeds of up to 4900 MB/s, and random read/write IOPS of up to 740K/800K. While the SN770M's figures might not rival the latest PCIe Gen5 drives, keep in mind that these are compact SSDs designed for portable, heat and power-constrained consoles.
Western Digital WD_BLACK SN770M SSD Specifications
Capacity
500 GB
1 TB
2 TB
Model
WDS500G3X0G-00CHY0
WDS100T3X0G-00CHY0
WDS200T3X0G-00CHY0
Controller
SanDisk
NAND Flash
?
Form-Factor, Interface
Single-Sided M.2-2230, PCIe 4.0 x4, NVMe 1.4
DRAM
N/A
Sequential Read
5000 MB/s
5150 MB/s
Sequential Write
4000 MB/s
4900 MB/s
4850 MB/s
Random Read IOPS
460K
740K
650K
Random Write IOPS
800K
Avg. Power Consumption
? W
? W
? W
Max. Power Consumption
? W (R)
? W (W)
? W (R)
? W (W)
? W (R)
? W (W)
SLC Caching
Yes
TCG Opal Encryption
No
MTTF
1.75M Hours
Warranty
5 years
Write Endurance
300 TBW
0.33 DWPD
600 TBW
0.33 DWPD
1200 TBW
0.33 DWPD
MSRP
$74.99
$109.99
$219.99
Western Digital does not disclose what specific controller is or NAND is used in most of their drives these days. Notably, the company already offers an PCIe Gen 4 M.2-2230 drive for OEMs, the SN740, which lists the same performance specifications. So the SN770M may just be a retail redress of the SN740. Which, given how popular the SN740 has been as an aftermarket upgrade for the Steam Deck, it's more surprising that WD wasn't already selling a version of that drive in the retail market.
In terms of storage capacity, the WD_Black SN770M is available in 500 GB, 1 TB, and 2 TB variants, mirroring what its larger sibling provides. Given that both the Asus ROG Ally and Valve's Steam Deck ship with no more than 512 GB of storage, the 1 TB and 2 TB options present a substantial upgrade.
The 1TB model, priced at $109.99, is available exclusively through Western Digital's online store and Best Buy. In contrast, the 2TB version is sold only at Best Buy for $219.99. Currently, the 500 GB model is available for $74.99 from Western Digital's online store, as well as other e-tailers, retailers, and resellers. All these drives come with Western Digital's five-year limited warranty.
The M.2-2230 form factor was primarily developed for SSDs powering ultra-thin laptops, which typically don't demand top-tier performance. While there are indeed high-performance SSDs with the M.2-2230 form factor, most aren't designed for gaming systems. This makes it challenging for owners of portable consoles like the ROG Ally or Steam Deck to upgrade to a more advanced SSD. With the introduction of the WD_Black SN770M, Western Digital offers a retail solution tailored for gamers, blending solid performance with gaming-centric features, a combination rare in M.2-2230 drives.
Source: Western Digital