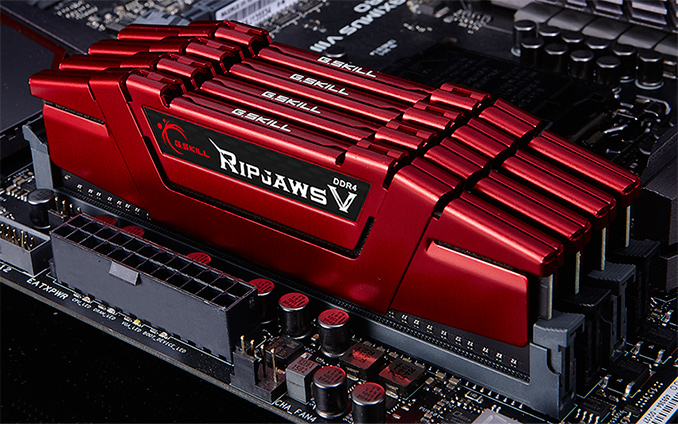 An average personal computer nowadays is equipped with 8 GB or less of DRAM, according to analysts from DRAMeXchange. Due to the requirements of Microsoft Windows 10 operating system, 8 GB may be enough for general-purpose computing. But there are PCs, particularly at the high-end desktop and workstation level, which need a lot of memory either for software, computation, RAM disks or even RAM caches to the point where motherboard manufacturers are now including such software in their bundles. To fulfill demand from owners of high-end desktops, Corsair and G.Skill this month unveiled their 128 GB quad-channel DDR4 memory kits consisting of eight DRAM modules.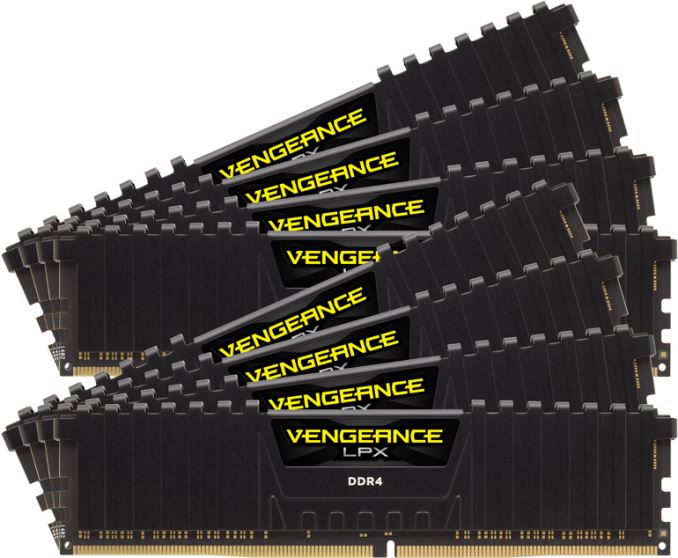 Corsair and G.Skill's 128 GB DDR4 memory kits are rated to run at 3000 MT/s per pin data-rate (DDR4-3000) and are subsequently designed for Intel's X99 platform where the quad memory bus allows for up to 96 GB/s of bandwidth with 4 or 8 DIMMs. These quad-channel kits consist of eight 16 GB unbuffered memory modules, which are based on 8 Gb DRAM chips made by Samsung using its 20 nm fabrication process. The memory sticks fully support Intel XMP 2.0 SPD profiles and can automatically set their clock-rates when installed into appropriate PCs.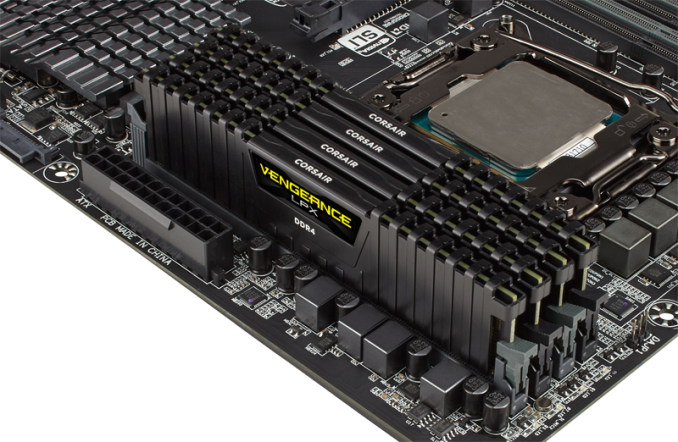 Corsair's Black Vengeance LPX 128 GB DDR4-3000 memory kit comes in with CL16 18-18-36 latency settings as well as the higher specification 1.35 V voltage for DDR4. The modules are equipped with black aluminum heat-spreaders to aid with cooling. Corsair also supplies their Vengeance Airflow cooling system, a removable 40mm fan cooling bracket, with the kit. Corsair's Black Vengeance LPX 128 GB DDR4-3000 kit costs $1174.99 without tax and is currently available from the company's online store with the official name of CMK128GX4M8B3000C16.
Meanwhile G.Skill's Ripjaws V 128 GB DDR4-3000 set of DRAM modules for high-end desktop features surprisingly low latencies of CL14 14-14-34, as well as the higher 1.35V voltage. G.Skill's Ripjaws V memory come with black or red aluminum heat-spreaders, and we assume these kits also come with extra fan cooling similar to G.Skill's other high end kits. G.Skill's Ripjaws V 128 GB DDR4 memory kit will be priced at $999.99 when it becomes available later this month under the SKU name F4-3000C16-16GVK.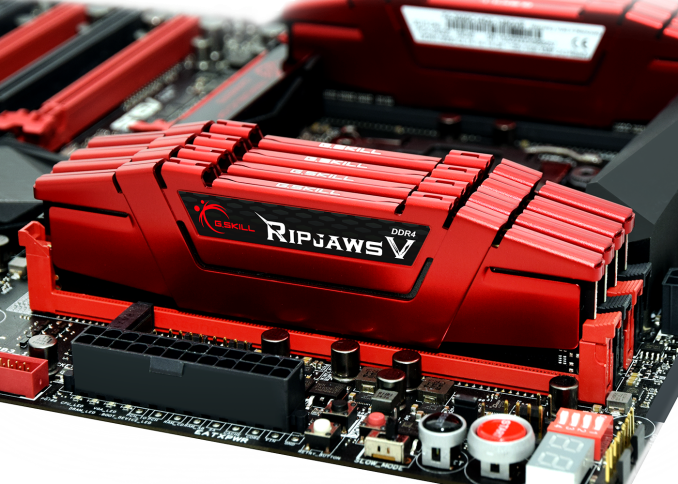 It is noteworthy that despite of more aggressive timings and potentially higher real-world performance, G.Skill's 128 GB DDR4 memory kit costs less than Corsair's 128 GB DDR4 set of modules. The two companies are addressing a relatively small segment of the market with their 128 GB DRAM kits, hence, the competition between Corsair and G.Skill is inevitable. The reason for the high price for both kits comes down to binning - the ICs used for these are typically sold by the IC manufacturer as a certain bin (e.g. DDR4-2400 low voltage) and then they are individually tested by the memory stick manufacturer to fit within certain frequency ranges. At DDR4-3000 C14 for example, the process of testing might only produce one memory kit per 10000 ICs tested (educated guess) - and then the modules have to be tweaked to ensure they run together. We always recommend buying a single kit for a PC, especially of high speed memory, because the modules are designed to work together, whereas two separate kits hold no guarantee, especially if the secondary and tertiary sub-timings are close to the grain (typically these are slightly loosened for larger kits).
At present both Corsair and G.Skill market their 16 GB DDR4-3000 memory modules as solutions for overclockers because highest JEDEC data rate validated by Intel's Haswell-E processors is 2133 MT/s. As JEDEC's DDR4 memory standard supports data-rates up to 3200 MT/s, eventually we might see high-speed 16 GB+ memory sticks becoming normal for workstations with memory speed-limited workloads.
Source: Corsair, G.Skill