Introducing the Acer Aspire V5-171
With all of the coverage we've done of ultrabooks in recent months, it's easy to forget that the big vendors are still out there plugging away with more basic, fundamental designs. Intel has expanded the definition of "ultrabook" enough that most consumer-grade systems being made available still fall into those categories, but ultraportables still bear a pretty substantial premium. At the same time, tablets coupled with the persistently dire performance of Atom have turned netbooks into a virtual flash in the pan.
There's a gap in the market that vendors like Acer, HP, and ASUS are quietly serving, though. It's clear from the way netbooks took off that consumers are interested in a small, inexpensive, portable notebook with just enough performance, and that's something you're not getting with ultrabooks. As you're going to see today, there's a lot to be gained if you're willing to sacrifice a little bit of Z-height. We have the Acer Aspire V5-171 on hand today. Acer is asking just $550 for an 11.6" notebook featuring an Ivy Bridge i5 ULV chip and 6GB of RAM, so what's the catch?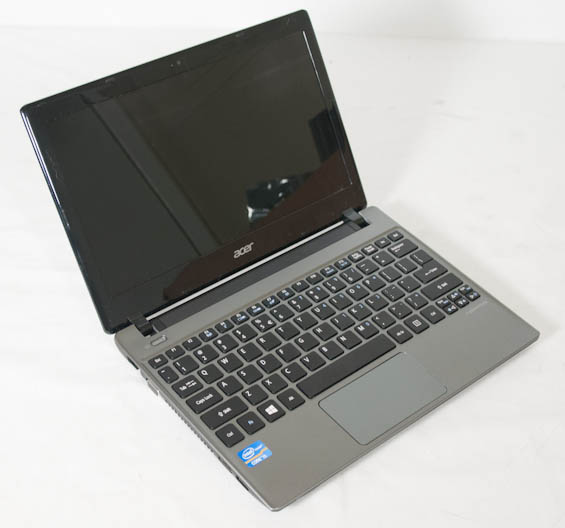 As it turns out, there's a little more to today's review than the introduction let on. I was personally looking for a portable notebook to replace my aging Lenovo ThinkPad X100e, something that was still about three pounds but wasn't going to choke if I asked it to play something light like Quake Wars or Duels of the Planeswalkers 2013. Something that could play back the 1080p AVCHD from my video camera when I'm out doing videography, and in a perfect world, something that had Quick Sync.
Last generation, Acer had a promising little notebook with a similar shell to the Aspire V5-171 that featured a Sandy Bridge Pentium ULV processor for a little over $400, and that struck me as being a pretty incredible deal for a market that's been forced to deal with overpriced Brazos-based notebooks. Brazos may have a decent GPU on paper, but it's horribly limited by its CPU performance. As it turns out, Acer refreshed that line into the V5-171.
Acer Aspire V5-171 Notebook
Processor
Intel Core i5-3317U
(2x1.7GHz + HTT, 2.6GHz Turbo, 22nm, 3MB L3, 17W)
Chipset
Intel HM77
Memory
4GB Nanya DDR3-1333 + 2GB Nanya DDR3-1333
Graphics
Intel HD 4000 Graphics
(350-1050MHz, 16 EUs)
Display
11.6" LED Glossy 16:9 1366x768
AU Optronics B116XW03 V2
Hard Drive(s)
Seagate Momentus Thin 500GB 5400-RPM SATA 3Gbps HDD (7mm)
Optical Drive
-
Networking
Broadcom NetLink Gigabit Ethernet
Qualcomm Atheros AR5BWB222 802.11b/g/n
Bluetooth 4.0
Audio
Realtek ALC269 HD Audio
Stereo speakers
Combo mic/headphone jack
Battery
4-Cell, 37Wh
Front Side
SD/MS Flash reader
Right Side
Mic/headphone jack
2x USB 2.0
AC jack
Kensington lock
Left Side
Ethernet port
D-SUB
Exhaust vent
HDMI
USB 3.0
Back Side
Battery
Operating System
Windows 8 64-bit
Dimensions
11.22" x 7.95" x 0.82-1.09"
285mm x 202mm x 20.95-27.35mm
Weight
~3.05 lbs (1.38kg)
Extras
720p HD webcam
Flash reader (SD/Mini SD, MS/Duo/Pro/Pro Duo)
USB 3.0
Warranty
1-year standard warranty
Pricing
$549 MSRP (on Amazon for $499)
What jumped out at me with the Aspire V5-171 is that it's actually a pretty robust machine for the money, and would be considered so even if it were a larger notebook. There are three models in this line readily available in retail; the one we have on hand is the middle model and probably the best deal depending on your perspective. Ours comes with an Intel Core i5-3317U low voltage processor based on Intel's Ivy Bridge architecture, sporting a nominal 1.7GHz clock speed and able to turbo up to 2.6GHz on a single core. It also benefits from Intel's HD 4000 IGP and QuickSync, and I'll talk about just how useful that actually winds up being later on.
Attached to the i5-3317U's memory controller is a fairly generous 6GB of DDR3-1333 split into a 2GB DIMM and a 4GB DIMM, and handling storage duties is one of the first places you can really see costs get cut: a pokey 500GB, 5400-RPM mechanical hard disk. Acer opts for a 7mm model to keep the Z-height down, but this is still essentially the weak link. You could argue that the display is also poor, and you'd be correct, but again, this is a budget notebook and the low resolution is more forgivable on an 11.6" panel.
Pleasantly, though, Acer shores up connectivity options well. The V5-171 features 802.11b/g/n courtesy of Qualcomm Atheros, Bluetooth 4.0, a gigabit ethernet port, two USB 2.0 ports, a USB 3.0 port, HDMI, and VGA, all alongside an SD card reader.
As I mentioned before, there are two models flanking our V5-171-6422 in the market. You can get this notebook at about $100 cheaper if you bump down to a Sandy Bridge i3 and 4GB of RAM. For users that aren't going to need any CPU horsepower and aren't planning on using the IGP much, if at all, the i3 model is certainly a great deal. Losing 2GB of RAM isn't that bad, but I think the Ivy Bridge i5's turbo, increased IPC, and vastly superior IGP are worth the $100 difference.
The other flanking model is impossible to recommend, though. Fully $200 more expensive than our review unit, the V5-171-9661 only gets an upgrade to 8GB of DDR3 and an i7-3517U. $200 for 2GB of DDR3, an extra 200MHz on the CPU, and 100MHz on the IGP is a much harder sell than the generational jump you get from going from the Sandy Bridge i3 in the junior model to the Ivy Bridge i5 in our model.