Even though Cooler Master and Thermaltake are two very different companies and very different brands, they compete in similar markets and much like Corsair and my waistline, they're expanding and solidifying their product lines.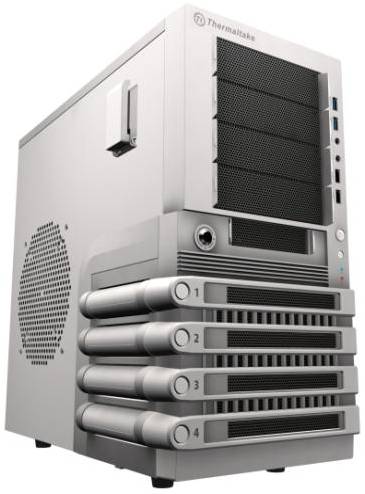 Thermaltake showed off a Level 10 GTS enclosure designed almost exclusively for boutiques and OEMs who wanted the cachet of the Level 10 brand without the expense associated with it. At this point the Level 10 GTS is starting to feel so close to a regular ATX case that it may be worth giving up the ghost entirely, but it's still a fairly compelling product we hope to review soon. They also had the Armor Revo enclosure, with a hard disk dock on the top and integrated card reader, on display. In the midst of those enclosures, they continued to strengthen their Thermalttake Sports peripheral line with new keyboards (one of which we have on hand), mice, and headphones, and their ToughPower power supply line has seen mild refreshes (bumps in wattage and efficiency.)
Meanwhile, Cooler Master had some bigger fish to fry. They showed off a prototype heatsink with two vertical vapor chambers along with a stack of heatpipes, but the big push was on the Cosmos II, a massive 50 pound enclosure we'll be reviewing within the next week or so.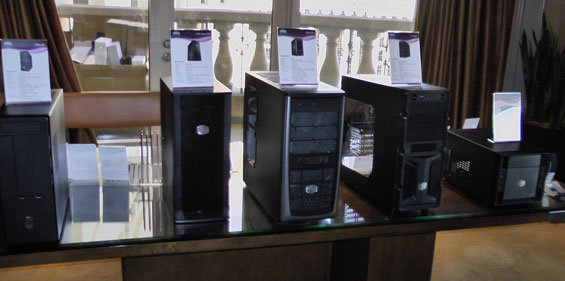 The Cosmos II is a beast, but the more budget oriented enclosures were actually very compelling. One of my personal favorites, the Elite 360, is getting an upgrade, and they also showed off an enclosure targeted to internet cafes that features no 5.25" drive bays and a single 3.5" bay, producing a monolithic but shallow case that I found particularly interesting. Finally, the HAF lineup is going to see a couple of updates over the course of the year and we'll be reviewing those as they surface.
Cooler Master also continues to produce peripherals, but they're beginning to fold their Storm brand back into the standard Cooler Master label. They had a series of mechanical keyboards on display alongside gaming mice, tablet accessories (stands and keyboards), and power supplies, but the vapor chamber heatsink and enclosures are going to be what you want to look forward to in the coming year.