Over the past year we've had the pleasure of testing more and more SilverStone enclosures, but the case and power supply designer is not content to rest on their laurels. We had a chance to check out what's to come when we visited their suite at CES.
First, if you were a fan of the oddball FT03 like I was, SilverStone had on display a Mini-FT03. Essentially an even smaller version, the Mini-FT03 supports a Mini-ITX board, SFX power supply (not included), and features two expansion slots. Side panels snap on instead of sliding on (a problem with the bigger FT03), and the whole enclosure is cooled by a large 180mm intake fan at the bottom.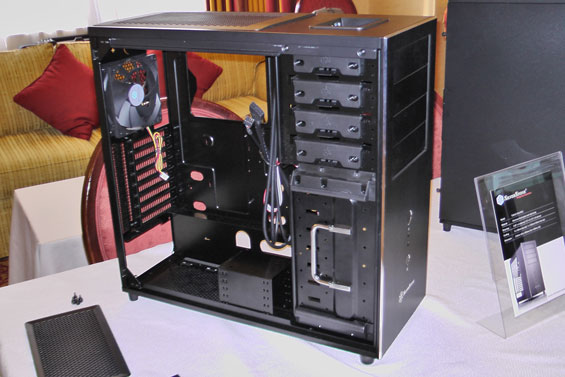 They're also introducing a new Temjin TJ04, a fairly standard-looking (at least at first glance) ATX enclosure that has more than a few tricks up its sleeve. While most ATX enclosures pay lip service to using a bottom-mounted intake, the TJ04 seems tailored for it. SilverStone includes removable drive cages, and the enclosure is supposedly able to support up to nine hard drives and five SSDs: more than most users will ever need. Finally, there's a side intake built in designed more to deflect cool air off of the hard drives and through the rest of the tower.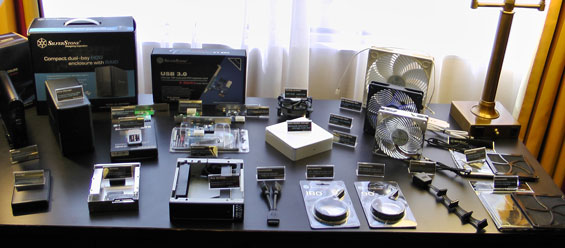 SilverStone's usual gamut of accessories were also in attendance, along with a faster, more powerful 180mm Air Penetrator fan and an updated USB 3.0 card with the new NEC Renesas chip that promises increased performance.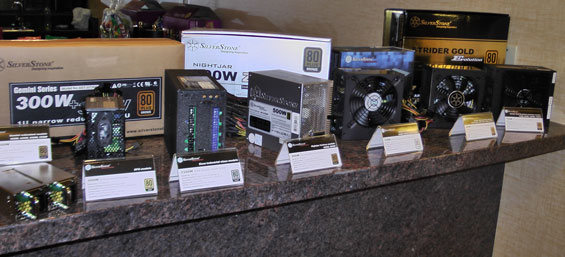 Finally, SilverStone continues to round out and toughen up their power supply line, but this year "thin is in." The ATX spec for power supplies is 140mm of depth, but modern power supplies routinely exceed that, usually hitting at least 180mm or longer. While there was a 1.35kW power supply on display, the more impressive units were the Strider Gold Evolution units that deliver 650 watts or better and maintain modular cabling connectivity while being just 140mm deep. SilverStone also now includes the Air Penetrator fan in their Strider Gold Evolution power supplies, reducing fan noise and improving cooling.