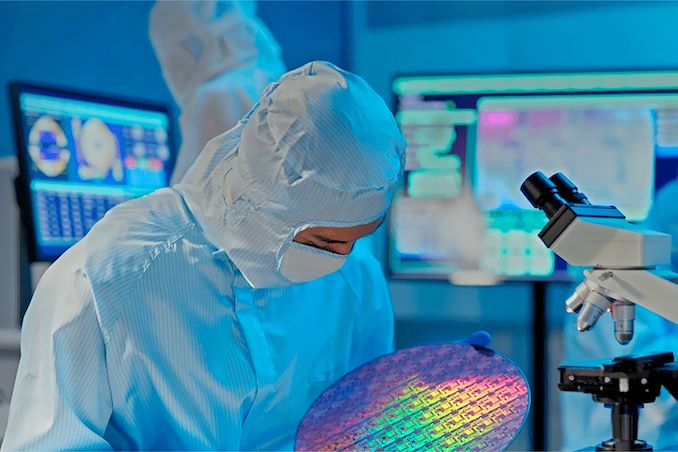 Tenstorrent this week announced that it had chosen to use Samsung's SF4X (4 nm-class) process technology for its upcoming low-cost, low-power codenamed Quasar chiplet for machine learning workloads. The chiplets will be made at Samsung's new fab near Taylor, Texas when it becomes operational in 2024.
Tenstorrent's Quasar chiplet is a new addition to the company's roadmap. Based on an image provided by the company, the chiplet is set to pack at least 80 Tensix cores based on the RISC-V instruction set architecture and tailored to run artificial intelligence workloads in a variety of formats, such as BF4, BF8, INT8, FP16, and BF16. Tenstorrent's Quasar's are designed to operate in groups and be paired with the company's CPU chiplets, so they are equipped with non-blocking die-to-die interfaces.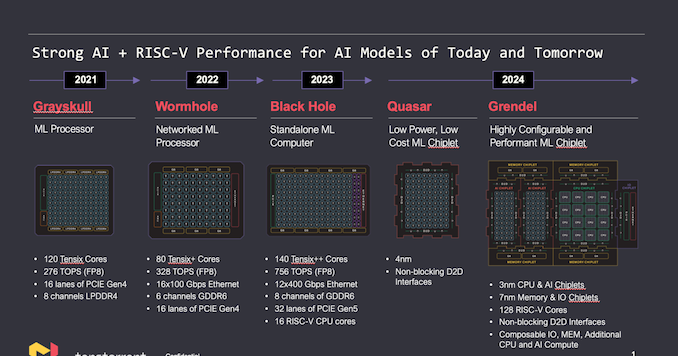 Samsung's SF4X is a process technology designed for high-performance computing applications. It is tailored for high clocks and high voltages to ensure maximum performance.
Tenstorrent does not disclose the estimated performance of its Quasar chiplet, but assuming that it has 80 Tensix cores, which is the same number as the Wormhole chiplet taking a 328 FP8 TOPS performance, we can probably make a similar estimate of the performance, considering that it is made using a performance-enhanced process technology.
Tenstorrent officially positions its Quasar chiplets as a low-power, low-cost solution for machine learning, so we can only wonder whether the company will try to squeeze every last bit of performance out of them or choose a different power strategy.
"Samsung Foundry is expanding in the U.S., and we are committed to serving our customers with the best available semiconductor technology," said Marco Chisari, head of Samsung's U.S. Foundry business. "Samsung's advanced silicon manufacturing nodes will accelerate Tenstorrent's innovations in RISC-V and AI for data center and automotive solutions. We look forward to working together and serving as Tenstorrent's foundry partner."
One interesting wrinkle about Tenstorrent's relationship with Samsung is that it recently secured $100 million in financing from various companies in a round co-led by Hyundai Motor Group and the Samsung Catalyst Fund. Hyundai and Samsung need AI processors in one form or another, so it is not surprising that their funds are invested in Tenstorrent. Meanwhile, and I am speculating here, the same applies to chipmaking, and Samsung may be interested in producing chips for Tenstorrent for strategic reasons.
Source: Tenstorrent