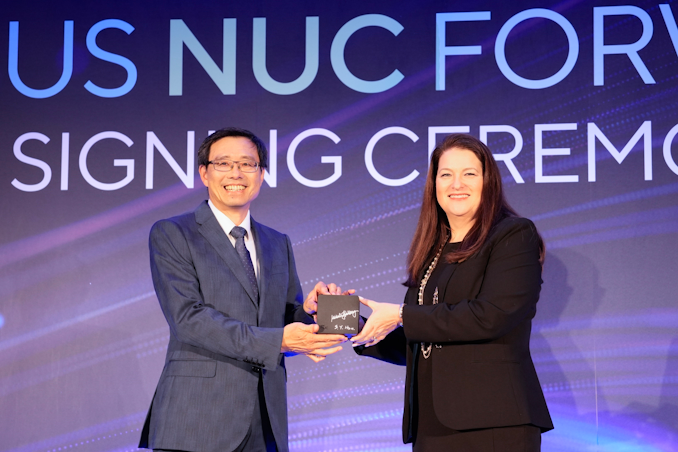 ASUS has formally acquired Intel's Next Unit of Computing (NUC) products based on Intel's 10th to 13th Generation Core processors. Asus is set to continue building and supporting Intel's existing NUCs and will, over time, roll out its own compact NUC systems for office, entertainment, gaming, and many other applications.
"I am confident that this collaboration will enhance and accelerate our vision for the mini PC," said Jackie Hsu, Asus senior vice president and co-head of OP & AIoT business groups, at the signing ceremony. "Adding the Intel NUC product line to our portfolio will extend ASUS's AI and IoT R&D capabilities and technology solutions, especially in three key markets – industrial, commercial, and prosumer."
Asus held a formal handover ceremony in Taipei and took control of the NUC product lines that span from business applications to gaming. With the acquisition, Asus instantly commenced business processes for the NUC range, ensuring a hassle-free transition for existing customers. Under the terms of the agreement, Asus obtained licenses for both Intel's hardware designs and software. This move widens Asus's operational scope in R&D and extends its reach in logistics, tech support, and numerous application areas.
Asus envisions broadening its NUC product line and distribution channels. The focus will remain on offering high-quality compact PCs with robust security and advanced technologies, which NUC is known for. ASUS also aims to produce eco-friendly NUC products while emphasizing impeccable service for its customer base.
"This is an exciting time for both Intel and Asus as we move forward with the next chapter in NUC's story," said Michelle Johnston Holthaus, Executive Vice President and General Manager of the Client Computing Group at Intel, who also attended the event. "Today's signing ceremony signifies more than just a business deal. It signifies ASUS' dedication to enhancing the lives of NUC customers and partners around the world. I look forward to seeing NUC thrive as part of the ASUS family."
It should be noted that Asus's Intel NUC license is not exclusive, so Intel may eventually enable other PC makers to build its NUCs. Though at this point, Asus remains the only licensee.
Source: Asus