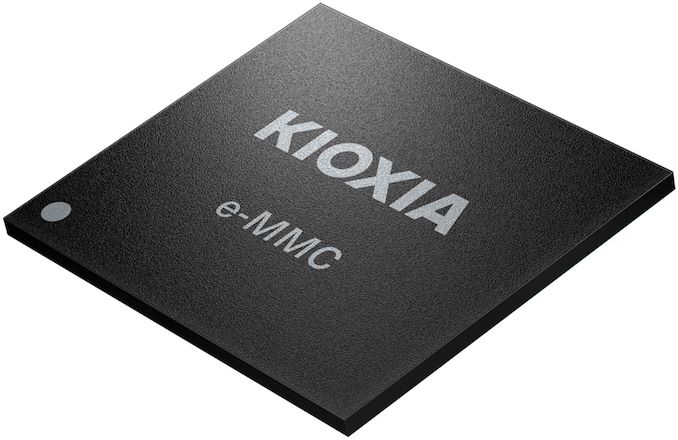 While the tech industry as a whole is well in the middle of transitioning to UFS and NVMe storage for portable devices, it would seem that the sun won't be setting on eMMC quite yet. This week Kioxia has introduced a new generation of eMMC 5.1 modules, based around a newer generation of their 3D NAND and aimed at those final, low-budget devices that are still using the older storage technology.
Kioxia's new storage modules are compliant with the eMMC 5.1 standard, offering sequential read performance that tops out at 250 MB/s – the best that this technology can provide. But the internal upgrade to a newer generation of Kioxia's 3D NAND can still provide some benefits over older modules, including 2.5x higher sequential and random write performance as well as 2.7x higher random read performance. Also, the new eMMC modules are spec'd to be more durable, with up to 3.3x the TBW rating of its predecessors.
"e-MMC remains a popular embedded memory solution for a wide range of applications," said said Maitry Dholakia, vice president, Memory Business Unit, for Kioxia America. "Kioxia remains steadfast in its commitment to delivering the latest in flash technology for these applications. Our new generation brings new performance features which address end user demands – and create a better user experience."
Given that the remaining devices using eMMC storage fall into the simplistic and inexpensive category, the new lineup of Kioxia's eMMC modules only includes packages offering 64GB and 128GB of storage. Which, in the big picture, is a small amount of storage – but it's suitable for budget devices, as well as for electronics with limited storage needs, such as drones, digital signage, smart speakers, and TVs.
But the main idea behind the new eMMC modules from Kioxia is perhaps not to improve their performance and user experience, but rather use newer and cheaper 3D NAND memory with them. This enables Kioxia to address inexpensive applications more cost efficiently, which ensures that the company will continue doing it going forward.
Kioxia expects to start mass production of its new 64 GB and 128 GB eMMC 5.1 storage modules in 2024. The company is sampling the new devices with its partners at present.
Source: Kioxia