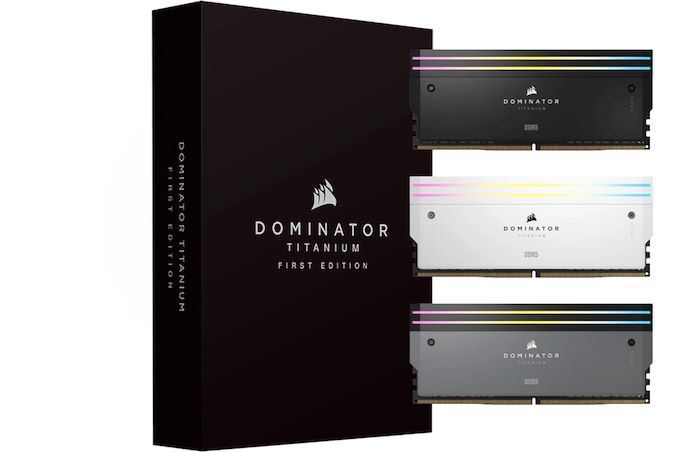 Corsair has started sales of its Dominator Titanium memory modules that were formally introduced this May. The new modules bring together luxurious look, customizable design, and extreme data transfer rates of up to 8000 MT/s. Speaking of performance, the company implied that it intends to introduce Dominator Titanium with speed bins beyond DDR5-8000 when the right platform arrives.
Corsair's Dominator Titanium family is based around 16 GB, 24 GB, 32 GB, and 48 GB memory modules that come in kits ranging from 32GB (2 x 16GB) up to 192GB (4x 48GB). As for performance, the lineup listed at the company's website includes DDR5-6000 CL30, DDR5-6400 CL32, DDR5-6600 CL32, DDR5-7000 CL34, DDR5-7000 CL36, DDR5-7200 CL34, and DDR5-7200 CL36 with voltages of 1.40 V – 1.45V.
Although Corsair claims that Dominator Titanium with data transfer speeds beyond 8000 MT/s are coming, it is necessary to note that they will be supported by next generation platforms from AMD and Intel. For now, the company only offers 500 First Edition Dominator Titanium kits rated for DDR5-8266 mode for its loyal fans.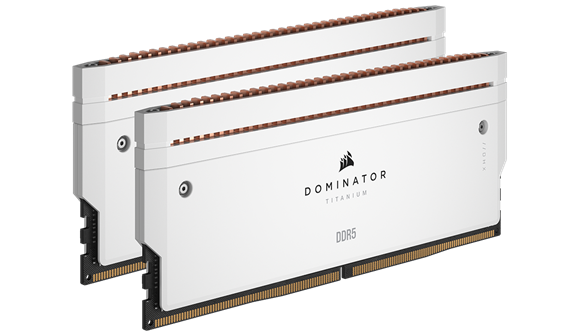 To address demand from different types of users, Corsair offers Dominator Titanium with XMP 3.0 SPD settings for Intel's 12th and 13th Generation Core CPUs with black and white heat spreaders as well as with AMD EXPO SPD profiles for AMD's Ryzen processors with grey finish on heat spreaders.
In terms of design of heat spreaders, Corsair remained true to aesthetics. The modules are equipped with 11 customizable Capellix RGB LEDs, offering users a personalized touch. This can be easily adjusted using Corsair's proprietary software. For enthusiasts who lean towards a more traditional aesthetic, Corsair provides an alternative design with fins, reminiscent of their classic memory modules.
Speaking of heat spreaders, it is necessary to note that despite the name of the modules, they do not come with titanium radiators and keep using aluminum, which is a good thing since titanium has a rather low thermal conductivity of 11.4 W/mK and will therefore heat up memory chips rather than distribute heat away from them. Traditionally, Corsair's Dominator memory modules use cherry-picked DRAM chips and the company's proprietary printed circuit boards enhanced with internal cooling planes and external thermal pads to improve cooling.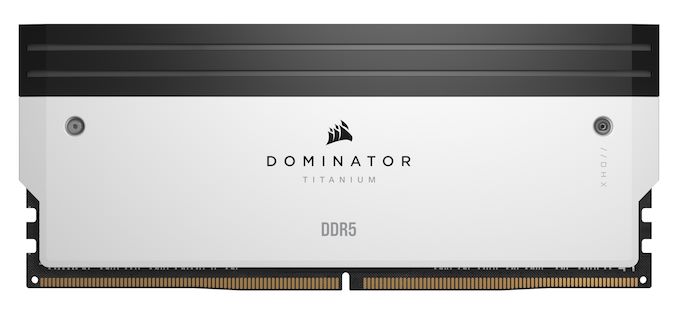 Corsair's Dominator Titanium memory products are now available both directly from the company and from its resellers. The cheapest Dominator Titanium DDR5-6000 CL30 32 GB kit (2 x 16 GB) costs $175, whereas faster and higher-capacity kits are priced higher.
Source: Corsair