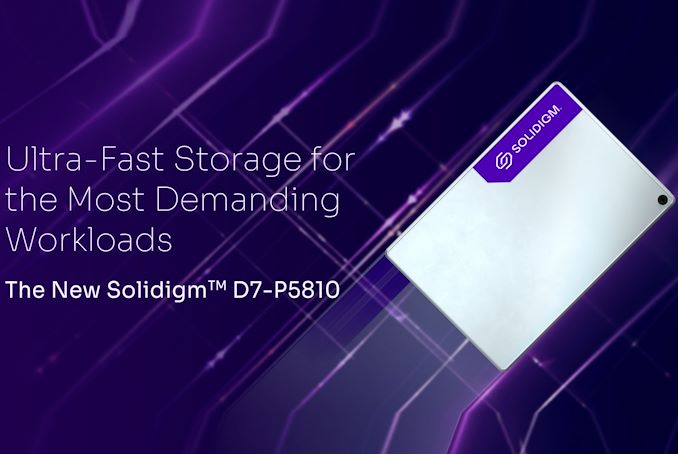 Solidigm's datacenter SSD offerings have been clearly delineated into different categories - the D3- SATA offerings for legacy servers, the D5- QLC-based offerings (with different models offering different tradeoffs between cost and endurance), and the D7- NVMe drives for the best performance and endurance ratings. The company has been using TLC NAND in the D7 drives so far. Last week, the company introduced a new member in their D7 lineup for extremely write-intensive workloads - the D7-P5810 using their mature 144L SLC 3D NAND.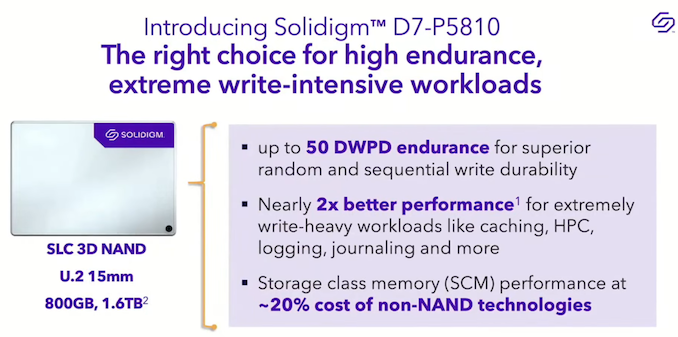 Storage-class memory (SCM) options such as Optane have been used by hyperscalers for a variety of use-cases such as write-caching, HPC applications, journaling, online transaction processing (OLTP), etc. With the winding down of the Optane product line, many opportunities have opened up for SSD vendors to bring near-SCM type products into the market. We saw Micron introducing their XTR NVMe SSDs earlier this year using their 176L 3D NAND in SLC mode. The company had optimized the firmware on the drives and drawn up specifications for near-Optane performance in Microsoft SQL Server analytics workloads. Solidigm is taking a similar approach with the D7-P5810, albeit with optimizations for a different use-case.
Solidigm took a look at the requirements satisfied by Optane drives in Alibaba's (Optane + QLC) deployment for local disks in their cloud servers, and figured out that the Optane drives were greatly over-engineered for them. As an example, Alibaba's workload only demanded 37 DWPD, while Optane provided 100. The 4K random write requirements was also only 8K IOPS per tenant, while Alibaba's configuration resulted in the Optane drive providing 20K IOPS per tenant. Solidigm has optimized the firmware of the D7-P5810 to meet these requirements by providing 50 DWPD worst-case endurance, and 10K IOPS per tenant at capacities similar to the Optane drives used by Alibaba.
The specifications of the D7-P5810 are summarized below. The 800 GB version of the drive is in mass production, while the 1.6 TB version is expected to make an appearance in the first half of 2024.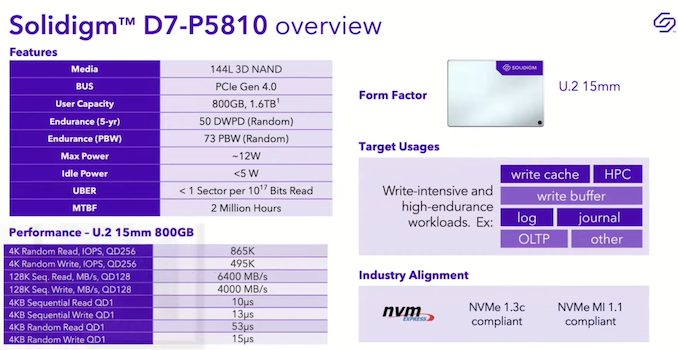 The company had a few interesting presentations at Storage Field Day 26, and in one of those, the company put out a slide comparing the D7-P5810 against the competition.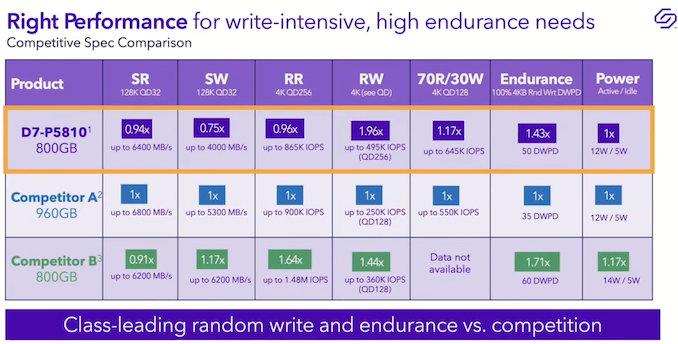 It is not difficult to figure out that Competitor A in the above slide is Micron's XTR NVMe SSD, while Competitor B is Kioxia's FL6 Series. Different enterprise SSD use-cases have different requirements in terms of sequential speeds, random access IOPS, endurance, and power consumption. As a result, we are starting to see vendors offer specialized drives with firmware optimized for a particular use-case. The differences in the above comparison can be attributed to the vendor optimizing for different use-cases. Fundamental differences in the flash packages apart (176L in Micron's XTR vs. 96L BiCS in Kioxia's FL6 vs. 144L in Solidigm's D7-P5810), it is likely that these vendors can achieve different tradeoffs with their drive's firmware if required.
Solidigm acquired Intel's Cloud Storage Acceleration Layer (CSAL) team earlier this year. At Intel, the group (which had open-sourced its work in the Storage Performance Development Kit) had been working on Optane as an accompanying drive for other slower media. After joining Solidigm, the company has shifted focus from Optane to SLC, with a focus on using drives such as the D7-P5810 as a complement to their high-density QLC drives.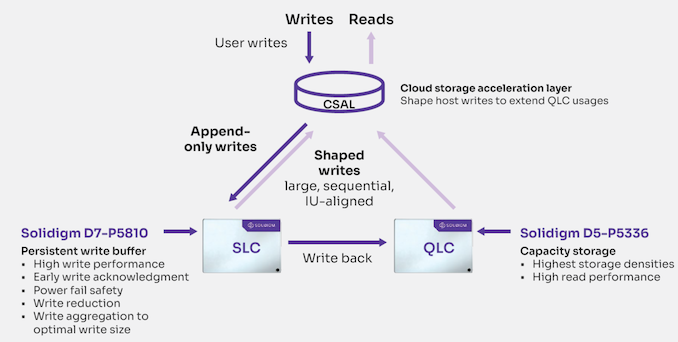 Other than the above use-case in deployment at Alibaba, the D7-P5810 can also be used in a wide variety of scenarios such as metadata storage, caching, and data placement based on service-level agreement (SLA) requirements.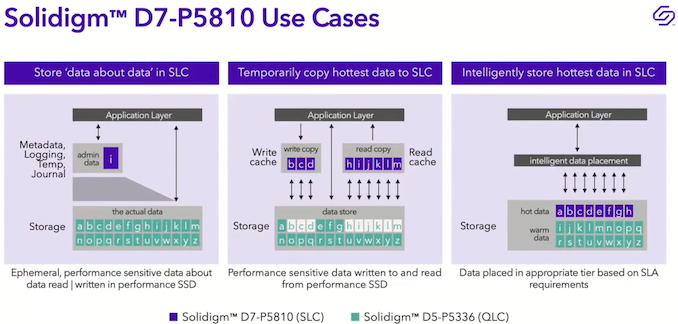 With the inclusion of the D7-P5810, the Solidigm enterprise SSD product line has a product portfolio encompassing a wide range of endurance ratings with suitability for different applications and use-cases.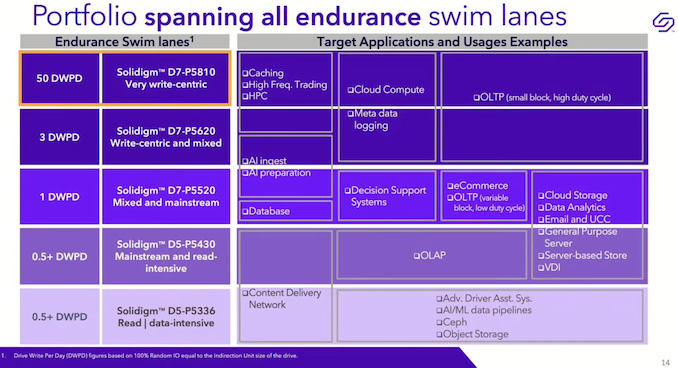 Optane may be winding down soon, but it is heartening to see vendors like Micron and Solidigm stepping up to provide SLC-based alternatives. By avoiding over-engineering for specific use-cases that are currently being served by Optane drives, the vendors are also able to present enterprise SSD users with a cost-effective solution.
Source: Solidigm