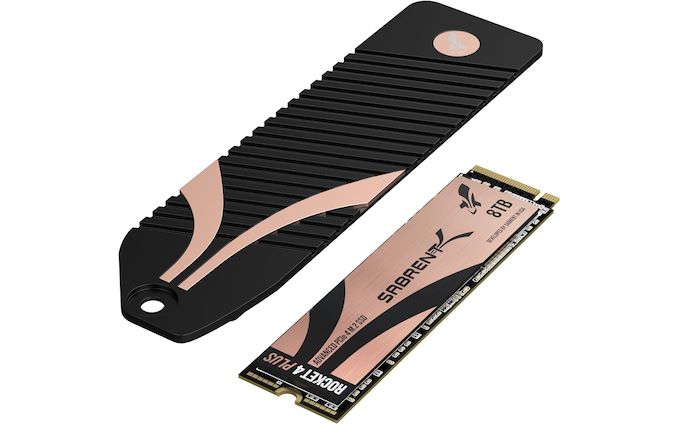 Although Sony's PlayStation 5 game console fully supports off-the-shelf PCIe 4.0 solid-state drives, Sony initially limited the maximum capacity to 4 TB. Recently the company removed that cap as part of the PS5 8.00 firmware update, and now the system can support drives with up to 8 TB. Sabrent, in turn, is among the first SSD makers to offer an 8 TB drive specifically marketed for the PS5.
"PC and PS5 enthusiasts have long anticipated the expansion of internal storage capacity, and now, this dream has become a reality with the introduction of the Sabrent 8TB Rocket 4 Plus SSD," a statement by Sabrent reads.
Sabrent's Rocket 4 Plus 8 TB is based on a Phison platform and is actually a bit faster than the rest of the drives in the series. The manufacturer says that the SSD offers an up to 7,100 MB/s sequential read and up to 6,000 MB/s sequential write speeds. In order to keep the drive properly cooled under high loads, the drive comes equipped with a PS5-compatible aluminum heatsink that also doubles as a replacement for the drive bay's metal cover plate.
Sabrent's 8 TB Rocket 4 Plus drive (SB-RKT4P-PSHS-8TB) can now be purchased from Amazon for $1,009.99, which is twice the price of Sony's PlayStation 5 console, and a $10 premium over a bare 8TB Rocket 4 Plus.
This is of course a huge investment, but PS5's 825 GB of capacity available to end users is a fraction of what modern SSDs can provide 3 years later – and whose small capacity is quickly being consumed by modern, high-end games. For example, Call Of Duty: Black Ops Cold War takes up over 300 GB and Gran Turismo 7 nears 200 GB.
Now that Sony's PlayStation 5 supports 8 TB SSDs, the console gets a yet another advantage over Microsoft's Xbox Series X|S consoles, which only support proprietary drives with an up to 2 TB capacity. Since these drives are essentially M.2-2230 SSDs encapsulated into a plastic case, it remains to be seen when an 8 TB drive will come to the latest generation of Xbox consoles.