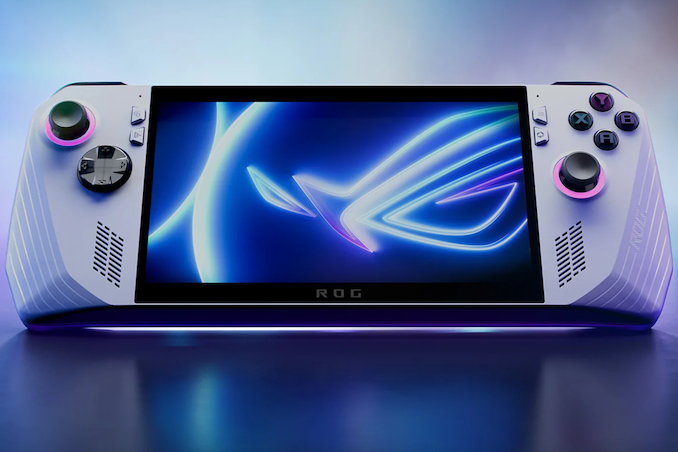 With a plethora of news coming from Intel early this week, it went almost unnoticed that Asus has begun to sell an inexpensive version of its ROG Ally portable game console. Unlike the original one, this unit carries AMD's Ryzen Z1 non-extreme accelerated processing unit that offers tangibly lower performance, which makes the gaming systems considerably less capable.
The original Asus ROG Ally portable game console for $699 is based on the AMD Ryzen Z1 Extreme system-on-chip featuring eight Zen 4 general-purpose cores and a Radeon GPU featuring 12 RDNA 3 compute units (768 stream processors). By contrast, the cheaper Asus ROG Ally is powered by the vanilla AMD Ryzen Z1 that has six Zen 4 cores and a Radeon GPU with four RDNA 3 compute units (256 stream processors), which translates into a 25% lower general-purpose performance and a whopping 67% lower graphics performance.
While a 20% lower CPU performance will inevitably affect game performance, it will not be a substantial performance drop; a 66% lower GPU performance will however dramatically drop framerates. Those gamers accustomed to the original ROG Ally performance based on the Ryzen Z1 Extreme SoC will probably find framerates on the cheaper model in demanding games unplayable.
The cheaper version of the ROG Ally (RC71L-ALLY.Z1_512) is priced at $599 and can be ordered directly from Asus and Best Buy. By contrast, the higher-end version of the ROG Ally is officially priced at $699, and the unit is listed by virtually all retailers, including Amazon and Newegg. Whether $100 justifies up to 66% graphics performance degradation or not is something for everyone to decide, but it should be noted that getting an ROG Ally with Ryzen Z1 Extreme at its MSRP is pretty hard.
Asus says that the only difference between $699 and $599 ROG Ally is the SoC, so the cheaper model still has a 7-inch display with a resolution of 1920x1080 and a 120 Hz refresh rate, 16 GB of LPDDR-6400 memory, a 512 GB SSD, and similar controls. Unfortunately, it is impossible to upgrade the handheld game console, and the only way to improve its performance if it is not enough is to attach an external GPU using the company's proprietary ROG XG Mobile connector, which will cost well over $1000.
Source: TechPowerUp