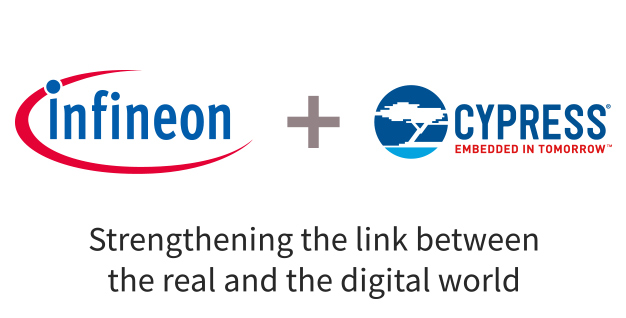 Infineon on Monday said that it had signed an agreement to take over Cypress Semiconductor, strengthening its portfolio of physical interface technologies. The move will add a set of technologies and expertise needed for numerous emerging sectors, including self-driving automotive, industrial, and Internet of Things. Infineon is set to pay $10 billion.
Known primarily for its vast set of offerings for automotive, wireless, security, power, and sensor industries, Infineon needs additional IP for modern applications, which include everything from watches to vehicles and aircrafts. Cypress appears to have this IP (and a lot more, which includes software/firmware) and this is where synergies between the two companies start to kick off. Meanwhile, it is necessary to note that there are many areas where two companies overlap, so expect optimizations here. Structurally, though, Infineon is going to get a lot stronger particularly on high-growth emerging markets.
Officially, Infineon mentions applications like electric drives, battery-powered devices, and power supplies as reasons for the takeover. Yet there is more than that. The combination of Infineon and Cypress looks to be significantly higher than the sum of all parts because it allows Infineon to build platforms for a variety of emerging platforms across many industries.
Under the terms of the contract, Infineon will offer $23.85 in cash for all outstanding shares of Cypress, which corresponds to an enterprise value for Cypress of €9.0 billion (over $10 billion), which represents a 46% premium to Cypress's unaffected 30-day volume-weighted average price during a recent 30-date period.
The whole press release as well as quotes from executives follow below this coverage.
Infineon Technologies AG (FSE: IFX / OTCQX: IFNNY) and Cypress Semiconductor Corporation (NASDAQ: CY) today announced that the companies have signed a definitive agreement under which Infineon will acquire Cypress for US$23.85 per share in cash, corresponding to an enterprise value of €9.0 billion.

Reinhard Ploss, CEO of Infineon, said: "The planned acquisition of Cypress is a landmark step in Infineon's strategic development. We will strengthen and accelerate our profitable growth and put our business on a broader basis. With this transaction, we will be able to offer our customers the most comprehensive portfolio for linking the real with the digital world. This will open up additional growth potential in the automotive, industrial and Internet of Things sectors. This transaction also makes our business model even more resilient. We look forward to welcoming our new colleagues from Cypress to Infineon. Together, we will continue our shared commitments to innovation and focused R&D investments to accelerate technology advancements."

Hassane El-Khoury, President and CEO of Cypress, said: "The Cypress team is excited to join forces with Infineon to capitalize on the multi-billion dollar opportunities from the massive rise in connectivity and computing requirements of the next technology waves. This announcement is not only a testament to the strength of our team in delivering industry-leading solutions worldwide, but also to what can be realized from uniting our two great companies. Jointly, we will enable more secure, seamless connections, and provide more complete hardware and software sets to strengthen our customers' products and technologies in their end markets. In addition, the strong fit of our two companies will bring enhanced opportunities for our customers and employees."

Steve Albrecht, Chairman of the Board of Directors of Cypress, said: "For the past three years, our Cypress 3.0 strategy has delivered tremendous results and restructured the entire organization to focus on markets that matter. After receiving interest from several companies, we entered into a transaction that is a testament to our team's strategy and hard work. For Cypress shareholders, the combination of continued dividends through closing plus the US$23.85 cash price represents significant value creation. This transaction will create product opportunities that are increasingly important in the competitive automotive, industrial, and consumer markets. As Board members, we are grateful for Cypress's outstanding management team, led by Hassane El-Khoury."

More robust positioning in high-growth markets

With the addition of Cypress, Infineon will consequently strengthen its focus on structural growth drivers and serve a broader range of applications. This will accelerate the company's path of profitable growth of recent years. Cypress has a differentiated portfolio of microcontrollers as well as software and connectivity components that are highly complementary to Infineon's leading power semiconductors, sensors and security solutions. Combining these technology assets will enable comprehensive advanced solutions for high-growth applications such as electric drives, battery-powered devices and power supplies. The combination of Infineon's security expertise and Cypress's connectivity know-how will accelerate entry into new IoT applications in the industrial and consumer segments. In automotive semiconductors, the expanded portfolio of microcontrollers and NOR flash memories will offer great potential, especially in light of their growing importance for advanced driver assistance systems and new electronic architectures in vehicles.

With the addition of Cypress's strong R&D and geographical presence in the U.S, Infineon not only strengthens its capabilities for its major customers in North America, but also in other important geographical regions. The company adds to its R&D presence in Silicon Valley and gains presence, as well as market share, in the strategically important Japanese market. At the same time, Infineon aims to achieve significant economies of scale, making Infineon's business model even more resilient. Based on pro forma revenues of €10 billion in FY 2018, the transaction will make Infineon the number eight chip manufacturer in the world. In addition to its already leading position in power semiconductors and security controllers, Infineon will now also become the number one supplier of chips to the automotive market.

Improved financial strength following full integration

The acquisition will also improve Infineon's financial strength and Infineon shareholders are expected to benefit from earnings accretion beginning in the first full fiscal year after closing. The capital intensity will decrease, resulting in an increasing free cash flow margin. Infineon has validated sales and cost synergies assumptions as part of due diligence. Expected economies of scale will create cost synergies of €180 million per annum by 2022. The complementary portfolios will enable the offering of further chip solutions with a revenue synergies potential of more than €1.5 billion per annum in the long term.

Upon successful integration, Infineon will adapt its target operating model accordingly. Then, the company targets through-cycle revenue growth of 9+ percent and a segment result margin of 19 percent. The investment-to-sales ratio is targeted to decrease to 13 percent.

Transaction details

Under the terms of the agreement, Infineon will offer US$23.85 in cash for all outstanding shares of Cypress. This corresponds to a fully diluted enterprise value for Cypress of €9.0 billion. The offer price represents a 46 percent premium to Cypress's unaffected 30-day volume-weighted average price during the period from 15 April to 28 May 2019, the last trading day prior to media reports regarding a potential sale of Cypress.

Cypress expects to continue its quarterly cash dividend payments until the transaction closes. This includes Cypress's previously announced quarterly cash dividend of US$0.11 per share, payable on July 18, 2019 to holders of record of Cypress's common stock at the close of business on June 27, 2019.

The funding of the acquisition is fully underwritten by a consortium of banks. Infineon is committed to retaining a solid investment grade rating and, consequently, Infineon intends to ultimately finance approximately 30 percent of the total transaction value with equity and the remainder with debt as well as cash on hand. The financial policy to preserve a strategic cash reserve remains in place.

The acquisition is subject to approval by Cypress's shareholders and the relevant regulatory bodies as well as other customary conditions. The closing is expected by the end of calendar year 2019 or early 2020.

Credit Suisse and J.P. Morgan acted as lead financial advisors to Infineon. Bank of America Merrill Lynch also acted as financial advisor. All three banks acted as structuring banks in addition to providing committed financing for the transaction, Bank of America Merrill Lynch in the lead. Kirkland & Ellis LLP and Freshfields Bruckhaus Deringer LLP are acting as legal advisors to Infineon.

Morgan Stanley is acting as exclusive financial advisor to Cypress, and Simpson Thacher & Bartlett LLP is serving as legal counsel.
Related Reading:
Source: Infineon