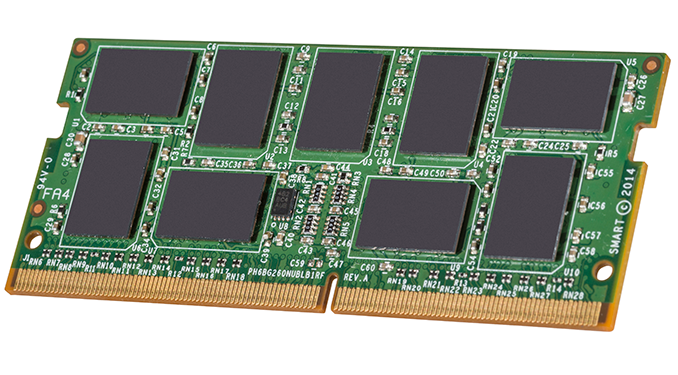 SMART Modular has introduced the industry's first industrial-grade 32 GB DDR4 SO-DIMMs. The memory modules are aimed at ruggedized computing applications that require top-of-the-line capacity modules with improved reliability.
SMART Modular's Smart Rugged 32 GB SO-DIMMs are rated for DDR4-2666 speeds and will be offered in ECC and non-ECC configurations. The modules use a specially-designed PCB underfill and conformal coating that is designed to protect from shock/vibration, humidity, and harsh chemicals in the air. The manufacturer does not disclose which memory chips it uses for the modules, but it is highly likely that the SO-DIMMs use 16 Gb chips rated for industrial temperatures and severe environments. As a result the DIMMs are rated for operation in a wide range of temperatures, from -40°C up to +85°C.
In terms of target markets then, Smart is going after ruggedized tablets and the like used by personnel in industrial, military, transportation, public safety, and similar segments. Furthermore, the DIMMs can be used inside smaller machines used in extreme operating environments that need a lot of memory.
SMART Modular will showcase its Extreme Memory modules at Sea-Air-Space Exposition 2019 from May 6-8 at Gaylord National Convention Center in National Harbor, Maryland. The company does not disclose when it intends to ship its Smart Rugged 32 GB SO-DIMMs, though it is likely that this is going to happen this year.
Related Reading:
Source: SMART Modular