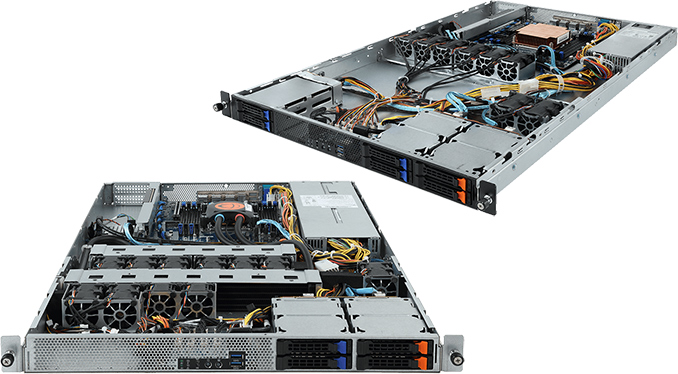 GIGABYTE has released its first servers based on overclockable Core X-series processors that offer a higher single-thread performance when compared to regular server CPUs. The new Overclocking Servers R161-series will be just what the doctor ordered for those who need to maximize per core performance and software investments.
GIGABYTE's R161-series servers support Intel's Core X-series processors in LGA2066 packaging with up to 18 cores and are based on the Intel X299 chipset. Each R4 socket is outfitted with apparent high quality 11-phase VRM comprising of solid-state capacitors to ensure high overclocking potential and long-term stability and reliability.
The machines are outfitted with eight DIMM slots that support up to 128 GB of overclocked DDR4 memory, two M.2-2280 slots for PCIe 3.0 x4 SSDs, two U.2. connectors for 2.5-inch PCIe SSDs, four SATA connectors for 2.5-inch storage devices (alternatively, an SAS add/on card can be used for SAS SSDs/HDDs), and two PCIe 3.0 x16 low-profile slots (connected to the CPU through a PCIe switch and requiring a riser car) for SSDs, network controllers or other components.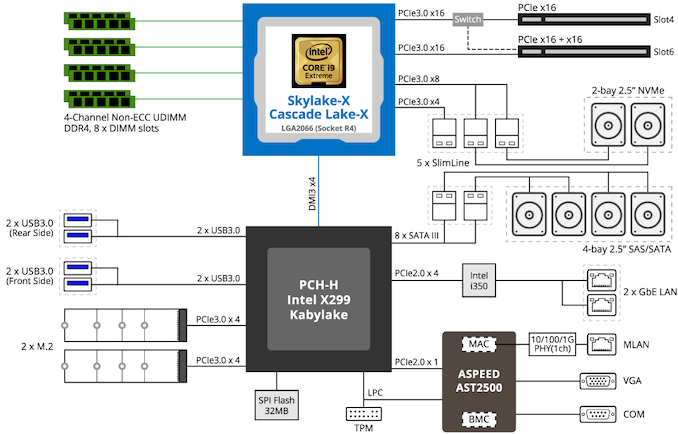 As for I/O capabilities, the servers feature two GbE ports controlled by the Intel I350-AM2 silicon, one MLAN port (for the Aspeed AST2500 BMC), four USB 3.0 connectors, a D-Sub VGA output, and an RS-232/COM port. The devices can be optionally outfitted with GIGABYTE's CTM000 TPM2.0 module.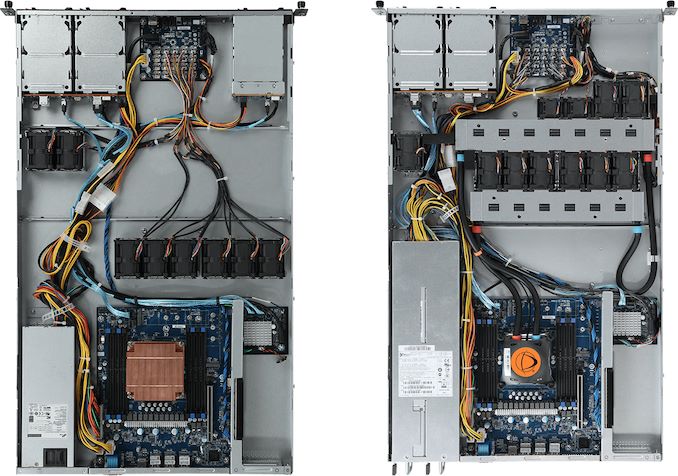 GIGABYTE's lineup of Overclocking Servers consists of two R161 machines powered by the same MR11-LC0 motherboard. Designed for extreme overclocking, the R161-R12 comes equipped with a liquid cooling system for the CPU featuring 11 high-speed fans (at 23,000 – 25,000 RPM) and a redundant 1.1 kW PSU. The manufacturer claims that the Core i9-7980XE can be overclocked all the way to 4.6 GHz using said machine. Meanwhile, the more moderate R161-R13 server is outfitted with air cooling comprising of eight high-speed fans (at 23,000 RPM) as well as an 850 W power supply.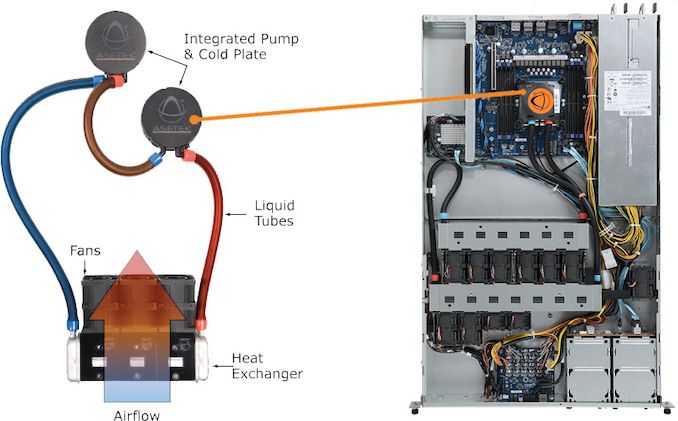 Servers running overclocked CPUs are not common, but they can be used in a wide variety of use-cases. Furthermore, both AMD and Intel release their EPYC and Xeon processors with reduced core counts running at higher clocks and featuring larger per-core caches to maximize their single-thread performance.
High ST performance is important for a variety of applications, including HPC, electronic design automation, high-frequency trading, and other. Furthermore, since many applications (e.g., Windows Server, SQL Server, etc.) are licensed on per-core basis, high-frequency CPUs enable operators to maximize their performance and software investment per core. This is particularly important for parties that can afford using more machines and do not need to maximize density of their CPU and memory.
GIGABYTE's R161-series Overclocking Servers are already listed and are available to select customers of the company. Prices are unknown.
GIGABYTE's Overclocking Servers R161 Series
R161-R12
R161-R13
CPU
Intel Core X, LGA2066
Memory
8 DDR4 DIMM slots
Up to 128 GB of DDR4-3200+ per box
Graphics/Management
Aspeed AST2500
Storage
Bays
6 × hot-swappable 2.5" bays
Drives
2 × U.2 + 4 × SATA/SAS hot-swappable HDD/SSD
SAS
add-on SAS card
RAID
Intel RAID 0/1/10/5
M.2
2 × M.2-2280 slots
Ethernet
2 × Intel I350-AM2 GbE
1 × GbE management LAN port
Expansion Slots
2 × low-profile PCIe 3.0 x16 slots via CRS1024 riser card
Internal I/O
3 × Power supply connectors
5 × SlimSAS connectors
2 × fan headers
1 × USB 3.0 header
1 × TPM header
1 × VROC connector
1 × Front panel header
1 × HDD back plane board header
1 × IPMB connector
1 × Clear CMOS jumper
1 × BIOS recovery jumper
Front I/O
2 × USB 3.0
LEDs, buttons
Rear I/O
2 × USB 3.0
1 × VGA
1 × COM (RJ45 type)
2 × GbE
1 × MLAN
Cooling
Liquid-cooling system
1 × 40-mm fans at 23,000 ~ 25,000 rpm
8 × 40-mm fans at 23,000 rpm
PSU
2 × 1100W redundant PSUs
80 PLUS Platinum
1 × 850W PSU
80 PLUS Platinum
System management
Aspeed AST2500 management controller
Avocent MergePoint IPMI 2.0 web interface:
Network settings
Network security settings
Hardware information
Users control
Services settings
IPMI settings
Sessions control
LDAP settings
Power control
Fan profiles
Voltages, fans and temperatures monitoring
System event log
Events management (platform events, trap settings, email settings)
Serial Over LAN
vKVM & vMedia (HTML5)
Related Reading:
Source: GIGABYTE (via Hermitage Akihabara)