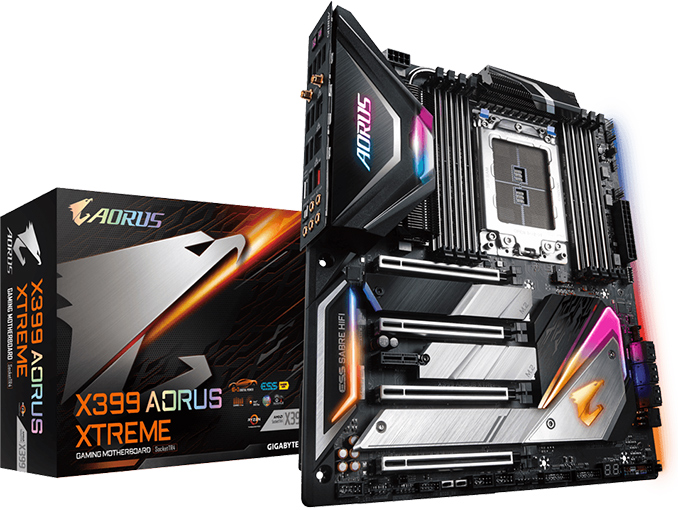 With the first AMD Threadripper 2 processors hitting the market today, GIGABYTE has started shipments of its flagship X399 Aorus Xtreme motherboard for AMD's new chips. The motherboard comes in EATX form-factor and packs pretty much everything that one might want from a high-end desktop, including plenty of slots for add-in cards and additional SSDs, 10 GbE connectivity, an 802.11ac Wave 2 Wi-Fi controller, a high-end audio DAC, and so on. Flagship features also means flagship pricing, however, as GIGABYTE will be selling their uber Threadripper 2 board for $449.
The GIGABYTE X399 Aorus Xtreme was designed specifically for AMD's latest Threadripper 2 processors, meaning it can handle their 250 W TDP and then some, providing some additional headroom for overclocking. To ensure the latter, the mainboard has two 8-pin EPS connectors, something typically found on dual-socket and extreme enthusiast platforms. The motherboard has a 10+3-phase VRM featuring 50A IR3575 power ICs, solid state inductors, and polymer aluminum electrolytic capacitors. The VRM is covered with passive coolers featuring a direct contact heat pipe, multiple aluminum fins for a better heat dissipation as well as two 30-mm fans that kick off at low RPMs once the PWM reaches certain temperature. In addition, GIGABYTE installed a massive heatsink on the X399 chipset that not only cools down the chip, but plays an important aesthetic role as it has embedded RGB LEDs. Speaking of RGB, there are several other zones featuring RGB LEDs, but it is noteworthy that GIGABYTE did not make its top-end platform look like a Christmas tree.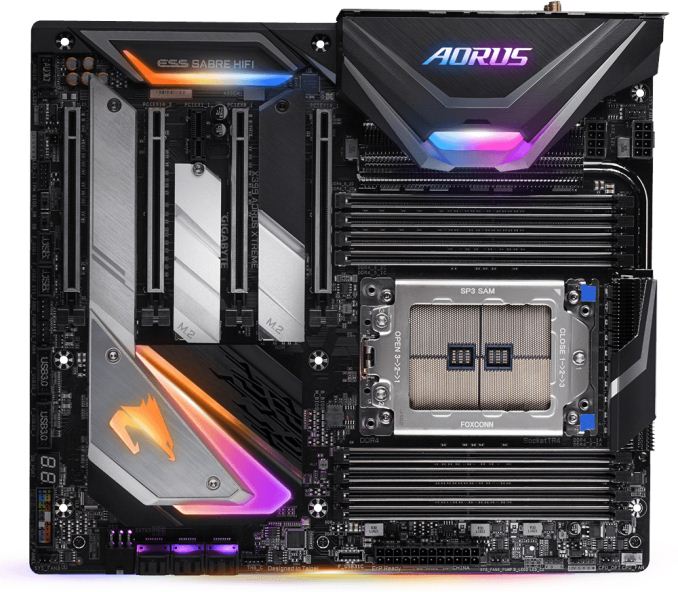 The X399 Aorus Xtreme motherboard is equipped with eight memory slots supporting 128 GB of DDR4-3600 memory (when overclocked). Besides, the platform carries four PCIe x16 slots supporting graphics cards and high-end SSDs (see exact PCIe configuration in the table below), three M.2. PCIe 3.0 x4 slots for SSDs (equipped with metallic heat spreaders), and one PCIe 3.0 x1 slot. In addition, the mainboard has six SATA ports for HDDs and SSDs.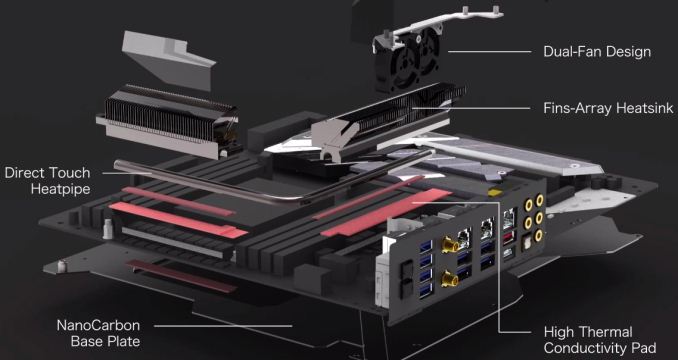 Moving on to network connectivity capabilities of the X399 Aorus Xtreme because this is something that GIGABYTE may be proud of. First off, the motherboard has one 10 GbE port powered by the Aqunatia AQC107 chip. In adition, it has two GigE ports powered by Intel i210AT controllers. To top it off, the platform is outfitted with Intel's Wireless-AC 9265 802.11ac Wave 2 controller, which supports 2 spatial streams with up to 867 Mbps data transfer rates. Four network connections on one PC sounds like a bit of an overkill, but the target audience for modern high-end desktops is all about overkill.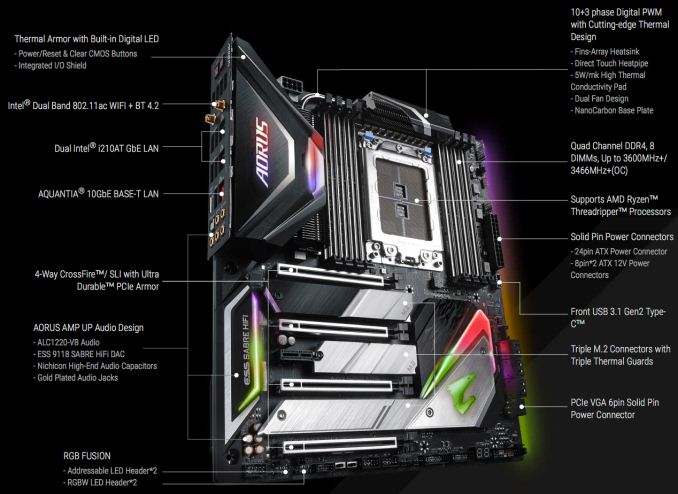 The audio subsystem of the X399 Aorus Xtreme is another differentiating feature of a high-end product. The 7.1-channel subsystem is based on Realtek's ALC1220-VB codec outfitted with the ESS9118EQ DAC that features a 125 dB SNR and supports popular lossless formats, such as FLAC and ALAC. The audio tract uses Nichicon audio capacitors, has five gold plated audio jacks as well as a Toslink S/P DIF.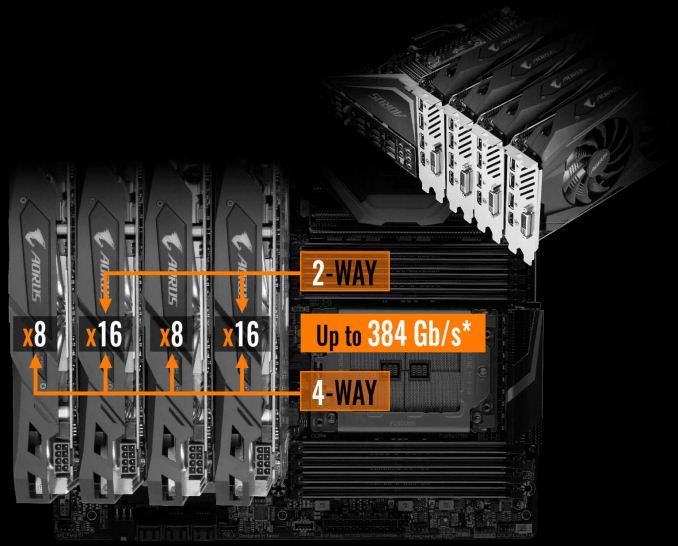 When it comes to USB ports, GIGABYTE's X399 Aorus Xtreme has eight USB 3.1 Gen 1 Type-A connectors, one USB 3.1 Gen 2 Type-A port, and one USB 3.1 Gen 2 Type-C header on the back. Besides, four USB 3.1 Gen 1 and four USB 1.1/2.0 ports are available through internal USB headers (assuming that you can find the right front panel, of course).
GIGABYTE's X399 Aorus Xtreme motherboard is now available for pre-order from leading retailers, including Amazon and Newegg. The mainboard carries an MSRP of $449, which although is expensive, is also still a fraction of the price of the $1799 flagship 2990WX processor that GIGABYTE no doubt expects many of these boards to be paired with.
GIGABYTE's X399 Aorus Xtreme
Specifications
Supported CPUs
TR4/SP3r2
AMD Threadripper/Threadripper 2 with up to 32 cores
PCH
AMD X399
Memory
8 × DDR4 DIMM
Up to 128 GB of DDR4-3600 (OCed)
With or without ECC
Slots for Add-In-Cards
Electrical
Logical
2 × PCIe 3.0 x16
2 × PCIe 3.0 x16
1 × PCIe 3.0 x1
x16
x8
x1
Ethernet
LAN 1: Intel I210AT GbE PHY
LAN 2: Intel I210AT GbE PHY
LAN 3: Aquantia AQC107
Wi-Fi
Intel Wireless-AC 9265 802.11ac Wave 2 controller,
up to 867 Mbps data transfer rates
Storage
M.2
2 × M.2-22110 (PCIe 3.0 x4 or SATA)
1 × M.2-2280 (PCIe 3.0 x4 or SATA)
SATA
6 × SATA 6 Gbps
Audio
7.1-channel audio with analog and S/P DIF outputs
Realtek's ALC1220-VB codec, ESS9118EQ DAC
USB
8 × USB 3.1 Gen 1 Type-A (back panel)
1 × USB 3.1 Gen 2 Type-A (back panel)
1 × USB 3.1 Gen 2 Type-C (back panel)
4 × USB 3.1 Gen 1 Type-A (front panel)
4 × USB 1.1/2.0 Type-A (front panel)
Serial Ports
-
Other I/O
1 × TPM header
1 × internal USB Type-A (for BIOS flashing)
Monitoring
CPU Temperature
VRM Temperature
Fan RPM
Water Cooling Flow Rate
Etc.
Additional Features
PnP 1.0a, DMI 2.7, WfM 2.0, SM BIOS 2.7, ACPI 5.0
Form-Factor
EATX (305 mm × 269 mm | 12" × 10.5")
Related Reading:
Source: GIGABYTE