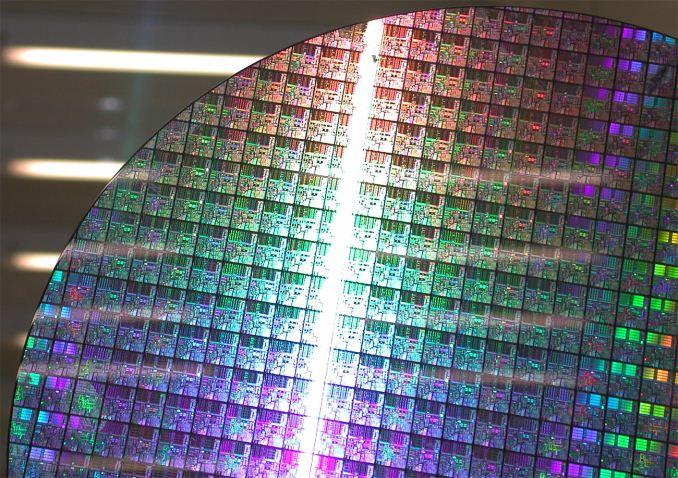 Earlier this year Intel confirmed that it would delay mass production of 10nm CPUs to 2019 due to issues with yields, but did not elaborate on when in 2019 that would be. Late on Thursday Intel finally made a long-awaited clarification: the first systems powered by 10nm CPUs will hit store shelves in the second half of 2019. But there is a catch: 14nm products will still continue to play a big role next year.
Intel is set to start mass production of processors using its 10nm process technology in 2019, and while the company isn't explicitly saying when mass production will begin, it's sounding like that will be in the Q2/Q3 time frame. This being based off of what Intel is saying, which is that they expect to have PCs based on these chips to arrive during the 2019 holiday shopping season. Given the kind of lead-time required to get complete OEM systems on to store shelves, this would mean that mass production on chips needs to start 3 to 6 months sooner than that.
As for said finished systems, what's typically considered the holiday shopping season starts in October or early November. So systems based on Intel's 10nm CPUs would finally be available in mass quantities starting in Q4 of 2019. Consequently, for more three quarters of next year Intel will continue to rely almost entirely on its products made using its various 14nm process technologies.
It remains to be seen how much time it will take Intel to ramp up production of its 10nm CPUs and when the volume crossover between 14nm and 10nm chips occurs. At present, Intel seems to be optimistic about what it has today and will have tomorrow — a variety of 14nm products. In fact, there is a lot of room for growth here: shipments of Intel's Xeon Scalable processors accounted for a little less than 50% of Intel's datacenter revenue in the most recent quarter, so the company will certainly continue to ramp up shipments of these products for many quarters to come, increasing its ASPs and revenue. Keep in mind that Intel's upcoming Cascade Lake-SP platform will bring support for 3D XPoint-based Optane DC Persistent Memory DIMMs, which will bring in huge earnings opportunities to the company.
Speaking of datacenter products. Murthy Renduchintala, Intel's chief engineering officer, promised that 10nm "datacenter products" will follow "shortly after" availability of client systems running 10nm CPUs in the late 2019. He did not give any exact timeframes, but stressed that its next-gen Xeon will follow its next-gen client parts quicker usually. Essentially, Intel confirmed this week's report claiming that the codenamed Ice Lake-SP CPUs may hit the market in Q3 or Q4 of 2020.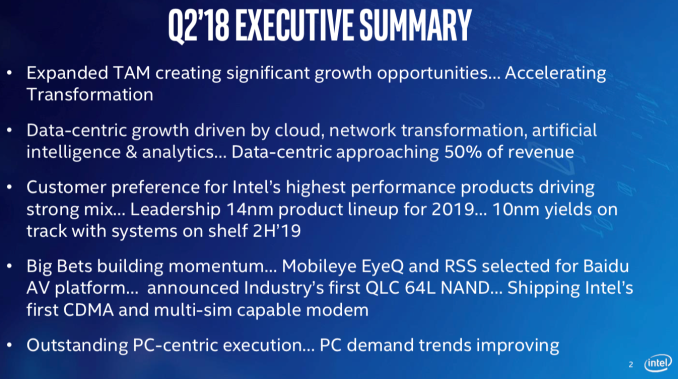 Note: Image of a wafer is for illustrative purposes only.
Related Reading:
Source: Intel