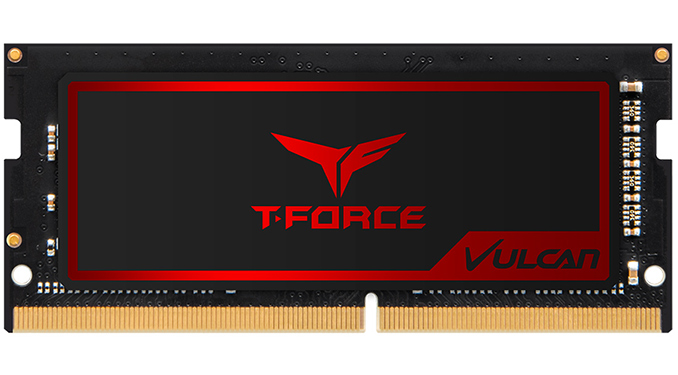 High-performance SFF and UCFF desktops as well as gaming notebooks are getting more popular among gamers these days, so it is inevitable that makers of PC components are starting to offer high-end parts designed for such systems. One of these companies is Team Group, which will be rolling out its T-Force Vulcan SO-DIMMs at Computex next week.
The T-Force Vulcan lineup of DDR4 SO-DIMMs will be aimed primarily at gaming laptops, as well as various Intel NUC and similar systems. The family will include dual-channel memory kits with up to 32 GB capacity (2 × 16 GB) rated for up to DDR4-3600 speeds, so while Team Group is aiming at high-performance machines, they're notable not aiming at niche high-end desktops based on ASRock's X299E-ITX-ac, which requires quad-channel memory kits. Meanwhile, keeping in mind that we are talking about Intel NUC-compatible products, expect the new modules to support XMP 2.0 SPD profiles for easier setup of memory sub-timings
The manufacturer also notes that it will equip its T-Force Vulcan memory modules with a graphene copper foil heat spreader that is thin and light. This is a notable inclusion, as the SO-DIMMs need to remain thin enough to fit into laptops with space constraints.
Team Group will showcase the new T-Force Vulcan memory modules at Computex next week, so stay tuned for precise specs and more details regarding the upcoming SO-DIMMs. The biggest intrigue here is of course which memory chips are used for the Vulcan and how overclockable are they beyond DDR4-3600.
So far, only Corsair and G.Skill have offered DDR4 SO-DIMMs rated to run at data transfer rates significantly higher than 3000 MT/s, so the addition of Team Group to the 'extreme SO-DIMM club' will play a positive role as it will add competition, which is always good for the consumer.
Related Reading:
Source: Team Group