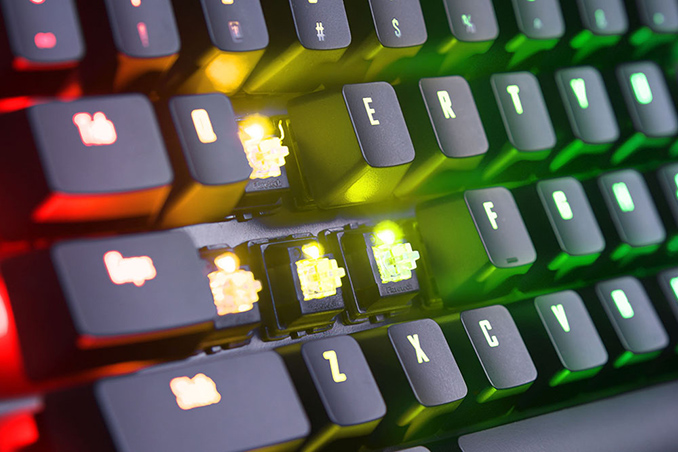 GIGABYTE has introduced its second AORUS-branded keyboard aimed at gamers. The new AORUS K9 Optical, as the name implies, uses optical/infrared switches with all the advantages they can provide. All the keys are black and are backlit using RGB LEDs, but specifically for gamers the manufacturer includes frequently used nine orange keycaps made of PBT.
Harley E. Kelchner from Burroughs Corp. patented optical keyboard technology that used light-emitting diodes and photo sensors to register actuations of keys in 1960. Back then, optical detection of actuated keys was needed to reduce the noise generated by actuation of typewriter or adding machine keys. The technology has never become widespread, but was not forgotten.
In the recent years, developers of mechanical keyboards and mechanical switches have been trying to differentiate their products, including experimenting with various ways to improve switches (or at least differente them from the Cherry MX). A couple of years ago Adomax demonstrated its Flaretech optical-mechanical switch that relied on the same principle as Mr. Kelchner's keyboard in 1960, but used IR instead of light and also featured multiple components found in the contemporary mechanical switches to make the new switch feel like a mechanical one (hence, the name).
On paper, there are numerous advantages that an optical switch should have over a classic mechanical one. Firstly, it actuates and resets the switch at a precise travel point, ignoring the state of the metallic parts and therefore does it faster than almost any mechanical one. Secondly, it is easier to make them splash resistant (or even waterproof) because all metallic parts in the switch play decorative roles and hardly affect performance. Thirdly, such switches promise to have a longer lifespan due to absence of critical mechanical parts (still, since mechanical parts affect user experience, their lifespan is important). In fourth, they are more proof against dust and dirt, again, because of the lack of critical mechanical parts.

The GIGABYTE AORUS K9 Optical looks rather strict and minimalistic. If it was't for programmable RGB backlighting in every key, it would look like an office keyboard, yet it is not. The K9 Optical relies on Adomax Flaretech Red or Blue switches featuring a 55 grams actuation force, around a 2 mm actuation point, a 4 mm total travel distance, and so on. The manufacturer claims that debounce time of its optical/infrared switch is 0.03 ms, significantly lower than 5 ms of a mechanical switch.
GIGABYTE will be offering two types of AORUS K9 Optical: one equipped with the Red switches that have a weak tactile feedback, another with the Blue switches that have a strong tactile feedback. Since the Adomax Flaretech switches are hot swappable, GIGABYTE will bundle nine Red switches with the "Blue" keyboards and nine Blue switches with the "Red" keyboards in order to allow gamers to customize their devices.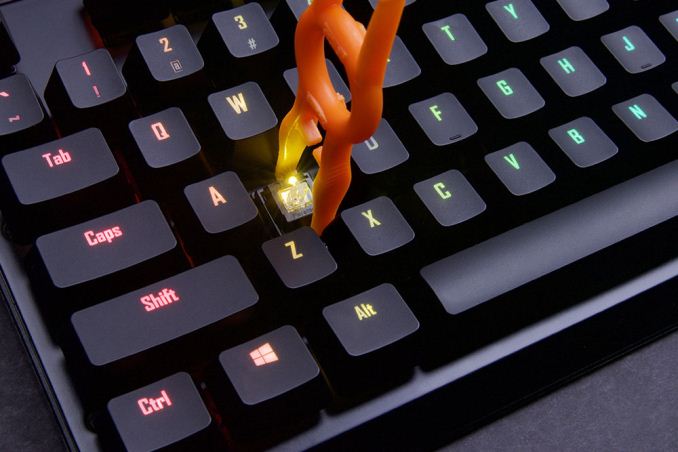 Along with nine switches, GIGABYTE will also include nine orange keycaps for W, A, S, D, ESC and 4 arrow keys made of PBT (polybutylene terephthalate). PBT has increased durability and smoother texture than traditional ABS, so these keycaps will feel differently and will not wear out after years of usage.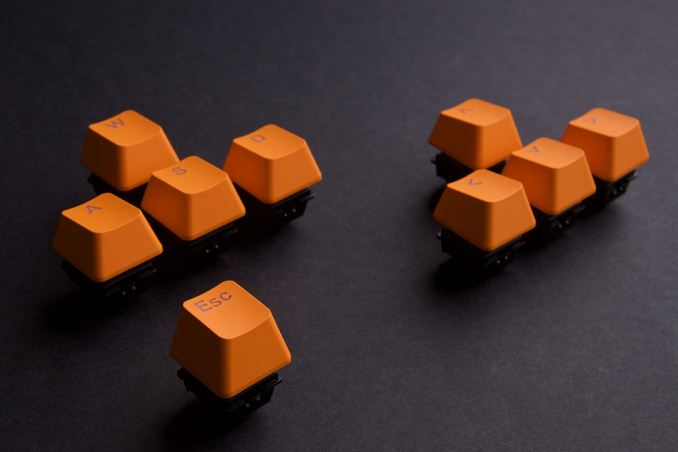 GIGABYTE claims that the AORUS K9 Optical is splash proof and can even work under water. The company does not mention any IP ratings, but given the fundamental work principles of optical switches, the AORUS K9 Optical should be less prone to damage by liquids than average mechanical keyboards. Obviously, we do not recommend trying to use the K9 Optical when it is submerged.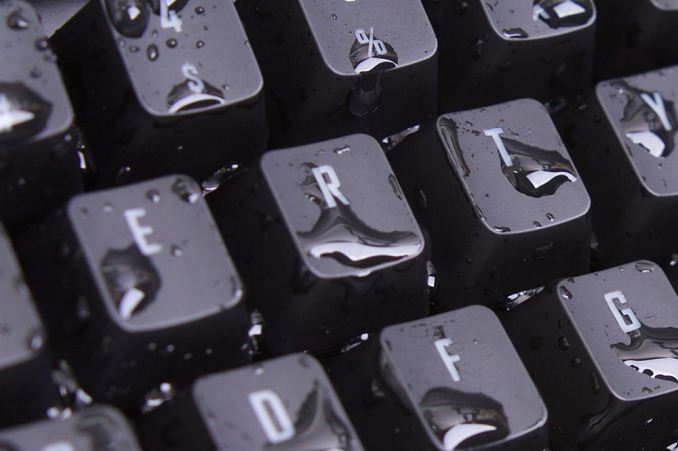 Moving on to the capabilities of the AORUS K9 Optical that are of particular importance to gamers, the keyboard supports N key roll-over anti-ghosting and features 1000 Hz polling rate via USB 2.0. To make the connection of the keyboard easier, it comes with a braided cable and has a simple built-in cable management system. One major drawback of the AORUS K9 Optical is the lack of programmable keys and the lack of programmability per se — the keyboard cannot even bind the F keys to macros (at least based on the current description on GIGABYTE's website). This could undermine the success of the AORUS K9 Optical among professional gamers, many of whom use macros a lot. Casual gamers who do not use macros, on the other hand, will certainly appreciate the look and feel of the keyboard, but they will hardly notice its improved performance, unlike professionals.
GIGABYTE did not announce pricing of its forthcoming AORUS K9 Optical, but since it is by definition positioned above the AORUS K7 that uses traditional mechanical switches, it is logical to expect the new unit to cost over $129.99.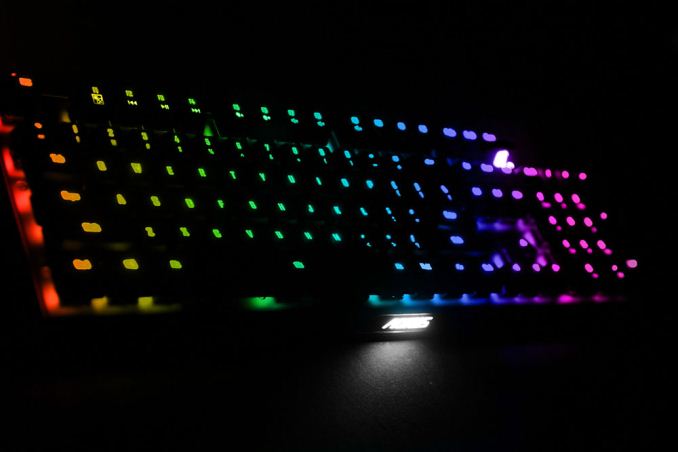 Related Reading:
Source: GIGABYTE