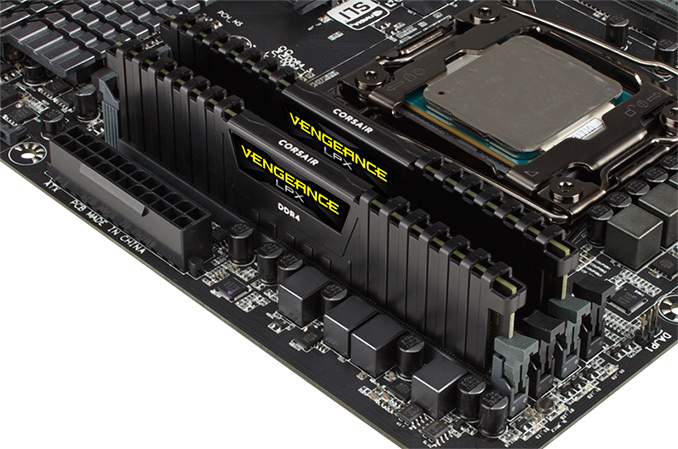 Corsair on Thursday announced two fresh Vengeance LPX memory kits that set new performance records for the product family. The new dual-channel memory kits are intended for Intel's Kaby Lake-X CPUs and Intel's X299 platforms, and they operate at DDR4-4500 and DDR4-4600 MT/s data transfer rates and require over 1.4 V.
Corsair's new fastest-ever DDR4 memory kits have a combined capacity of 16 GB and are rated for DDR4-4500 with CL19-19-19-39 timings at 1.45 V and for DDR4-4600 at CL19 26-26-46 at 1.5 V. Corsair verified stable performance of its DIMMs at transfer rates well beyond those recommended by JEDEC using an Intel Kaby Lake-X CPU and ASRock's X299 OC Formula motherboard. The OC Formula motherboard only runs at one DIMM per channel (vs. 2 DPC on most X299 mainboards) in a bid to guarantee a "cleaner" data path and stable power supply to maximize overclocking potential for DRAM. Given the increased speeds and required overvoltage over the standard, the quality of the motherboard DRAM VRM becomes crucial for stability in case of DDR4-4500 and DDR4-4600 modules. For the same reason, Corsair does not equip its ultra-fast Vengeance LPX DIMMs with RGB LEDs because they may affect power supply and stability.

The new Corsair Vengeance LPX DDR4-4500 and DDR4-4600 memory kits are based on Samsung's B-die, produced using 20 nm process technology. These memory ICs have been used by makers of leading-edge DDR4 memory modules (Corsair, G.Skill, GeIL, etc.) for a couple of years and by now they all know what to expect from these devices even in extreme conditions, such as operation with a 20 or 25% overvoltage.
The new Vengeance LPX memory modules from Corsair come with regular black aluminum heat spreaders that work well with all types of CPU coolers. The embedded XMP 2.0 SPD settings to make it easy for end users to set up correct timings and sub-timings.
Corsair's 'Extreme' Vengeance LPX Memory for Intel's X299 Platform
Speed
CL Timing
Voltage
Kit
Capacity
P/N
DDR4-4500
CL19 19-19-39
1.45 V
2×8 GB
16 GB
CMK16GX4M2F4500C19
DDR4-4600
CL19 23-23-43
1.5 V
CMK16GX4M2F4600C19
Corsair's new Vengeance LPX 16 GB (8 GB×2) DDR4-4500 and DDR4-4600 kits are going to hit the market in the coming days, and they are going to be expensive. The DDR4-4500 kit will retail at $479.99, whereas the DDR4-4600 kit will retail for $549.99.
Related Reading
Source: Corsair