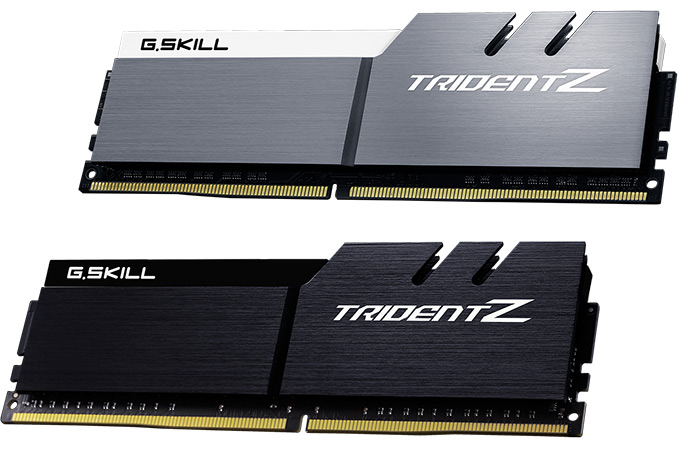 G.Skill on Friday introduced its fastest dual-channel memory kit designed specifically for Intel's Kaby Lake-X processors and Intel's X299 HEDT platforms. The new Trident Z DDR4-4600 DIMMs not only boast the highest officially supported DDR4 transfer rate in the industry to date, but are also among the first to use 1.5 Volts to hit that milestone.
The new extreme Trident Z DDR4 memory modules, as G.Skill calls them, are based on Samsung's famous 8 Gb B-die memory ICs produced on their 20 nm fabrication process. G.Skill says that to build its DDR4-4600 CL19 DIMMs, it had to cherry pick DRAM chips with the highest frequency potential and increase the voltage of the memory modules all the way to 1.5 Volts. This is a whopping 25% increase over DDR4 standard's default voltage of 1.2v, and in AT's collective memory we can't recall the last time we saw a memory kit ship with a voltage so far over the standard. To G.Skill's credit they are now pushing DDR4 well above the specification's original maximum 3200 MT/sec transfer rate, so the payoff is clearly there, but it's also clear that the company is pushing current DDR4 technology and Samsung's B-dies to their limits.
Such a high voltage is (obviously) not impossible to work with, but it does come with some challenges both for users and the manufacturer. The biggest is sheer power consumption – remember that power consumption increases with the square of the voltage – so a 25% voltage increase will increase the power consumption of these DIMMs by even more than that. G.Skill claims that the DIMMs do not have any overheating issues and it had run loads of burn-in tests to ensure stability and reliability, but these are top-of-the-range enthusiast-class products that will need sufficient cooling. Meanwhile on the manufacturing side, G.Skill not only needs to heavily bin chips to find those that can operate at these speeds, but then build a complete DIMM that can handle the frequency and the power delivery needs. Similarly, a solid motherboard is necessary to handle these speeds on its end, as well as the higher power delivery.
G.Skill has validated stable operation of its "extreme" Trident Z dual-channel kit at 4600 MT/s on Intel's Core i7-7740X (Kaby Lake-X) CPU and ASRock's X299 OC Formula motherboard. The latter was designed by ASRock in cooperation with Nick Shih, a well-known overclocker, and it only has four memory slots in order to minimize interference and ensure a "clean" power supply. The modules come with XMP 2.0 SPD profiles that will simplify their set up on all Intel X299 platforms, but keep in mind that the kit is intended only for dual-channel operation and G.Skill tested it using a particular hardware config.
G.Skill's Trident Z Memory for Intel's X299 Platform
Speed
CL Timing
Voltage
Kit Configuration
Kit Capacity
Family
DDR4-3600
CL16 16-16-36
1.35 V
4×8 GB
8×8 GB
32 GB
64 GB
Trident Z
Trident Z RGB
CL17 19-19-39
4×16 GB
8×16 GB
64 GB
128 GB
DDR4-3733
CL17 17-17-37
4×8 GB
8×8 GB
32 GB
64 GB
CL18 19-19-39
4×16 GB
8×16 GB
64 GB
128 GB
DDR4-3800
CL18 18-18-38
4×8 GB
8×8 GB
32 GB
64 GB
CL19 19-19-39
4×16 GB
8×16 GB
64 GB
128 GB
DDR4-4000
CL18 19-19-39
4×8 GB
8×8 GB
32 GB
64 GB
DDR4-4200
CL19 19-19-39
1.4 V
8×8 GB
64 GB
Trident Z
DDR4-4400
CL19 19-19-39
1.4 V (?)
2×8 GB
16 GB
Trident Z Black
DDR4-4600
CL19 23-23-43
1.5 V
2×8 GB
16 GB
Trident Z
G.Skill will offer its DDR4-4600/CL19 kit with all black and grey with white aluminum heatsinks. The company is not going to offer an RGB LED-equipped version of these DDR4-4600 modules (at least initially) because installing LEDs would affect power supply of the modules and therefore their frequency potential.

G.Skill plans to start selling its 16 GB (8 GB×2) DDR4-4600 CL19 23-23-43 memory kit late this month. The company traditionally does not touch upon pricing of the set, but since this is an exclusive and heavily binned product, it is logical to expect it to be expensive.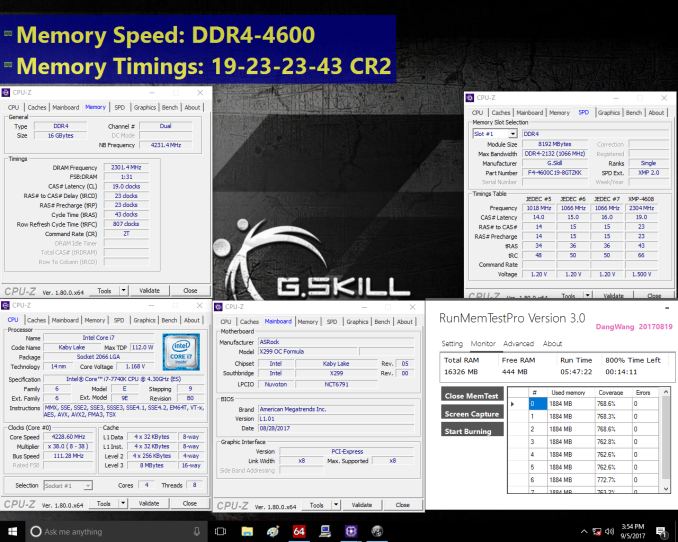 Related Reading:
Source: G.Skill