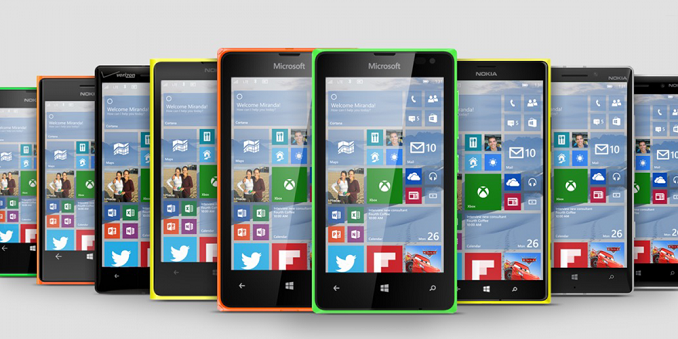 It was almost two months ago that Microsoft released the first build of Windows 10 for phones. The first build was very basic, and was missing a lot of the Windows 10 functionality that will be coming. If you did want to try it out though, it was limited to just a handful of devices which means that it had a very small audience. Today that is changing, and the new build is available on almost every single Nokia/Microsoft phone made with the big exception of the high end Lumia 930/Icon, as well as the just released Lumia 640XL. Both devices require some new scaling code added to support the display size and resolution.
But with this build, we really get our first glance at Windows 10 on phones. Many of the core apps have been updated to have a new experience. Project Spartan, which we first saw in the latest Windows 10 desktop build, is now replacing Internet Explorer on the phone as well. Considering the performance delta between mobile CPUs and desktop CPUs, the performance improvements that we have measured in Project Spartan should make an even bigger difference. I will run one of my devices through some benchmarks to see what the new build will offer.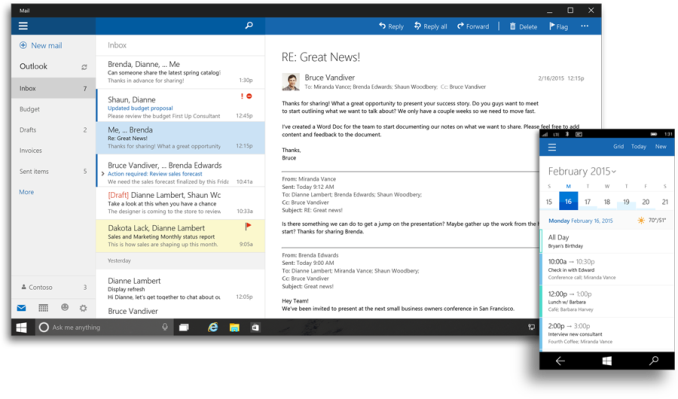 Also new is the Outlook Mail and Outlook Calendar apps, which are universal Windows apps and will be the same ones found on the desktop too, although they are not yet on the current desktop build, so we will get our first look at them on the small screen. They have a new UI, and the calendar and mail can both be accessed while in the same app rather than having to switch between two. Outlook will now leverage Word for email composition as well, which should drastically improve the experience on mobile.
The Phone and Messaging apps are also new. Both have new designs, but the Skype integration coming to the Messaging app does not appear to be part of this build. The People and Maps app are also redesigned.
All of these apps can now be accessed through a new App Switcher, which is accessed the same way as the old one – hold the back button – and it now supports landscape and offers a grid layout on larger devices which have extra screen real estate.
For anyone who wants to try it out, you must be part of the Windows Insider program, and install the Windows Insider app on your phone, and then sign in with the same MS account as you signed up for the Windows Insider with. Remember though that this is all pre-release software, so you may not want to install this on your personal phone. There are a list of known bugs as well, so be sure to check out the source link if you are interested in installing the new Technical Preview.
Source: Microsoft