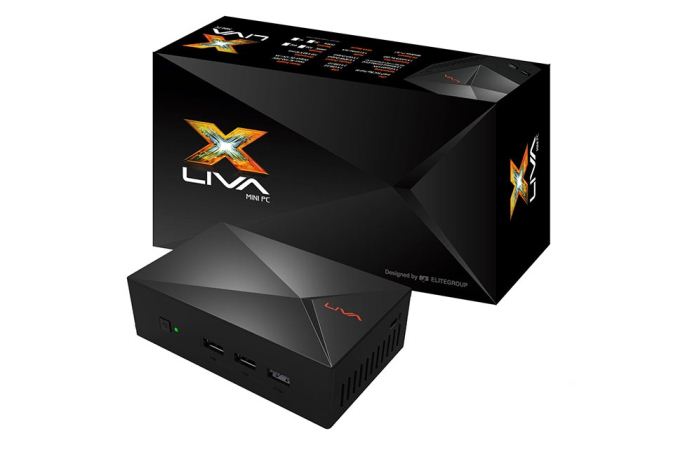 Introduction and Setup Impressions
Over the last couple of years, mini-PCs in the ultra-compact form factor (UCFF) have emerged as one of the bright spots in the troubled PC market. ECS made their entry in the market through the LIVA. Despite being an innovative product in the mini-PC space, it did suffer from a few questionable devisions with respect to the chassis design. The placement of the USB ports was not user-friendly, and the unit didn't appear sturdy either. ECS has iterated fast and put out an updated version (with a different chassis and motherboard design as well as a few tweaked internals) in the form of the LIVA X. The following gallery from ECS provides more insight into the LIVA X, and the picture that follows compares it against the LIVA.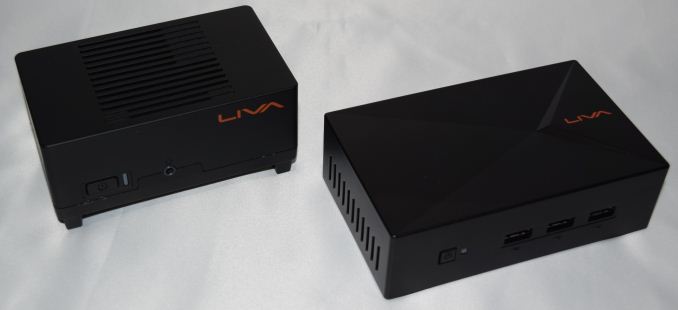 Note that the USB ports in the LIVA X are in a more accessible location compared to the LIVA. We also have an additional USB 2.0 port, which is definitely welcome. On the downside, the unit is no longer powered by a micro-USB connector. Instead, we have a wall-wart rated for 36 W (12V @ 3A). The presence of a mSATA slot as well as an additional USB port drive up the maximum possible power consumption, justifying a more powerful adapter.
The specifications of our ECS LIVA X review configuration are summarized in the table below.
ECS LIVA X Specifications
Processor
Intel Celeron N2808
(2C/2T x 1.58 GHz, 22nm, 1MB L2, 4.5W TDP, 3W SDP)
Memory
4GB DDR3-1333
Graphics
Intel HD Graphics
Disk Drive(s)
Toshiba THGBMBG9D1KBAIL eMMC 64 GB
Networking
1x Gigabit Ethernet, 1x1 802.11n/Bluetooth mPCIe
Audio
Capable of 5.1/7.1 digital output with HD audio bitstreaming (HDMI)
Operating System
Retail unit is barebones, but we installed Windows 8.1 Pro x64
Pricing (As configured)
$250
Full Specifications
ECS LIVA X Specifications
The ECS LIVA X kit doesn't come with any pre-installed OS, but does come with a CD containing the drivers. It would be nice to have a (read-only) USB key instead of the CD.
In the table below, we have an overview of the various systems that we are comparing the ECS LIVA X against. Note that they may not belong to the same market segment. The relevant configuration details of the machines are provided so that readers have an understanding of why some benchmark numbers are skewed for or against the ECS LIVA X when we come to those sections. A point to note is that all the PC configurations listed below are completely passive solutions.
Comparative PC Configurations
Aspect
ECS LIVA X
CPU
Intel Celeron N2808
Intel Celeron N2808
GPU
Intel HD Graphics
Intel HD Graphics
RAM
DDR3 4GB
9-9-9-24 @ 1333 MHz
DDR3 4GB
9-9-9-24 @ 1333 MHz
Storage
Toshiba THGBMBG9D1KBAIL eMMC 064GE2
(64 GB; eMMC v5.0-compatible)
Toshiba THGBMBG9D1KBAIL eMMC 064GE2
(64 GB; eMMC v5.0-compatible)
Wi-Fi
Ralink RT3290
(1x1 802.11n - 150 Mbps)
Ralink RT3290
(1x1 802.11n - 150 Mbps)
Price (in USD, when built)
$250
$250