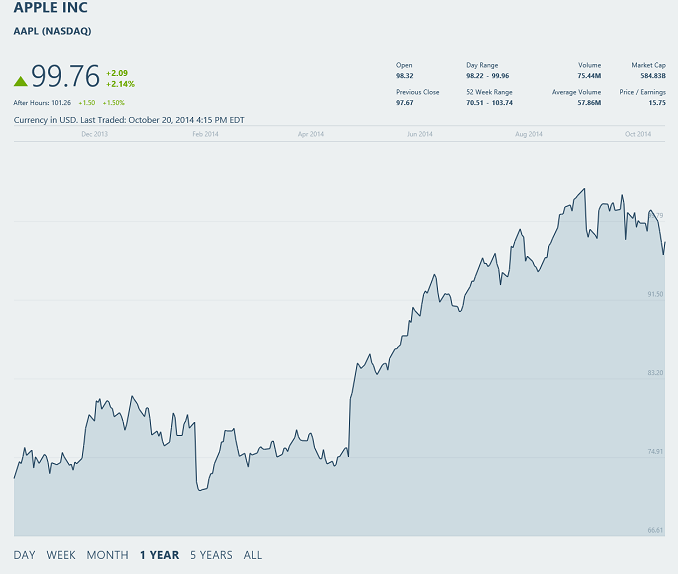 This afternoon, Apple released their financial results for Q4 2014, which ended September 27, 2014. Strong iPhone sales, as well as a resurgence in Mac sales, boosted the company's revenue above the $40 billion USD guidance to $42.1 billion. Operating income came in at $11.165 billion, with a net income of $8.467 billion for the quarter. This resulted in an earnings per share of $1.43, which beat analysts' expectations of $1.31 per share. Gross margin was a respectable 38% for the quarter, compared to 37% in Q4 2013.
Apple declared a cash dividend of $0.47 per share which will be paid out to all shareholders of record as of November 10th, on November 13th. Over $20 billion was returned to shareholders in Q4 as part of the share buyback program and other market transactions.
Apple Q4 2014 Financial Results (GAAP)
Q4'2014
Q3'2014
Q4'2013
Revenue (in Billions USD)
$42.123
$37.432
$37.472
Operating Income (in Billions USD)
$11.165
$10.282
$10.030
Gross Margin (in Billions USD)
$16.009
$14.735
$13.871
Net Income (in Billions USD)
$8.467
$7.748
$7.512
Margins
38.0%
39.4%
37.0%
Earnings per Share (in USD)
$1.43
$1.28
$1.19
As is the norm, the iPhone was the star of the show. In September, Apple of course launched two new iPhone models which brought the total volume of devices sold to 39.272 million for the quarter, which is up 11.5% from the previous quarter and 16.2% from the same quarter a year ago. The iPhone 6 and 6+ are apparently selling very well, with Apple selling all of the units they are making at the moment. iPhones accounted for 56% of Apple's revenue this quarter. With the iPhone 6 only being available for a couple of weeks this quarter, expect the units to jump significantly for Q1 2015, which began September 28.
The surprise for this quarter was Mac sales, which grew an astonishing 21% year-over-year, and 25% sequentially. It is even more amazing when you consider that the MacBook Pro line only got a slight refresh last quarter, and the iMac, Mac Mini, and MacBook Air got no significant updates at all. Apple said that they "won back to school" and they certainly did as a percentage increase. Overall Mac sales were 5.52 million, as compared to 4.413 million last quarter and 4.574 million at the same time last year. With this increase, Apple stated that they have the highest PC sales percentage since 1995. Revenue for the Mac was also big, as would be expected with the gain in sales. Mac revenue is now back to number two overall for the company with $6.625 billion for Q4.
Apple Q4 2014 Device Sales (thousands)
Q4'2014
Q3'2014
Q4'2013
Seq Change
Year/Year Change
iPhone
39,272
35,203
33,797
+12%
+16%
iPad
12,316
13,276
14,079
-7%
-13%
Mac
5,520
4,413
4,574
+25%
+21%
iPod
2,641
2,926
3,498
-10%
-24%

iPad sales continue to be the thorn in Apple's side these days, with a sales decrease for the third consecutive quarter. iPad sales fell to just 12.3 million, down from 14.1 million last year, which is a 13% drop. Clearly they are not giving up on the market, and the two new devices launched last week as well as the holiday season should put an end to the decline in sales for Q1. Apple said that iPad sales were ahead of iPhone sales over the same initial four years, so they are happy with where it is at, but still three straight quarters of sales decline is not what they would have been hoping for.
The venerable iPod likely got the final unit and revenue breakdown, with the iPod going to be rolled into the new Other category, with the iPod being joined by Accessories, Beats, Apple TV, and other products in the new reporting category such as watches when they are released. iPod sales fell 24% from last year, with 2.6 million devices sold. Revenue came in at just $410 million (just!) for the quarter.
Finally, iTunes/Software/Services was up 8% year-over-year with $4.6 billion for the quarter, with the App Store continuing to drive revenues for the Apple ecosystem.
Apple Q4 2014 Revenue by Product (billions)
Q4'2014
Q3'2014
Q4'2013
Revenue for current quarter
iPhone
$23.678
$19.751
$19.510
56.2%
iPad
$5.316
$5.889
$6.186
12.6%
Mac
$6.625
$5.540
$5.624
15.7%
iPod
$0.410
$0.442
$0.573
1%
iTunes/Software/Services
$4.608
$4.485
$4.260
10.9%
Accessories
$1.486
$1.325
$1.319
3.5%
Outlook for Q1 2015 is a big boost for the holiday season. Revenue is expected to come between $63.5 and $66.5 billion with margins between 37.5 and 38.5 percent. Q1 will of course include more sales of the new iPhone, but also new product launches such as the iPads, and the Mac refresh we saw last week. Also new to the quarter will the Apple Pay, which was not available for Q4 2014. Apple divulged on the earnings call that it will not be charging anything to retailers or consumers for using the new pay system, but that they do have a financial arrangement with the financial institutions to earn money through the system. Details of those arrangements were kept confidential. In the end, if someone is paying, it will of course be the consumer even if it is just through product markups. We do not know though if the cost of the system will be any higher than the credit cards already charge, so it may amount to a zero anyway.
Apple has been a company which has been printing money for a long time, and with the latest product launches that does not seem to be ending anytime soon. The one key here is Mac sales, which were very high, especially when compared to the PC industry as a whole which has recovered somewhat, but is possibly still at small decline overall for the year.
Update: The story originally stated Software and Other would be a single category, but there will be two categories for Software and Other.
Source: Apple Investor Relations