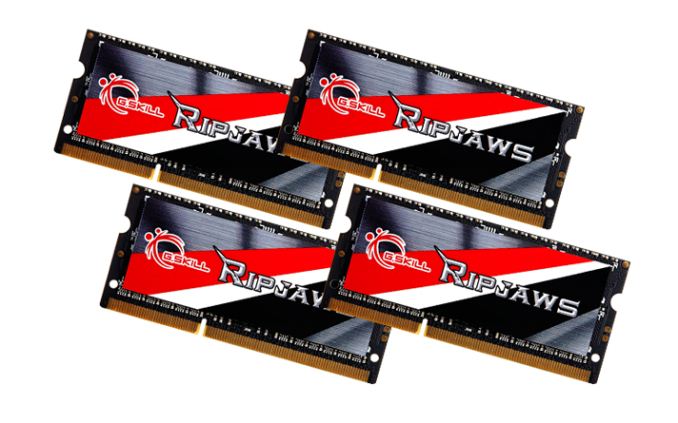 The topic of SO-DIMM memory is an interesting one. As it currently stands, almost all laptops with interchangeable memory slots have SO-DIMM slots, as well as a few motherboards at the low end and systems such as the ASRock M8. The main issue with SO-DIMM is that it is often limited in frequency – manufacturers who equip their laptops/motherboards with SO-DIMM slots typically do not worry about XMP, and as such SO-DIMM rarely sees more than 1600 MHz at a CAS latency of 11. However in recent quarters a couple of the memory manufacturers are bucking the trend, announcing that they have DDR3L memory in the smaller form factor that can support higher speeds. The newest release to this segment is G.Skill's attempt to provide some of the fastest and dense modules available.
This week G.Skill is releasing a 4x8GB SO-DIMM kit, under their Ripjaws branding, capable of 2133 MHz at CL11 (while remaining within the 1.35V specification of DDR3L). The aim for this kit is mostly in the high end gaming laptops that support XMP, such as MSI's GT70 range.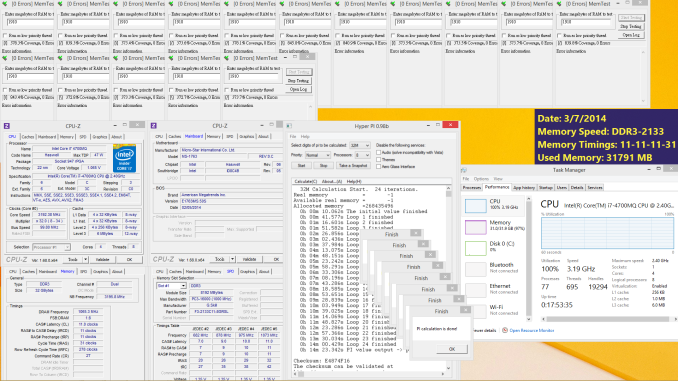 The combination of having four free SO-DIMM slots, and an XMP enabled laptop, puts this memory kit into those extreme niche markets. The ultimate irony here is that during our memory scaling articles, such as this one for Haswell CPUs, the biggest increase achieved with faster memory was with integrated graphics. Laptops at this price range that can equip this memory kit tend to rely on discrete graphics modules, and thus the faster memory (and high density) might be more appealing to workstation laptop type environments or those that pursue compute tasks. In our memory scaling testing, we saw an ideal medium around 2133 MHz CL9 memory, however anything that puts a laptop above 1600MHz CL11 is more than welcome in my view.
G.Skill is not stating an MSRP, however it should be roughly double the price of the two module kit version, making the 32GB kit around $360.
As we have mentioned in previous articles, buying all the modules you need in a single kit ensures they will work with each other. Buying two identical kits (e.g. two 2x8 kits) does not guarantee compatibility due to the strain on some memory controllers with the tighter secondary and tertiary sub-timings on kits with fewer modules.