One of the many issues presented with a SO-DIMM capable system, whether laptop or desktop, is one of performance. In our recent Haswell memory scaling article using regular sized DIMMs, the high-performance sweet spot for memory was around the 2133 MHz CAS 9 or 2400 MHz CAS 10 marks. The issue with SO-DIMM systems is that memory often starts at 1333 CAS 9 or 1600 CAS 11, but in recent months companies like G.Skill, Corsair and Kingston have released higher specification SO-DIMM kits, up to 2133 CAS 11. This is still a little way off our sweet spot, but on the road. The main barrier to this incidentally is the lack of XMP support on laptops and mobile devices, firmly shutting the door on speeds above 1600 MHz without a modified BIOS.
While we are doing some in-house memory scaling testing regarding SO-DIMM, G.Skill went ahead with some testing using the main overclockable motherboard for SO-DIMMs: the ASRock M8. We reviewed the ASRock M8 as a Steam Box alternative last year capable of handling an i7-4770 CPU and a 250W GPU and gave it a Silver Award for industrial design.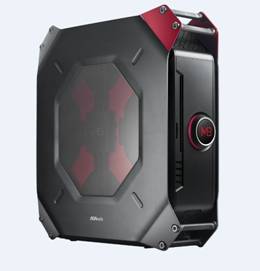 For the overclocking test, G.Skill use their DDR3L-2133 MHz CAS 11 2x4GB 1.35V memory kit and boost the final speed to DDR3-2600 12-14-14. Back in our memory scaling article we introduced the concept of a memory Performance Index as a rough guide to performance, and this memory kit started at a PI of 193 and ended on 217, or a 12.4% increase in potential performance.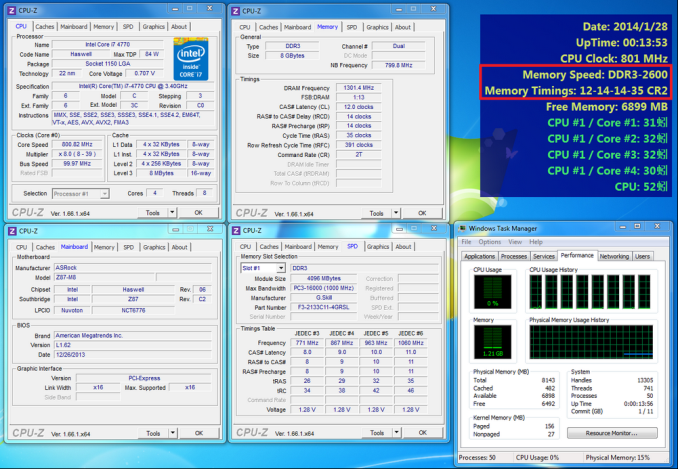 While G.Skill have jumped us in terms of showing that these speeds are possible, it remains to see if memory manufacturers will go ahead and make SO-DIMM modules at this speed. Or ultimately what matters more is that the platforms that use them (especially laptops and SFF) will actually adhere to XMP and allow us to enable it without any fuss. There are speed gains to be had by moving up from the industry default of 1600 MHz CAS 11 as we showed in our Haswell memory scaling article, but there needs to be a paradigm shift from the manufacturers that implement SO-DIMM. If the SO-DIMM modules come up to par with regular DIMMs, there might be a future where motherboard memory makes the transition.