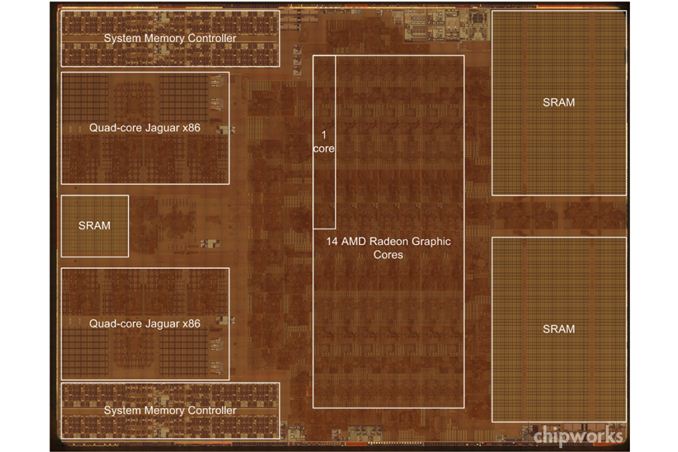 In our mini-review of the Xbox One I speculated that the shipping version of Microsoft's console featured 14 AMD GCN CUs (Graphics Core Next Compute Units), with two disabled to improve yields. Microsoft publicly stated that Xbox One development kits featured 14 CUs and Sony similarly had 20 CUs with only 18 enabled with the PS4. With Xbox One hardware in the wild, Chipworks went to task delayering the SoC/APU and confirmed the speculation - the Xbox One does indeed feature 14 CUs (pictured above).
Microsoft claims it weighed the benefits of running 12 CUs (768 cores) at 853MHz vs. 14 CUs (896 cores) at 800MHz and decided on the former. Given that the Xbox One APU only features 16 ROPs and ROP performance scales with clock speed, Microsoft likely made the right decision. Thermal and yield limits likely kept Microsoft from doing both - enabling all CUs and running them at a higher frequency. Chances are that over time Microsoft will phase out the extra CUs, although it may take a while to get there. I'm not sure if we'll see either company move to 20nm, they may wait until 14/16nm in order to realize real area/cost savings which would mean at least another year of shipping 14/20 CU parts at 28nm.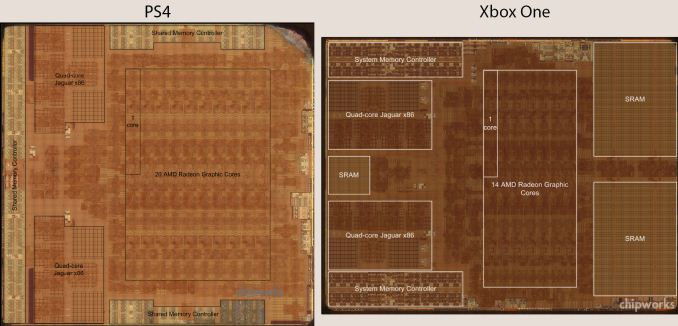 Compared to the PS4's APU, we see a very similar layout. The on-die SRAM sits next to the GPU array, and far away from the CPU, which makes sense given that the latter isn't allowed direct access to the eSRAM. You can very clearly see the tradeoff Microsoft had to make in order to accommodate its eSRAM. The GPU area shrinks considerably.