Last CES I dropped by Ambarella where they had just announced their iOne smart camera SoC. Ambarella is a big player in the camera and encoder ASIC business, and the importance of adding high-end ISP and video encoding as smartphone cameras become a very important topic. On one hand, we have smartphones increasingly becoming the camera of choice, and on the other, cameras becoming increasingly smartphone-like. As a refresher, the iOne consists of two Cortex A9s, an ARM 11 for camera management, and PowerVR SGX 540 graphics, alongside Full HD 1080i60 encode/decode. The promise last year was to combine Android or Linux alongside some of the traditional camera DSP for a big jump in quality.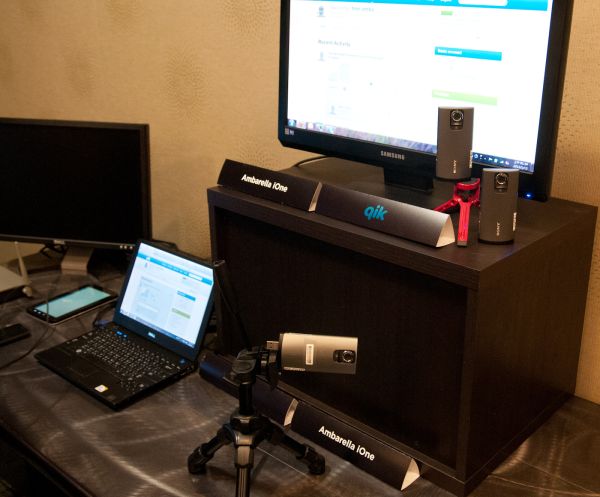 This year Ambarella showed off a number of products including the iOne SoC, including the Sony Bloggie Live, which runs Android (although in a locked, under-the-hood fashion). The platform lends the device the ability to both encode 1080p video, and live stream to services like qik, or share from its own WiFi hotspot (and DLNA) to iOS and other mobile platforms.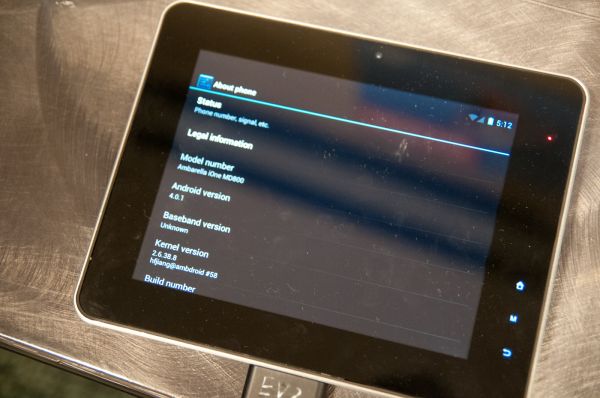 Also on display was a tablet by Panodic running Android 2.3.x and 4.0.1 being used as a set top box with HDMI out playing full BluRay disk 1080p H.264. The Panodic also includes a camera on the backside for stills and video.
WiFi sharing (getting an image out from the device on onto a smartphone or tablet for sharing) is also an increasingly relevant use case - something I routinely try to accomplish with an EyeFi card in conjunction with a portable hotspot. Ambarella will enable similar streaming and image download functionality in its A7L SoC with Qualcomm Atheros running SoftAP and newly announced Wireless Camera Development Kit.
It's clear that the smartphone/tablet platform and P&S camera will eventually merge at some point, as the device you always have on you ends up being the smartphone. The stepping stones to getting there are inclusion of some of the traditional camera DSP inside SoCs with application processors suited to running beefier OSes like Android.
Source: Ambarella