We're live at the CES 2012 Qualcomm keynote, and although CEO Paul Jacobs hasn't quite taken the stage yet, Qualcomm has already released a number of the announcements it had in store for today. First up is a new member of the Snapdragon S4 family, MPQ8064. MPQ8064 is a 1.5 GHz quad-core Krait (28 nm) SoC with Adreno 320 graphics. No doubt the M in MPQ stands for Multimedia or similar, and like the APQ series moniker, MPQ8064 has no integrated cellular baseband. As a result, MPQ8064 is geared for smart TVs or other applications that don't need cellular connectivity.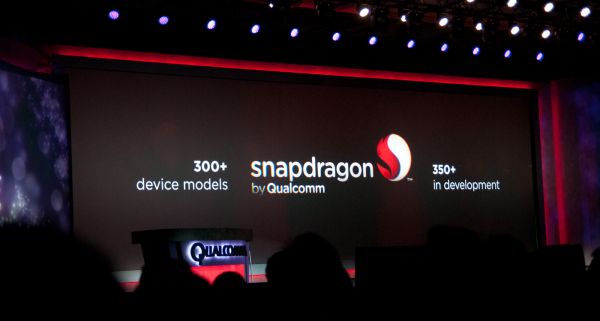 Qualcomm's Atheros side has two announcements of its own this morning. First is a WiFi Display certified solution for Android ICS, Windows 7, and Windows 8 OSes. This solution will sample in the first half of 2012 and support WiFi Display certified devices. Second is a new HomePlug powerline solution, QCA6410. This is is designed to be a low-cost and small form factor IEEE 1901/HomePlug compliant 200 Mbps powerline solution. The idea is to include this inside TVs and set-top boxes. Qualcomm Atheros states that QCA6410 is the most integrated solution yet, with 10/100 ethernet, internal memory, analog frontend, and power management all in a single package.
We're at the keynote and no doubt there's more in store.