ION Audio's iCade, the faux-retro Bluetooth arcade cabinet for the iPad and iPad 2, is getting some company this year: the company is currently showing off the new iCade Core, iCade Mobile, and iCade Jr. at CES. All three products are due to show up at some future date in 2012.
The iCade Core is a streamlined version of the original iCade that eschews the first model's arcade cabinet casing, but allows your iPad, iPhone, or iPod Touch to operate in landscape mode. Like the original, the iCade uses Bluetooth to handle communication but provides a dock connector for charging. There's no word on whether the lack of an arcade cabinet will make the iCade Core less expensive than the $99 iCade, but it seems likely.
Slightly more interesting is the iCade Mobile (above), which adds buttons and a directional pad to iPhones and iPods Touch. As mobile gaming becomes more popular, a notable complaint is that traditional shooters and platformers don't always work well without physical buttons - the iCade Mobile (or something like it) could help it play more of the same games that grace systems from Nintendo and Sony. When it launches, it will sell for $79.99.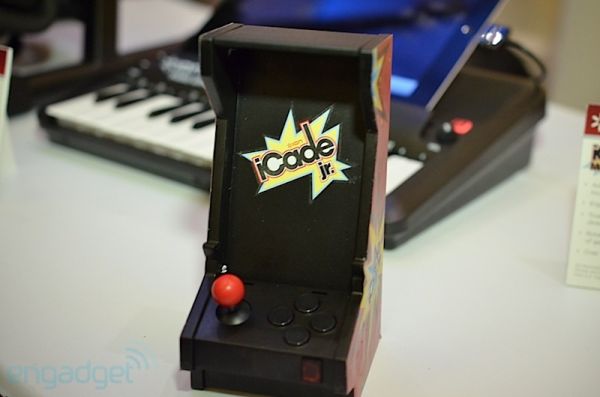 Lastly, the iCade Jr. is pretty straigtforward - it's a version of the original iCade designed for iPhones and iPods rather than the iPad. Like the standard iCade, it uses Bluetooth for data and includes a dock connector for charging, and has a joystick and eight buttons - four on the front and four on the back. When it launches, it will sell for $49.
When launched, all of these devices should be compatible with all games that support the iCade, an extensive list of which can be found on the original accessory's ThinkGeek product page.
Source: Engadget