We're at Huawei's press event where we just got to go hands on with the company's two new phones, both running Android Ice Cream Sandwich: the Huawei Ascend P1 S and Ascend P1. Both are based on a 1.5 GHz OMAP4460 SoC with PowerVR SGX 540 graphics and sport a 4.3" SAMOLED qHD display (960x540) with Gorilla Glass front face.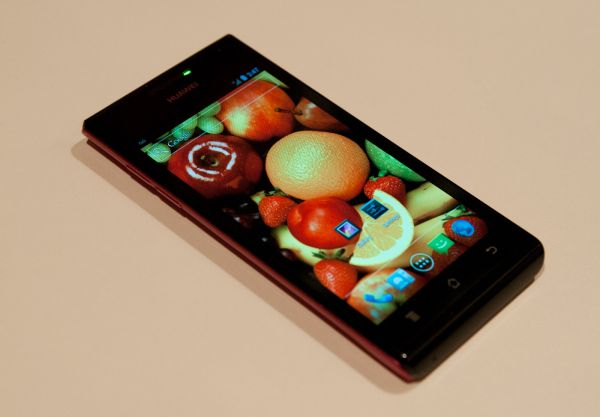 The P1 S is impressively thin at 6.68 mm. Both the P1 S and P1 sport the same specifications, and only differ in battery capacity - the P1 S includes a 1670 mAh battery, whereas the slightly larger P1 includes an 1800 mAh battery and slightly thicker 7.69 mm waistline. Huawei's industrial design has come a long way in the last two years, this is an impressive device that felt subjectively pretty good in the hands and is clearly aiming at the high end market. Huawei claims that this is the current thinnest smartphone, and impressively includes pentaband WCDMA alongside it.
Huawei Ascend P1 / P1 S
Specifications
Height
129 mm
Width
64.8 mm
Depth
7.69 mm (P1) / 6.68 mm (P1 S)
SoC
1.5 GHz Ti OMAP 4460
Network Support
Pentaband WCDMA 850/900/AWS/1900/2100 MHz, Quadband GSM/EDGE
Battery Size
1670 mAh (P1 S) / 1800 mAh (P1)
WiFi
802.11b/g/n, Bluetooth 3.0 HS
Camera
8 MP BSI Rear Facing / 1.3 MP Front Facing
RAM/ROM
1 GB RAM / 4 GB NAND
During the presentation, Huawei placed an emphasis on having a powerful camera with a variety of features to make it easier for users to shoot, edit, and share their photos without needing to use a computer. The company claims that their "close up mode" will help the average cell phone portrait look more polished. One interesting feature that we look forward to trying is the group portrait mode, which takes 5 photos in quick succession to prevent awkward blinks. This mode will even allow the user to choose the best shot of each person in the photo and stitch them together into a better group shot. Finally, a built-in panoramic mode facilitates easy panoramas with just a click and a slow 180 degree swivel. The company hopes that these camera features will bring users a step closer to a professional standard, and motivate them to ditch their old point and shoot once and for all.
The Ascend P1 and P1 S are slated for worldwide availability sometime in April 2012.