Earlier today, Apple made the iOS 4.3 available to its customers via iTunes, two days ahead of its previously announced March 11th release date.
iOS 4.3 is the release that will ship with the iPad 2, but it will also work with the iPhone 3GS, the AT&T iPhone 4, the third- and fourth-gen iPod touch, and the original iPad. If Apple sticks to its normal summer release schedule for new iOS versions, 4.3 will likely be the last major revision to iOS 4 before iOS 5 comes down the pike.
With this update, Apple has pulled the plug on iPhone 3G and second-generation iPod Touch users – rather than giving them a version of the 4.3 release stripped of its more performance-intensive features, the company has simply declined to issue iOS 4.3 for these devices at all. Also missing from the support list is the Verizon iPhone, though I suspect that this will be rectified through either a separate iOS 4.3 build or perhaps a 4.3.x build at some point in the near future.
The end of support for older devices isn't exactly surprising, though I do wish that Apple had at least waited until iOS 5 to completely drop support for the slower hardware – Apple was selling new second-gen iPod Touches as recently as September 2010, and it continues to sell them refurbished as of this writing. All things must pass, but to cut off such recent customers seems a bit harsh. Still, Apple's willingness to be the bad guy in this instance does help to prevent the hardware and software fragmentation endemic to the Android platform.
Older hardware aside, this article will focus mostly on what iOS 4.3 brings to users of existing devices. This is partly because the iPhone 3GS and first-generation iPad are what I've got to play with, and partly because most of the iPad 2-exclusive features relate to FaceTime, which by now is a thoroughly known quantity for iOS users.
A major component of the update is improved JavaScript rendering speed, courtesy of the same Nitro engine found in the desktop version of Safari. Apple says the new engine is about twice as fast as the old one, but is it true?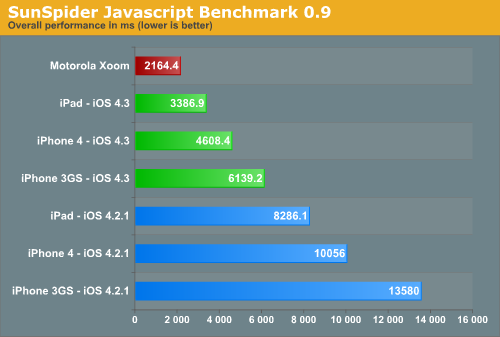 Sunspider isn't everthing, but as a standard benchmark it's a useful tool for measuring relative performance - relative to iOS 4.2.1, iOS 4.3 is actually a bit more than twice as fast at running JavaScript.
This is a welcome and impressive improvement, especially for those of us who aren't using Apple's latest and greatest. The Motorola Xoom is included for comparison, and while JavaScript performance isn't quite as good on the original iPad, iOS 4.3 does a lot to close the gap, especially given the iPad's older internals.
In practice, I wouldn't say there's a night-and-day difference, but pages seem to load with a bit more pep. No, it's not a scientific analysis, but you can rest easy knowing that iOS 4.3 isn't going to slow your device down while you're on the Web.