Today the first iPad 3Gs will go on sale starting at 5PM at Apple Retail Stores and Best Buy. Those who preordered at the time of announcement should be receiving their shipments via Fedex before then. The device itself hasn't changed except for a black strip at the top where the 3G antenna is located and there's now a removable micro SIM tray along the left side.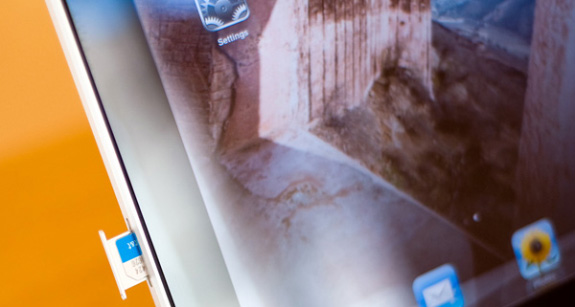 Activation is handled entirely within the iPad OS itself and AT&T offers two domestic dataplans: $14.99 for up to 250MB of data transfers per month, and $29.99 for unlimited. If you'd like to add international data roaming the options are as follows:
iPad 3G Data Plans
30 Day Billing Cost
250MB (Domestic)
$14.99
Unlimited (Domestic)
$29.99
20MB (International)
$24.99
50MB (International)
$59.99
100MB (International)
$119.99
200MB (International)
$199.99
Sigh. I long for the day when we'll get reasonable wireless internet pricing internationally.
The most interesting thing I've run into thus far is the fact that while operating on the 3G network we appear to be network bound rather than CPU bound. I timed simultaneous web page loads on both the iPhone 3GS and iPad 3G to get an idea of 3G performance on the devices. Each test was repeated at least 3 times and as many as 7 times to ensure repeatability. Outliers were thrown out and averages are reported below:
iPad 3G vs. iPhone 3GS - Cellular Network Performance
Apple iPad 3G
Apple iPhone 3GS
Load www.anandtech.com
28.3 seconds
21.3 seconds
Load www.digg.com
12.9 seconds
12.0 seconds
Load www.engadget.com
27.6 seconds
26.1 seconds
Load www.arstechnica.com
19.0 seconds
20.7 seconds
Load www.techreport.com
11.2 seconds
10.9 seconds
The iPhone 3GS is actually slightly faster over 3G. I suspect this is an OS/browser optimization issue because loading up AnandTech would occassionally come up lightning fast on the iPhone, presumably because it's loading almost entirely out of cache while I could never get the iPad 3G to do the same. If we look at the rest of the tests the race is far closer with the iPhone 3GS usually getting the slight edge over the iPad 3G. The opposite is true in one of the benchmarks. At the end of the day it seems that the A4 does nothing for web page loading performance over 3G. It's only over WiFi that you'll see a big performance gain over the iPhone 3GS (or perhaps on web pages with few images/ads).
More pics of the iPad 3G in our Gallery.