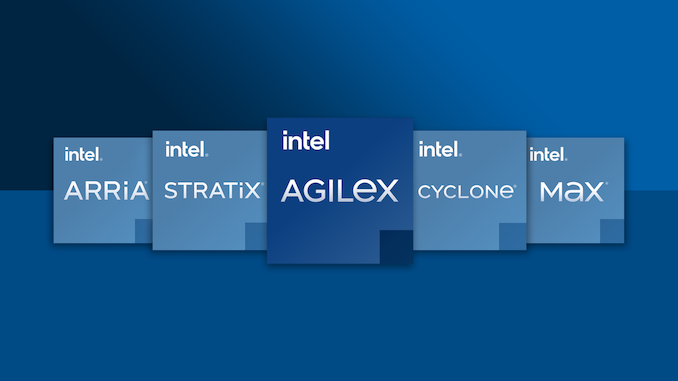 Intel this afternoon has announced that the company will be spinning off its programmable solutions group (PSG), to operate as a standalone business. The business unit, responsible for developing Intel's Agilex, Stratix, and other FPGA products, will become a standalone entity under Intel's corporate umbrella starting in Q1 of 2024, with the long-term goal of eventually selling off part of the group in an IPO in two to three years' time.
The reorganization announced today will see Intel's PSG transition to operating as a standalone business unit at the start of 2024, with Intel EVP Sandra Rivera heading up PSG as its new CEO. Rivera is currently the general manager of Intel's Data Center and AI Group (DCAI), which is where PSG is currently housed, so she has significant familiarity with the group. In the interim, Rivera will also continue serving in her role in DCAI until Intel can find a replacement, with the company looking for candidates both externally and internally.
The separating of PSG is the latest move from Intel to reorganize the company's multi-faceted business in an effort to focus on its core competencies of silicon photolithography and chip design. Since bringing on current CEO Pat Gelsinger two years ago, Intel has sold or spun off several business units, including its SSD business, NUC mini-PC business, Mobileye ADAS unit, and others, all the while making significant new investments in Intel's Foundry Services (IFS) fab division. Though, unlike some of Intel's other divestments, it's notable that the company isn't separating from PSG because the business unit is underperforming or is in a commoditized, low-margin market – rather, Intel thinks PSG could perform even better without the immense business and bureaucratic weight of Intel hanging over it.
For the standalone PSG business unit, Intel is eyeing a very similar track to how they've handled Mobileye, which will see Intel maintaining majority ownership while still freeing up the business unit to operate more independently. This strategy has played out very well for Mobileye, with the company enjoying continued commercial growth while successfully IPOing last year, and which Intel is hoping they can achieve again with a standalone PSG.
This business unit separation comes as Intel, by their own admittance, has mismanaged PSG. While PSG has enjoyed a string of record quarters financially, Intel believes that PSG has been underserving the true high growth, high profitability markets for FPGAs, such as industrial, automotive, defense, and aerospace. Since being acquired by Intel in 2015 – and especially in the last few years as a formal part of DCAI – Intel's PSG has been focused on datacenter solutions, to the detriment of other business segments.
Reforming PSG as a standalone business unit, in turn, is intended to improve the agility of the business unit. While PSG will remain under the ownership of Intel both now and in the future, Intel's control over the group will be largely reduced to that of an investor. This will leave Sandra Rivera and her leadership team free to adjust the company's product portfolio and positioning as to best serve the wider FPGA market, and not just Intel's datacenter-centric ambitions. Meanwhile, if all goes well, over the long-haul Intel gets to pocket the profits of a successful IPO while having one less business unit to manage, allowing Intel to funnel its money and time into its own higher priority ventures such as fabs.
Keeping in mind that the PSG was an acquisition for Intel in the first place, in some respects this is an unwinding of that acquisition. In 2015 Intel paid $16.7 billion for what was then Altera, which under Intel became the PSG as we know it today. And while Intel's eventual IPO plans for PSG have them retaining a stake in the business unit – and a majority stake, at that – this very much re-separates PSG/Altera in terms of operations.
Still, PSG/Altera has a very long history with Intel, going all the way back to 1984, and even as a standalone business unit, PSG will still be tied closely to Intel. Altera will be free to use whatever contract fab it would like, but as the company has been under Intel's umbrella all this time, it is no surprise that many of the company's upcoming products are slated to be built at Intel's fabs, where PSG is expecting to leverage Intel's advanced packaging techniques. And over the longer term, as Intel lays the groundwork to become the top contract fab in the world, it's Intel's hope that they'll be able to keep PSG's business.
At the same time, however, PSG will need to win back the business it has lost in the last several years due to its datecenter focus under Intel. The FPGA space is highly competitive, with arch rival AMD having acquired Xilinx in 2020, and who is starting to reap some of the first benefits of that acquisition and integration. Meanwhile in the low power FPGA space, fellow Oregon firm Lattice Semiconductor is not to be underestimated. Intel believes the FPGA market is primed for significant growth – on the order of a "high single digit" compound annual growth rate – so it's not just a matter of winning back existing dollars from PSG's rivals. But they'll have to win back mindshare as well, a task that may take a significant amount of time as the FPGA market moves much slower and offers much longer-lived products than the CPU market.
But first, PSG must get ready to stand on its own two feet. PSG will transition to operating as a standalone business unit at the start of 2024, and it will be reported as such on Intel's financial statements. Meanwhile, Intel is looking to bring on an initial external investor in 2024, to act as an outside resource to help prepare the group for an eventual IPO. According to Intel, PSG will need two to three years to develop the financial history and leadership stability for a successful IPO, which is why Intel is focusing on making the business unit standalone now, while eyeing an IPO a few years down the line.
Finally, for now it remains to be seen what the standalone PSG will be calling itself. As "programmable solutions group" is arguably unsuitable as a business name, expect to see PSG renamed. Whether that means resurrecting the Altera name or coming up with a new name entirely, as part of standing up on its own two feet, Intel's FPGA business will need an identity of its own to become a business of its own.
Source: Intel