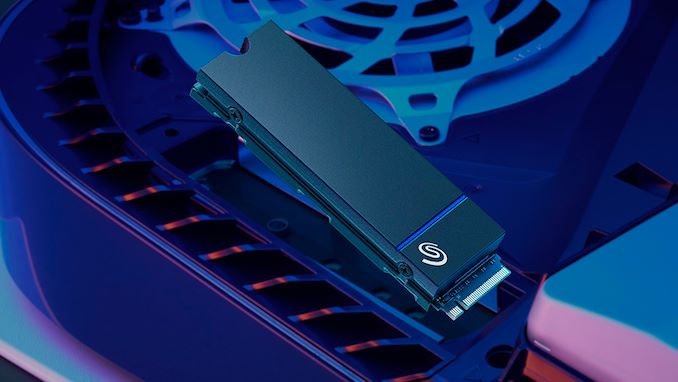 Western Digital's WD_Black SN850P was the first officially PlayStation 5-licensed SSD to hit the market. Seagate wants a piece of that and has hopped on the PlayStation 5 train with the new Game Drive PCIe 4.0 NVMe SSD series, officially licensed for Sony's current-generation gaming console.
Unlike Microsoft, which uses a proprietary SSD expansion card for the Xbox Series X and Xbox Series S, Sony opted to employ a standard M.2 slot for storage expansion on the PlayStation 5. The Japanese console maker's decision provides more storage options for gamers since they have many M.2 SSD offerings on the market. The M.2 slot has also paved the way for SSD manufacturers to partner with Sony to release licensed drives, which have been tested and approved for the PlayStation 5. Therefore, you don't want to worry whether the SSD's heatsink keeps the drive cool or if the Game Drive will fit inside the PlayStation 5.
Seagate's Game Drive SSDs, like the WD_Black SN850P, stick to the PCIe 4.0 x4 interface. That's the same interface in the PlayStation 5, so it makes little sense for vendors to tailor faster toward the gaming console. The Game Drive SSDs utilize Phison's PS5018-E18 PCIe 4.0 SSD controller capable of hitting write and read speeds over 7 GB/s. Built with TSMC's 12nm process node, the E18 is a popular, high-end SSD controller for mainstream PCIe 4.0 SSDs. The E18 comes equipped with three 32-bit Arm Cortex R5 CPU cores and an eight-channel design to support NAND flash speeds up to 1,600 MT/s and capacities up to 8 TB. Seagate pairs the E18 controller with unspecified 3D TLC NAND in the company's Game Drive SSDs.
Seagate Game Drive Specifications
1 TB
2 TB
4 TB
Part Number
ZP1000GP304001
ZP2000GP304001
ZP4000GP304001
Seq Reads (MB/s)
7,300
7,300
7,250
Seq Writes (MB/s)
6,000
6,900
6,900
Random Reads (K IOPS)
800
1,000
1,000
Random Writes (K IOPS)
1,000
1,000
1,000
Endurance (TBW)
1,275
2,550
5,100
Active Power, Average (W)
6.3
7.8
8.6
Idle Power PS3, Average (mW)
20
25
30
Low Power L1.2 mode (mW)
<5
<5
<5
Seagate offers the Game Drive SSDs in 1 TB, 2 TB, and 4 TB variants. Sony recently deployed a software update for the PlayStation 5 to support 8 TB SSDs. It's a shame that Seagate doesn't commercialize an 8 TB variant of the Game Drive SSDs as competing brands, including Corsair, Sabrent, PNY, Addlink, and Inland, all have 8 TB drives in their arsenals.
Seagate's Game Drive series delivers sequential read and write speeds up to 7,300 MB/s and 6,900 MB/s, respectively. Random performance scales up to 1,000,000 IOPS writes and reads. However, the sequential and random performance vary by capacity. The 2 TB model is the only SKU to hit the maximum quoted figures. The Game Drive series' sequential read performance is on par with the WD_Black SN850P. Sequential write performance is somewhat faster. However, the WD_Black SN850P flaunts better random performance than the Game Drive.
Endurance doubles by the capacity. The 1 TB is rated for 1,275 TBW (terabytes written), while the 2 TB and 4 TB drives are at 2,550 TBW and 5,100 TBW. That's one aspect where the Game Drive is substantially better than the WD_Black SN850P. For comparison, the WD_Black SN850P's endurance levels for the 1 TB, 2 TB, and 4 TB drives are 600 TBW, 1,200 TBW, and 2,400 TBW, respectively. Seagate's SSDs are over 2X more durable than the Western Digital drives.
The Game Drive 1 TB and 2 TB models are shipping now and have $99.99 and $159.99 MSRPs, respectively. However, they're selling for $104 and $174 on Amazon. Meanwhile, the Game Drive 4 TB will set you back $449. The 1 TB and 2 TB drives are $10 cheaper than the WD_Black SN850P. The WD_Black SN850P 4 TB is up to $70 less expensive. Due to the licensing fees, Seagate's Game Drive series is significantly more costly than the non-licensed SSDs. For comparison, the WD_Black SN850X, which is commonly regarded as one of the best SSDs for the PlayStation 5, is available at $69 for the 1 TB model, $129 for the 2 TB model, and $282 for the 4 TB model.
Source: Seagate