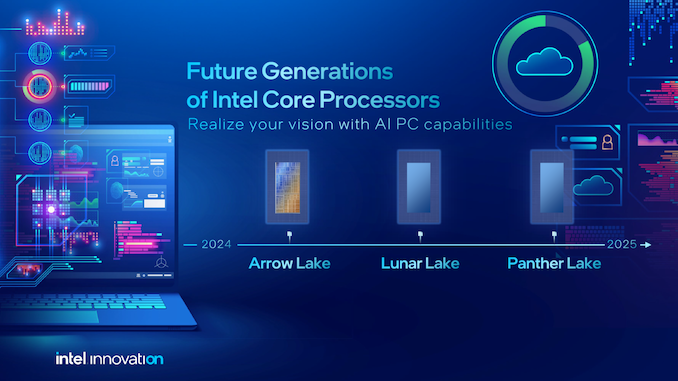 While the primary focus has been on Intel's impending Meteor Lake SoC due by the end of the year, Intel CEO Pat Gelsinger unveiled more about their current client processor roadmap. Aside from a demo showing off a 'Lunar Lake' test box, Pat Gelsinger also announced Panther Lake, a new Intel client platform that is on track for a release sometime in 2025.
Intel's updated roadmap has given the industry a glimpse into what lies ahead. Following the much-anticipated Lunar Lake processors set for a 2024-2025 timeframe, Panther Lake is set to bring all the technological advancements of Intel's 18A node to the party.
As mentioned, Intel demoed Lunar Lake's AI capabilities with a live demo at Intel Innovation 2023. This included a pair of demos, one running an AI plugin called Riffusion within the Audacity software, which can generate music. The second was a demo running Stable Diffusion using a text-to-image generation model; it was a giraffe in a cowboy hat for reference. This was all done using a working Lunar Lake test box, which seamlessly looked to run the two demos with ease.
Intel Client Processor Roadmap
Name
P-Core uArch
E-Core uArch
Process Node
(Compute Tile)
Release Year
Meteor Lake
Redwood Cove
Crestmont
Intel 4
2023 (December)
Arrow Lake
Lion Cove?
Crestmont?
Intel 20A
2024
Lunar Lake
Lion Cove?
Skymont?
Intel 20A?
2024?
Panther Lake
?
?
Intel 18A
2025
Pivoting to the Panther Lake, Intel, via CEO Pat Gelsinger during Intel Innovation 2023, said that it's on track for release in 2025; we also know that Intel is sending it to fabs in Q1 of 2024. This means we're getting Meteor, Arrow, Lunar, and then Panther Lake (in that order) by the end of 2025. Panther Lake aims to build on Lunar Lake with all its tiles fabricated on the advanced 18A node. While (understandably) details are thin, we don't know what P-core or E-core architectures Panther Lake will use.
Intel's Innovation 2023 event was a starting point for Intel CEO Pat Gelsinger to elaborate on a comprehensive processor roadmap beyond the much anticipated Meteor Lake SoC, with the first Ultra SKU set to launch on December 14th; this about counts as a launch this year, barring any unexpected foibles. With Panther Lake on track for a 2025 release and set to go to fabs in Q1 of 2024, Intel's ambitious "5 nodes in 4 years" strategy is in full swing. While Lunar Lake paves the way with advanced on-chip AI capabilities on the 20A node, Panther Lake aims to build upon this foundation using the more advanced 18A node.
Although specific architectural details remain scant, the sequential release of Meteor, Arrow, Lunar, and Panther Lake by the end of 2025 underscores Intel's aggressive push to redefine the client processor landscape.