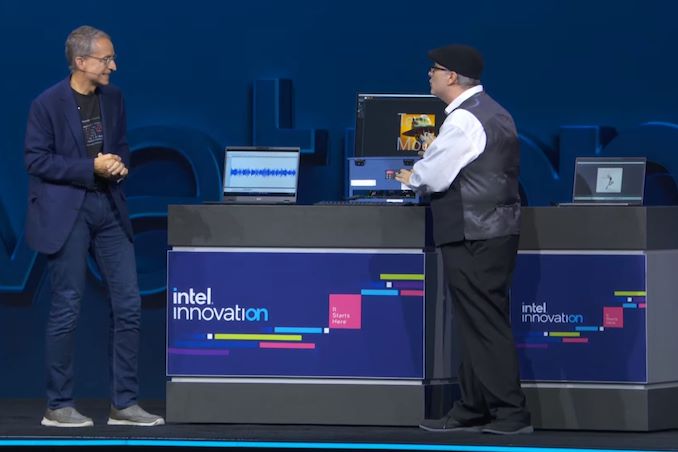 As part of Intel's Innovation 2023 conference, the company is not only showing off their current and soon-to-be-current products like Meteor Lake, but the forward-looking keynote by CEO Pat Gelsinger was also used to showcase future generations of Intel products. Perhaps the biggest surprise this year being Intel's Lunar Lake platform, which is already up and running to the point where Intel can do demos on it.
Lunar Lake is Intel's 2025 client platform, which is scheduled to arrive after Meteor Lake (very late 2023) and Arrow Lake (2024). At last disclosure from Intel, it is going to be a brand-new platform, replacing the shared Meteor/Arrow platform. At this point, confirmed details are few and far between, other than that it will be bigger and better than Meteor Lake.
Intel Client Processor Roadmap
Name
P-Core uArch
E-Core uArch
Process Node
(Compute Tile)
Release Year
Meteor Lake
Redwood Cove
Crestmont
Intel 4
2023 (December)
Arrow Lake
Lion Cove?
Crestmont?
Intel 20A
2024
Lunar Lake
Lion Cove?
Skymont?
Intel 20A?
2024?
Panther Lake
?
?
Intel 18A
2025
In any case, as part of this year's Innovation keynote, Gelsinger & co ran a pair of AI demos on their Lunar Lake test box. The first was Riffusion, an AI music generation plugin for Audacity that can generate music based on the style of another artist. The second demo was the now classic Stable Diffusion text-to-image generation model. Both demos were able to leverage the chip's NPU, which is a new processing block for Intel client chips starting with the impending Meteor Lake.
And while the demo was brief, it served its purpose: to show that Lunar Lake was back from the fab, and was already in good enough shape not just to boot and OS, but to show off controlled demos. Intel has made it clear over the past few years that they intend to move fast to make up for lost time and recapture leadership of the client market (both in terms of architecture and fabs), so they are eager to show off their progress here.
Perhaps the most interesting thing about the demo was what wasn't said, however: the process node used for Lunar Lake's compute (CPU) tile. In Intel's earliest (and still most recent) public roadmap, Lunar Lake was listed to be built on the Intel 18A process. However, other disclosures from Intel today indicate that they're only going to be starting risk production of 18A silicon in Q1'2024. Which means that for Lunar Lake to be working today, it can't be on 18A.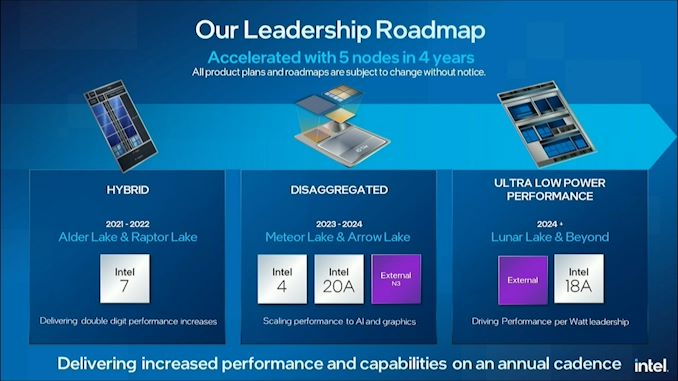 Old Intel Client Roadmap, Circa 2022
That leaves 20A as by far the most likely alternative, which is due sooner and is already turning out working wafers. Which means that Intel is planning on using 20A over two generations of client processors: Arrow Lake and Lunar Lake. We're still waiting on confirmation of this, of course, but all signs currently point to Lunar Lake having shifted to 20A since Intel's previous update.