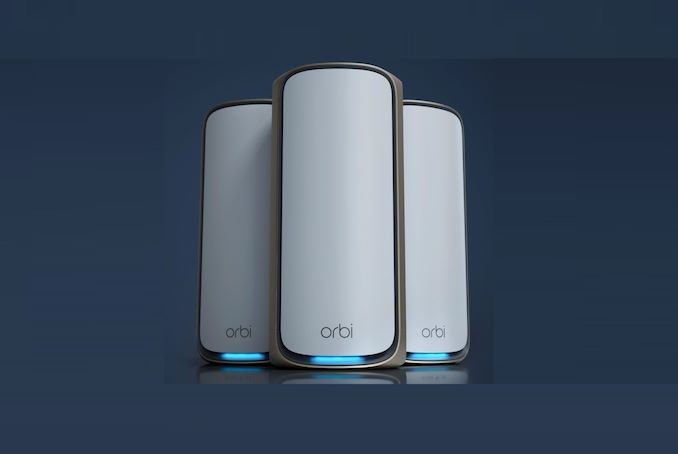 Wi-Fi has seen rapid advancements over the last decade, starting with the introduction of 802.11ac (Wi-Fi 5). 802.11ax (Wi-Fi 6) came with significant improvements in total throughput. The Wi-Fi 6E standard brought 6 GHz operation (where allowed) to consumers. A few years back, Wi-Fi 7 silicon was announced with multi-gigabit throughput and significant latency improvements. On the device side, consumers grappling with range issues typically used to augment their networks with extenders, while prosumers opted for multiple access points backed by a single router. In recent years, we have seen the rise of a new category of products - Wi-Fi systems / mesh networking kits. These bundles consisting of a router with one or more satellites attempted to make the setting up of a network extender-based configuration more user friendly and provide them with a seamless and unified product experience.
The category has seen significant investment from traditional vendors like Netgear, TP-Link, etc., big vendors like Google (Google Wi-Fi and Nest Wi-Fi), as well as startups like eero (now, part of Amazon) and Plume. Netgear had jumped on the mesh-networking bandwagon quite early, and has enjoyed significant market success with their Orbi series of products. Unlike some of the other mesh networking vendors, Netgear uses a dedicated backhaul and also provides optional support for wired backhauls. While this provided tangible benefits over shared wireless backhauls, the costs associated with the additional radio has usually put the Orbi kits in the premium category.
The company last updated its Orbi lineup in October 2021 with the launch of the RBKE960 Wi-Fi 6E mesh system based on Qualcomm's Networking Pro Series 1610 (integrating the IPQ8074 WiSoC and QCN9074 radios).Today, the company is introducing the Orbi 970 series with Wi-Fi 7 support. Building upon their experience with the RBKE960, Netgear has further optimized the antenna design and placement, and also enhanced the backhaul connection in a newly designed slim chassis with a smaller footprint.
The quad-band design involves two 4x4 5 GHz, one 4x4 6 GHz, and one 4x4 2.4 GHz channels. The enhanced backhaul scheme in the Orbi 970 involves use of multi-link operation (MLO). The router and the satellite communicate using the dedicated 5 GHz backhaul channel along with the 6 GHz band. Multi-link operation is a new Wi-Fi 7 feature, and Netgear is taking advantage of that by using it in conjunction with their traditional dedicated backhaul channel. It must be noted that the 6 GHz channel is used for both fronthaul and backhaul.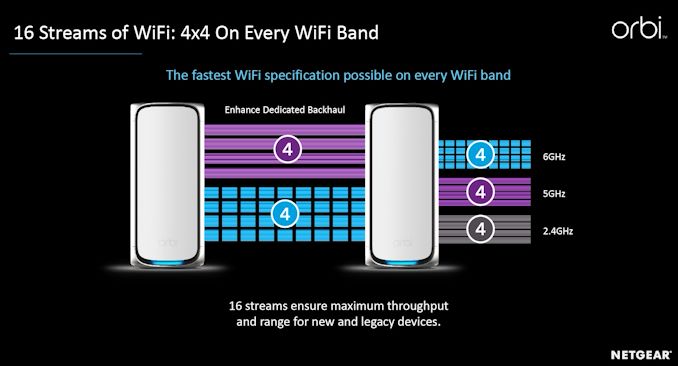 Netgear also demonstrated practical backhaul bandwidth of around 10 Gbps with this enhanced backhaul scheme. MLO is also available for fronthaul communication, assuming the client device supports it.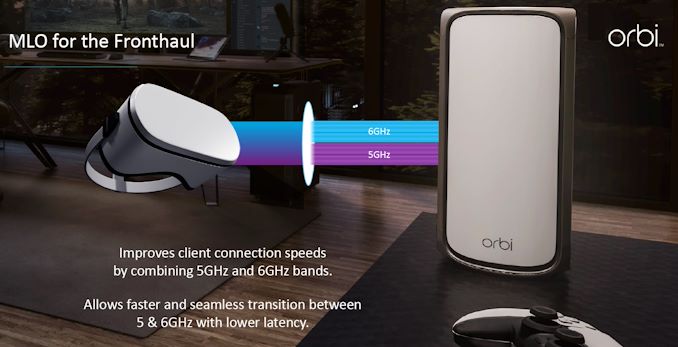 The company has been making incremental improvements to the antenna placement for optimizing coverage, and the trend continues with the new industrial design. Each router / satellite includes 12 high-performance internal antennas complemented by high-power amplifiers.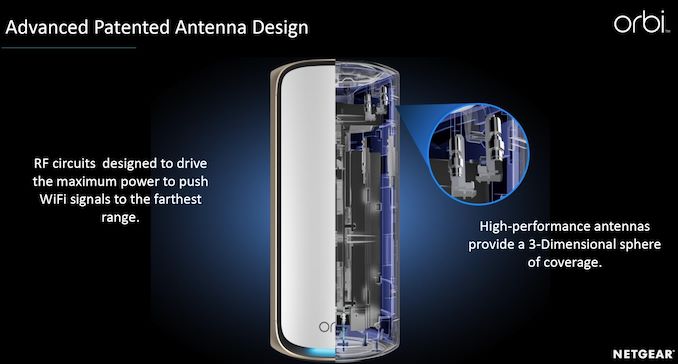 The availability of 320 MHz channels and the 16-stream support enable Netgear to advertise the Orbi 970 series as a BE27000 system, with theoretical total bandwidth of 27 Gbps.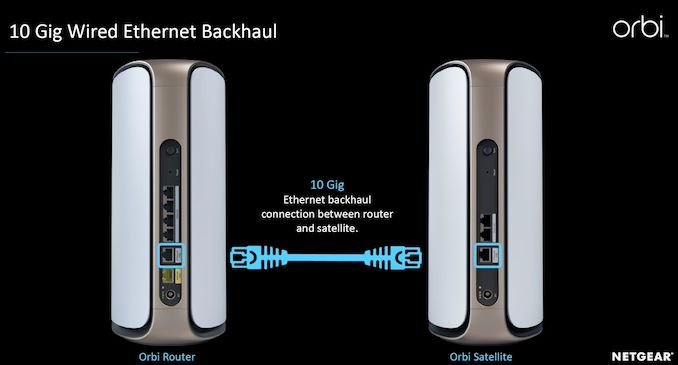 The router comes with 4x 2.5G + 1x 10G LAN ports and a 10G WAN port, while the satellite is equipped with 2x 2.5G + 1x 10G LAN ports. The 10G LAN ports on the router and satellite can be used to create a wired backhaul.
As is usual for Orbi kits, the setup is done via a smartphone app. Netgear also provides a couple of value additions - 1 year of Netgear ARMOR powered by Bitdefender - a security / VPN solution, and a free month of a subscription-based Smart Parental Controls application.
Netgear claims that a router and two satellites are enough to cover 10000 sq. ft., with each additional satellite providing an extra 3300 sq. ft. Pricing ranges from $2300 for the 3-piece kit to $900 for each satellite.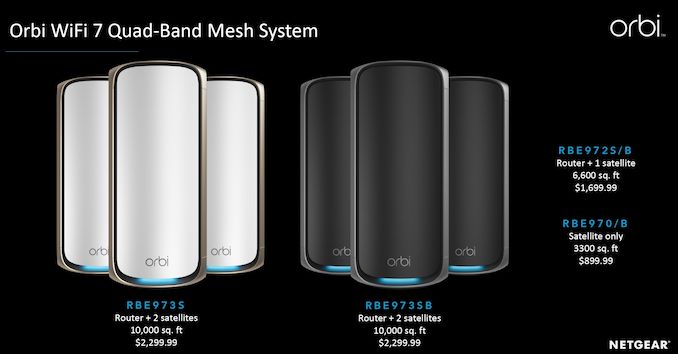 Similar to previous Orbi kits, the Orbi 970 also utilizes a Qualcomm platform. The Wi-Fi 7 Networking Pro series was launched in May 2022, and our coverage detailed some of the key features such as MLO, AFC for optimized 6 GHz performance, and adaptive interference puncturing to allow channels to operate in a disjointed state in order to maximize bandwidth in the presence of interference. All of these features are present in the Orbi 970 routers and satellites, which utilize the Networking Pro 1620 platform.
The kits are available for purchase today. Netgear has taken its time to perfect the firmware and app prior to release, as Wi-Fi 7 mesh kits from TP-Link (Deco) and Linksys (Velop) are already in the market. Interestingly, TP-Link also has a BE33000 Deco BE95 quad-band kit priced at $1200 for a 2-pack (compared to the $1700 for a similar Orbi 970 configuration). The key difference is that the Deco BE95 uses two 6 GHz channels instead of the two 5 GHz channels in the Orbi 970. So, while the availability of higher channel width in 6 GHz enables the Deco BE95 to advertise more available bandwidth (33 Gbps vs. 27 Gbps), range in the 6 GHz band might not be enough for optimal coverage. Of course, usage of a wired backhaul might result in the Deco BE95 providing overall better performance. The other mesh kits (from both TP-Link and Linksys) are BE11000 / BE22000 tri-band kits and don't compete against the Orbi 970 series.
The pricing of the flagship mesh kits has slowly been creeping upwards every generation, but the increasing number of radios and antennas that need to be accommodated in the design leave vendors without much choice. With pricing between $1700 and $2300, the Orbi 970 series might not be for everyone. But, it is bound to be cheaper (and possibly more performant) than creating a wired backbone, installing a router, and complementing it with multiple low-cost access points.
Source: Netgear