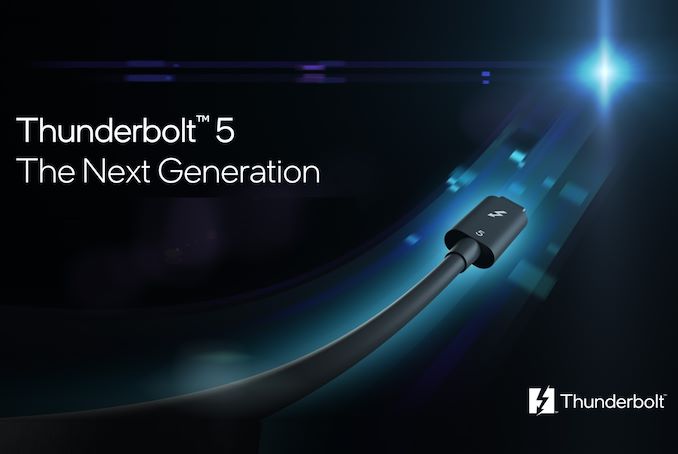 The USB-IF and VESA released the specifications of USB4 v2 and DisplayPort 2.1 in Q4 2022. At that time, Intel also announced that their next-gen Thunderbolt specifications would build upon these standards. However, concrete details were not divulged. Today, the company is unveiling Thunderbolt 5 officially with discrete controllers in tow for both hosts and peripherals.
Thunderbolt 5: Technical Details
The USB4 v2 specifications have been public for almost a year now. As a result, the capabilities of Thunderbolt 5 on the technical front are not much of a secret. In fact, Intel had detailed most of them last year.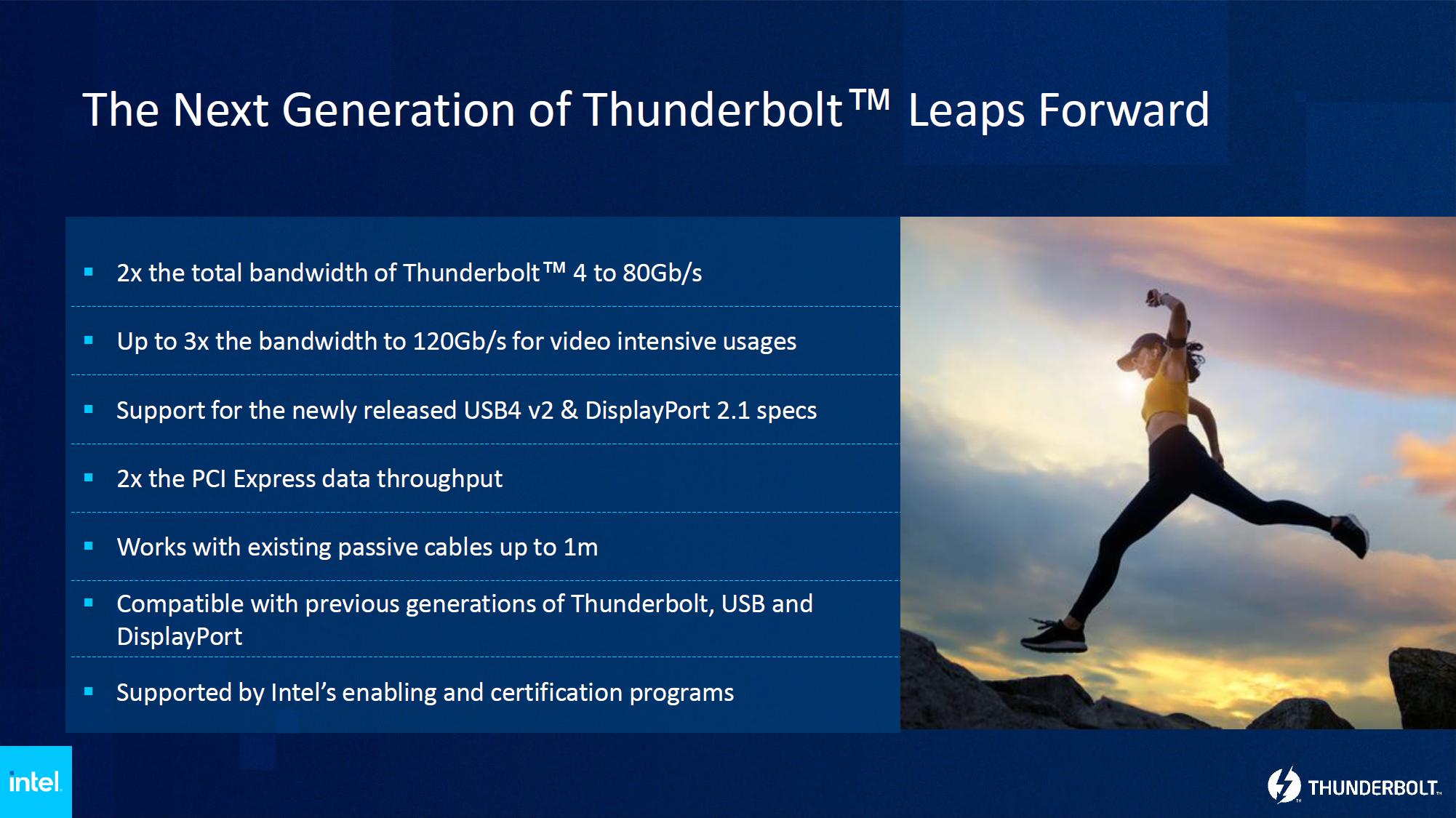 The technical aspects described above include:
PCIe Gen4 x4 support (64 Gbps full duplex)
DisplayPort 2.1 support (up to 80 Gbps)
Asymmetric operation (120 Gbps transmit / 40 Gbps receive), in addition to the regular 80 Gbps transmit / 80 Gbps receive
Usage of PAM3 (Pulse Amplitude Modulation with three levels) enabling more data transfer in each clock cycle
A few additional details were provided as part of today's announcement. These are in addition to Thunderbolt 4 features.
Compulsory requirement to support dual 6K monitors
Compulsory 140W PD support for charging, up to 240W optional
Doubled Thunderbolt networking bandwidth (from 10 Gbps full duplex to 20 Gbps full duplex)
Existing Thunderbolt 3 cables up to 1m can also support the new speeds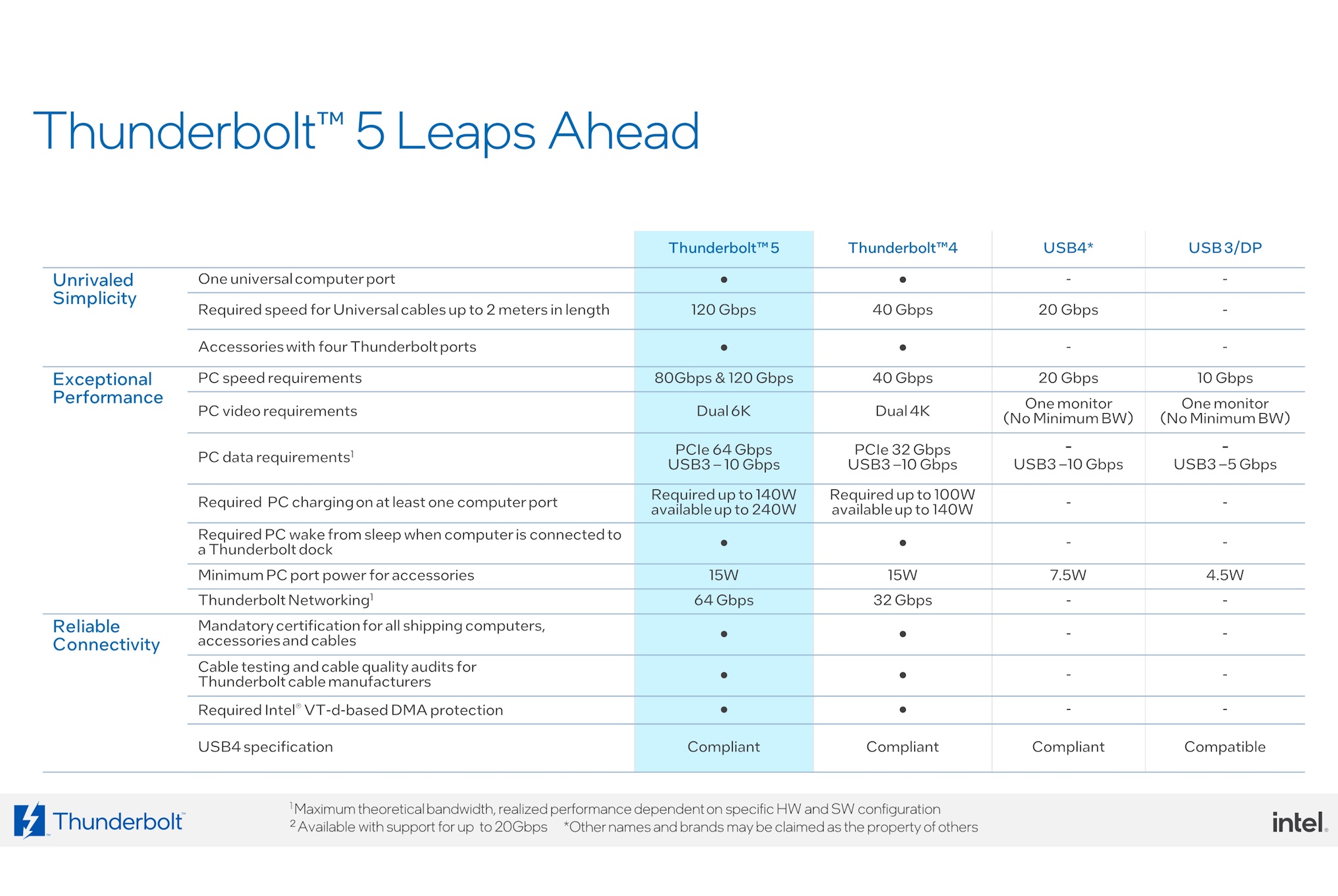 Thunderbolt 5 also supports up to 240W power delivery (USB-PD EPR specifications). This is useful for gaming notebooks and other power-hungry systems connecting to a Thunderbolt 5 dock (and relying on it as a power source). However, this is an optional feature and is likely to be relegated to premium Thunderbolt 5 peripherals. The compulsory features related to the increase in available bandwidth translate to support for high-refresh rate high-resolution monitors, and support for external SSDs and eGFX with PCIe Gen4 x4 links.
The Barlow Ridge Thunderbolt 5 Controller Family
Intel is bringing Thunderbolt 5 to the market with discrete silicon first. The Barlow Ridge family includes controllers for both hosts and accessories. Silicon meant for accessories are equipped with one upstream and three downstream Thunderbolt 5 ports. For computers, the controller takes in a DisplayPort 2.1 input along with a PCIe Gen4 x4 link to interface with the host.
The technical aspects of Barlow Ridge such as package size and TDP will be made public in the coming months. Intel expects Thunderbolt 5-equipped computers and accessories to launch in 2024. Technical collateral and other developer resources will become available in Q4 2023.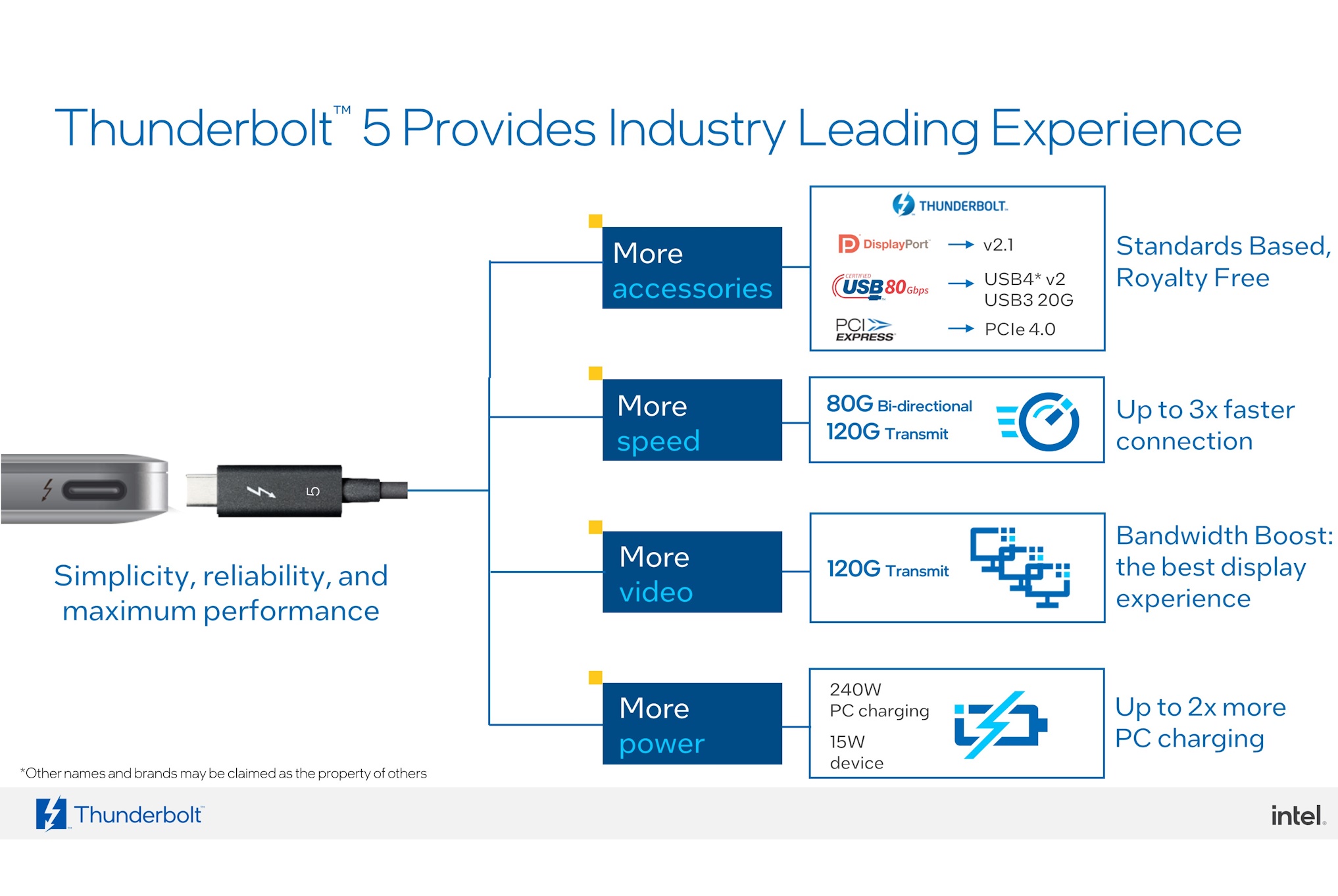 Based on the Thunderbolt 5 details presented today, it is clear that Thunderbolt ports will continue to remain the Type-C port that does it all. We would have liked some of the optional features (such as USB3 20G support) to become compulsory, but the other exciting updates in Thunderbolt 5 may make it easy for consumers to look past that. In any case, we have seen recent USB4 / Thunderbolt 4 implementations supporting that standard, so it is likely that at least some Thunderbolt 5 host ports will also support that standard.
Source: Intel