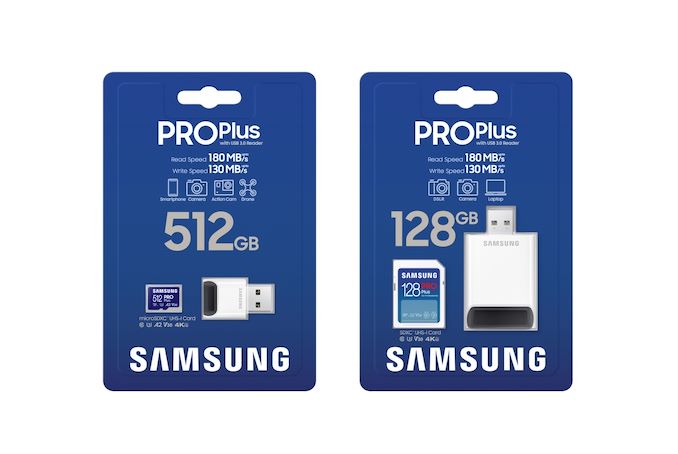 Samsung has been marketing SD and microSD cards for a few years now under the PRO Plus lineup in the UHS-I category. We looked at the 2020 lineup in detail a few years back. In 2021, the company updated this product line with increased read/write speeds of 160 MBps / 120 MBps. Today, the company is announcing new updates to the lineup with increased speeds of up to 180 MBps reads and 130 MBps writes. The new cards come with a V30 video speed class rating, guaranteeing a minimum write speed of 30 MBps even under worst-case conditions.
On the microSD front, Samsung is touting A2 application performance class for the new cards. These cards guarantee a minimum of 4000 random read IOPS and 2000 random write IOPS under all conditions. Given the increase in number of use-cases for microSD cards over SD cards - mobile devices, game consoles, drones, and action cameras, the PRO Plus microSD lineup includes a 512GB SKU for the new speeds. The PRO Plus SD lineup with the new speeds tops out at 256GB.
Samsung 2023 PRO Plus SD and microSD Lineup
microSD
SD
Capacity
512GB
256GB
128GB
256GB
128GB
64GB
Launch Pricing (Card)
$60
$30
$19
$38
$22
$13
Launch Pricing (Card + Reader)
$65
$38
$26
$50
$30
-
Interface
UHS-I
SD Standard
SDXC
Performance
180 MBps (R) / 130 MBps (W)
Speed Class
U3, V30, A2, Class 10
The company is also having select SKUs available with a bundled USB 3.0 card reader. Note that UHS-I officially goes up to 104 MBps only. The higher speeds that make an appearance in the new SKUs' packaging is enabled by proprietary extensions (other manufacturers such as SanDisk and Lexar also adopt a similar strategy). Standard UHS-I card readers may not ingest from / write data to the new cards at the higher speeds.
The PRO Plus lineup continues with its promise of durability (ability to withstand extreme handling and storage conditions). Combined with the 10-year warranty, Samsung continues to target professional users with the lineup updates.
Source: Samsung