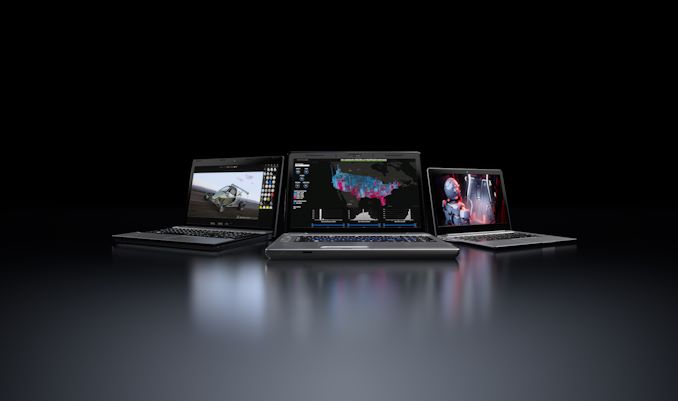 Along with today's NVIDIA Studio branding announcement, NVIDIA is also using Computex to update their lineup of Quadro GPUs for notebooks and mobile workstations. Along with bringing some of the existing Quadro RTX desktop parts to the mobile space, the company is also launching a sub-series of parts under the Quadro T series, and finally a pair of new Quadro P series graphics adapters for the low-end.
Starting things off, we have the mobile Quadro RTX parts, which are all new for the mobile space. Like NVIDIA's GeForce mobile counterparts, these Quadro RTX mobile parts are essentially the same chip configurations as their desktop siblings, but put into a mobile form factor and with their TDPs and clockspeeds turned down accordingly. As a result the mobile Quadro RTX parts pack all the features and VRAM of the desktop parts that NVIDIA has previously launched, while retaining a good deal of their performance and all of the Turing architecture's functionality.
NVIDIA Mobile Quadro RTX Spec Comparison
RTX 5000
RTX 4000
RTX 3000
P5200
CUDA Cores
3072
2560
2304
2560
Boost Clock
~1.53GHz
~1.56GHz
~1.39GHz
~1.74GHz
Memory Clock
14Gbps GDDR6
14Gbps GDDR6
14Gbps GDDR6
8Gbps GDDR5
Memory Bus Width
256-bit
256-bit
192-bit
256-bit
VRAM
16GB
8GB
6GB
16GB
Single Precision Perf.
9.4 TFLOPs
8 TFLOPs
6.4 TFLOPs
8.9 TFLOPs
Tensor Perf. (FP16)
75.2 TOPs
63.9 TOPs
51.4 TOPs
N/A
TGP Max Power
80-110W
80-110W
60-80W
150W
GPU
TU104
TU104
TU106
GP104
Transistor Count
13.6B
13.6B
10.8B
7.2B
Architecture
Turing
Turing
Turing
Pascal
Manufacturing Process
TSMC 12nm "FFN"
TSMC 12nm "FFN"
TSMC 12nm "FFN"
TSMC 16nm
Launch Date
05/27/2019
05/27/2019
05/27/2019
N/A
Owing to the tighter TDPs of mobile, NVIDIA's mobile Quadro RTX stack doesn't go quite as high as it does on the desktop. For mobile the fastest part is the Quadro RTX 5000, which is based on the same TU104 GPU as the desktop version. This part replaces the Quadro P5200 as NVIDIA's flagship mobile Quadro part. Meanwhile below that we have the Quadro RTX 4000 and RTX 3000, which appear to be based on a cut-down TU104 and full-fledged TU106 GPU respectively.
In terms of performance, the RTX 5000 will top out at 9.4 TFLOPs, followed by 8 TFLOPs for the RTX 4000 and 6.4 TFLOPs for the RTX 3000. NVIDIA's peak clockspeeds seem to vary a bit depending on the processor – we're estimating anywhere from 1.39GHz to 1.56GHz – though these are still fairly aggressive for a mobile part. Sustained performance will be lower, of course, with that varying with the cooling capabilities of the host laptop.
Meanwhile in terms of memory, the situation is again a mirror of the desktop. The RTX 5000 gets 16GB of GDDR6 – a full complement of memory for a mobile TU104 part – while RTX 4000 and RTX 3000 drop down to 8GB and 6GB respectively. NVIDIA continues to treat memory capacity as a feature differentiator between the Quadro and GeForce families and even among Quadro cards, so the 16GB RTX 5000 is a halo part in this respect. The flip side, however, is that RTX 5000 doesn't improve on its predecessor here as far as capacity goes, as both the old and new cards are 16GB.
It is interesting to note that while performance has gone up and memory capacities have at least held even, power consumption is actually down generation-over-generation. Starting with the mobile Quadro RTX series, NVIDIA is providing a range of max power values instead a single value, but even at the top of this range, none of these cards passes 110W, well below the 150W that the older P5200 peaked at. The RTX 4000 and RTX 3000 parts don't see quite the same savings as their own predecessors, but the range is still there. NVIDIA seems increasingly focused on getting high-end GPUs into ever thinner and lighter notebooks, so bringing down their TDPs is a huge component of how they're going to get there.
Overall, the Quadro RTX series is the flagship series in terms of features. Of particular note here, all of these parts include NVIDIA's ray tracing hardware acceleration – hence the RTX moniker – so they benefit the most from all of NVIDIA's efforts to get ray tracing incorporated into various content creation applications. They also have a full tensor core complement for their size, which along with helping RT performance also means they can hold their own in neural network simulations and other tensor-related tasks.
Quadro T Series – T2000 and T1000
Also new to the mobile Quadro family are the Quadro T series parts, the Quadro T2000 and Quadro T1000. These parts slot in below the Quadro RTX parts in terms of performance, power consumption, and features, providing a clear progression downward in terms of price versus functionality.
NVIDIA Mobile Quadro T Spec Comparison
T2000
T1000
P2000
P1000
CUDA Cores
1024
768
768
512
Boost Clock
~1.71GHz
~1.69GHz
~1.56GHz
~1.56GHz
Memory Clock
8Gbps GDDR5
8Gbps GDDR5
6Gbps GDDR5
6Gbps GDDR5
Memory Bus Width
128-bit
128-bit
128-bit
128-bit
VRAM
4GB
4GB
4GB
4GB
Single Precision Perf.
3.5 TFLOPs
2.6 TFLOPs
2.4 TFLOPs
1.6 TFLOPs
TGP Max Power
40-60W
40-50W
50W
40W
GPU
TU117
TU117
GP107
GP107
Transistor Count
4.7B
4.7B
3.3B
3.3B
Architecture
Turing
Turing
Pascal
Pascal
Manufacturing Process
TSMC 12nm "FFN"
TSMC 12nm "FFN"
GloFo 14nm
GloFo 14nm
Launch Date
05/27/2019
05/27/2019
N/A
N/A
Both of the new Quadro T series parts are based on the same TU117 GPU, which is NVIDIA's smallest Turing architecture GPU. As a result there's a pretty significant gap in performance between the T2000 and RTX 3000; performance drops by around 45%. At peak clockspeeds, this translates to around 3.5 TFLOPs and 2.6 TFLOPs of FP32 performance respectively.
In terms of memory, both cards come with 4GB of GDDR5, which is clocked at 8Gbps and attached to a 128-bit memory bus. These are very much low-end cards, so it looks like NVIDIA is aiming to be cost-efficient rather than offer more memory, which would start undercutting the RTX 3000 and its 6GB of VRAM. Meanwhile TDPs are down to a max of 60W for the T2000, and a max of 50W for the T1000. These are again ranges, depending on what the laptop OEM designs for, and performance will scale accordingly.
Overall these are Turing parts, but they are based on we've been calling NVIDIA's "Turing Minor" GPUs. Turing Minor parts have the same core architecture as Turing – so all of the performance optimizations and new rasterization/shading features that come with the Turing architecture – however they forgo the ray tracing hardware acceleration and tensor cores. As a result these parts are leaner and meaner, however they are hardly the part of choice if ray tracing acceleration is needed. This is a level of feature differentiation that past generations of the Quadro family has lacked, since they've typically been based on a single, unified GPU architecture (outside of the very cheapest parts).
Quadro P Series Expanded – P620 and P520
Finally, bringing up the rear of the new mobile Quadro product stack are the Quadro P620 and Quadro P520. As hinted at by the name, these parts aren't Turing based at all. Instead, they are minor refreshes of the existing Pascal-based P600/P500 parts. Since NVIDIA's Turing GPU stack doesn't go below the TU117 used in the T2000/T1000, for these smallest and cheapest of parts, NVIDIA instead relies on their bottom-tier Pascal GPUs.
NVIDIA Mobile Quadro P Spec Comparison
P620
P520
P600
P500
CUDA Cores
512
384
384
256
Boost Clock
~1.46GHz
~1.43GHz
~1.56GHz
~1.46GHz
Memory Clock
6Gbps GDDR5
6Gbps GDDR5
5Gbps GDDR5
5Gbps GDDR5
Memory Bus Width
128-bit
64-bit
128-bit
64-bit
VRAM
4GB
2GB
4GB
2GB
Single Precision Perf.
1.5 TFLOPs
1.1 TFLOPs
1.2 TFLOPs
0.75 TFLOPs
TGP Max Power
25W
18W
25W
18W
GPU
GP107
GP108
GP107
GP108
Transistor Count
3.3B
1.8B
3.3B
1.8B
Architecture
Pascal
Pascal
Pascal
Pascal
Manufacturing Process
GloFo 14nm
GloFo 14nm
GloFo 14nm
GloFo 14nm
Launch Date
05/27/2019
05/27/2019
N/A
N/A
Relative to their immediate predecessors, both the P620 and P520 do see some fairly decent performance bumps, thanks to NVIDIA enabling more CUDA cores this time around. Still, with the fastest part topping out at 1.5 TFLOPs, there's a clear jump in performance between the P series parts and the new T series parts.
In terms of memory speeds, both the P620 and P520 are receiving GDDR5 clocked at 6Gbps, up from 5Gbps the generation prior. However the P5xx parts all retain their 64-bit memory bus, so unlike their fastest 4GB siblings, the cheapest P520 gets just 2GB of VRAM and all of 48Gbps of memory bandwidth. Meanwhile power consumption is being held constant from the last generation, at 25W and 18W respectively for the P620 and P520.
On the whole, the refreshed Quadro P series parts are meant to serve as the entry-level parts in NVIDIA's mobile Quadro product stack, and it shows. They will be cheap and will become a common feature in low-end productivity laptops, but they bring equally limited performance, and they don't come with any of Turing's new features.
Want to keep up to date with all of our Computex 2019 Coverage?

Laptops

Hardware

Chips
Follow AnandTech's breaking news here!
Source: NVIDIA