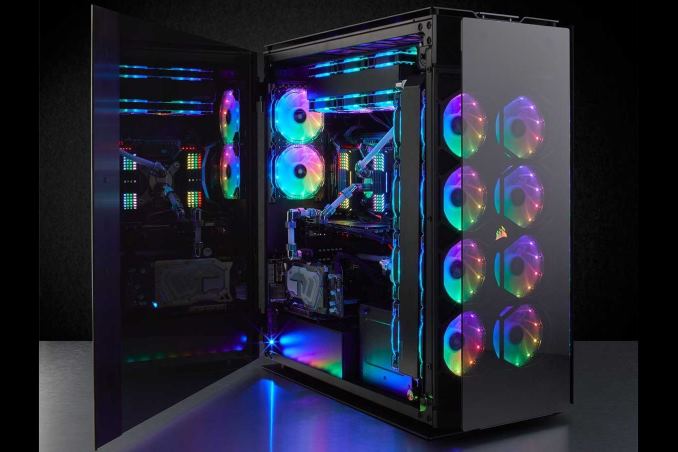 A few days ago, Corsair announced the launch of its most ambitious and largest case yet with the new Obsidian 1000D Super-Tower PC Case. Just as its name implies the case is quite large. So large in fact, it is able to house a complete E-ATX and Mini-ITX system concurrently - two motherboards, two power supplies, two full PCs in one case. It's not all about what can fit on the inside however that makes the case. The exterior styling uses brushed aluminum and includes four smoke tempered glass panels which help give the Super-Tower a premium appearance that can be a focal point of an enthusiast build. The inside is designed to house some of the most ambitious and powerful PCs imaginable inside its dual-system, three-chambered layout.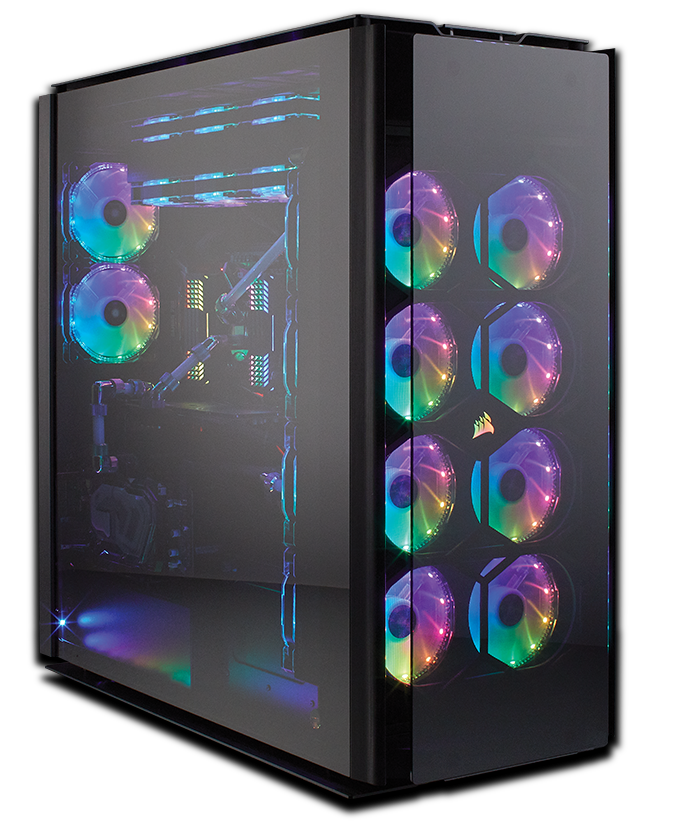 The chassis measures in at a real estate-heavy 27.3" x 12.1" x 27.3" (LxWxH) which easily eclipses the 900D from years ago. The entire case, empty, weighs in at a hefty 65lbs making this thing a bit cumbersome to move around I'd image. The exterior of the case is adorned by the smoke tinted tempered glass panels. Where there isn't glass, on top (the two flanking panels), there are brushed aluminum details adding to the overall high-end vibe it exudes.
The louvered top is raised from the chassis allowing for air to exhaust, though perhaps not free-flowing. There is ample room in front for intake through its large dust filter (dust filters are also found on the rear, top, and bottom) so airflow shouldn't be an issue. The chassis supports eight fans up front (13 in total) to get cool air in the chassis. The back panel has a total of seven expansion slots for PCIe, nine including the vertical GPU mounting space (video card can be mounted either way). Towards the bottom is space for the two power supplies as well as a Mini-ITX sized motherboard. Both glass side panels use hinges at the back and open up for easier access.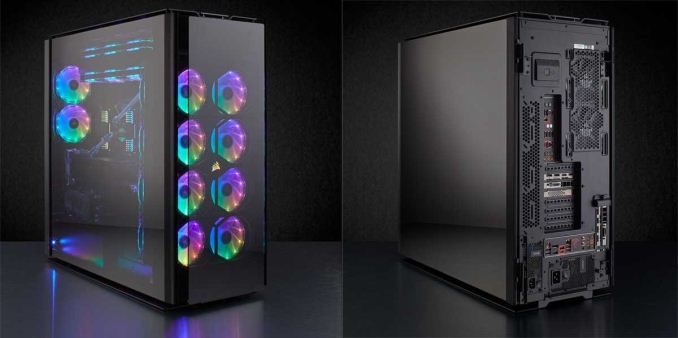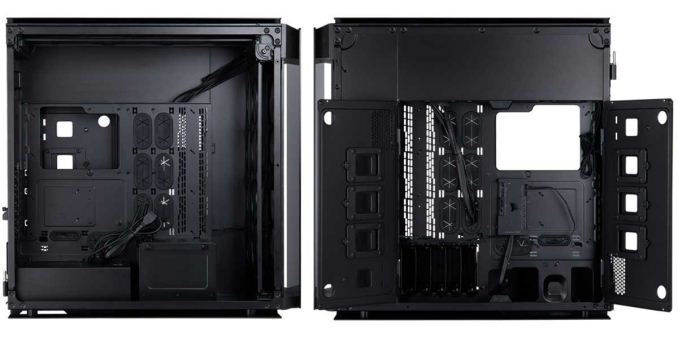 Sparing little expense, the front panel is loaded with modern options including two USB 3.1 Type-C ports (a rarity to have one today), and four USB 3.0 ports for a lot of USB storage options. Other buttons/ports include the power and reset buttons and 3.5 mm jacks for headphone and microphone. Unique to the 1000D, the power button and all USB ports have RGB LED backlighting in them lighting up that portion of the case I don't recall seeing that in a chassis before. Using the integrated Corsair Commander Pro fan and lighting controller (mounted on the motherboard tray), users are able to control up to six PWM fans and two RGB LED strips through the iCUE software. The controller also has four temperature probes and contains the plugs for the front panel USB 3.0 ports.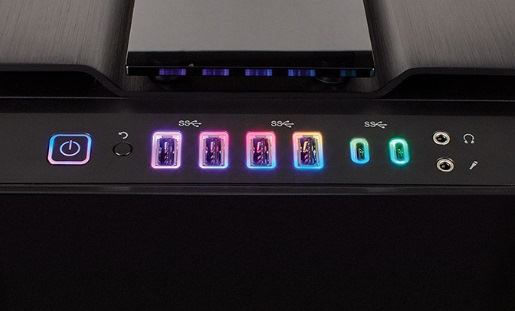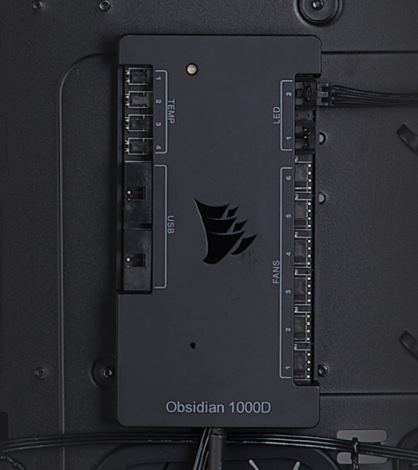 Inside the case, the primary E-ATX system mounts to a raised motherboard 'island' with cable routing holes throughout. The motherboard island is backed by French-door-type rear compartment that holds the 2.5" drives and hides cables. The Mini-ITX system sits above the ATX PSU mount. AS far as storage goes, the 1000D will hold a whopping 11 drives; five in 3.5-inch format and six 2.5-inch each in their own dedicated compartments. That should be plenty of internal storage, even with two systems inside.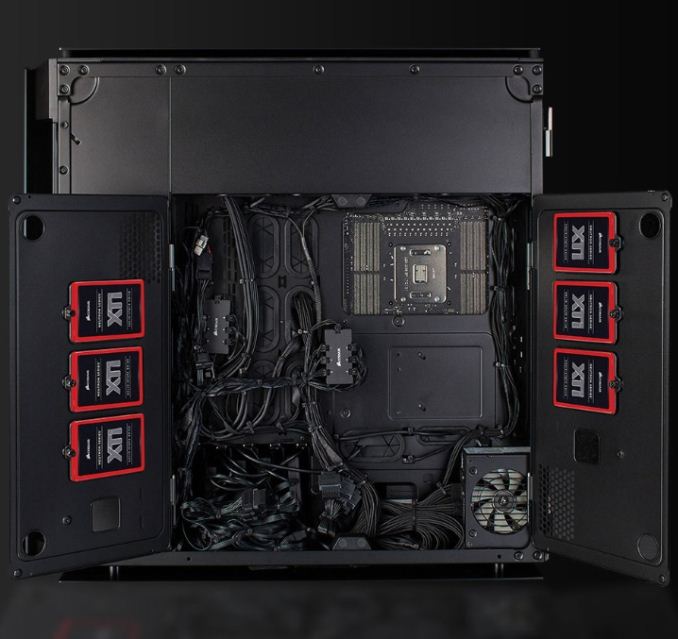 Using two different systems in one case can pose some cooling challenges. To combat this potential issue, the 1000D has many cooling options. The front panel holds up to eight 120mm fans, three 140mm fans on top and two 120/140mm fans mounts on the back for a total of 13 fans - none of which appear to be included. Corsair says there is room for up to four 480mm radiators simultaneously (requires the purchase of additional trays). By default, it will hold 2x480mm radiators in front, and one 420mm radiator on top. Fan and radiator installation should be a bit easier as the chassis has built-in radiator mounting trays which slid out from the chassis. Corsair says there is a wide variety of pump and reservoir mounting points adding to its flexible nature inside.


The Corsair 1000D is truly a beast of a case allowing for TWO systems to fit inside, plenty of storage for BOTH systems, as well as integrated fan and RGB controller. While beauty is in the eye of the beholder, the tempered glass panels and brushed aluminum details do give the case a premium look. With its premium look does come a premium price. The 1000D is available now at your favorite etailers including Amazon and Newegg. Pricing comes in at a wallet-emptying $499.99 which puts it in the company of fully customized cases. The case includes a two-year warranty as well.
Corsair Carbide 1000D Super-Tower
Model
1000D
Case Type
Super-Tower
Dimensions
(W)12.1"
(H) 27.4"
(D)27.3"
Color
Black
Material
Aluminum / Tempered Glass
Net Weight
29.4kg
External Drive Bays
None
HDD/SSD Bays
11 (5 x 3.5" + 6 x 2.5")
Expansion Slots
7 (+2 for vertical GPU)
Motherboard Type
Up to E-ATX (Primary)
Mini-ITX (Secondary)
System Fan
Front: 8x 120mm
Top: 3x 140mm
Rear: 2x 120/140mm
I/O Ports
2x USB 3.1 Type-C
4x USB3.0
2x 3.5mm jacks
Power and Reset Buttons
VGA Card Support
(L)400mm
CPU Cooling Support
(H)180mm
PSU Support
ATX PSU (Primary)
SFX (Secondary)
Radiator Support
Front: 2x 480mm
Top: 1x 420mm
Rear: 1x 240mm
Related Reading:
Source: Corsair