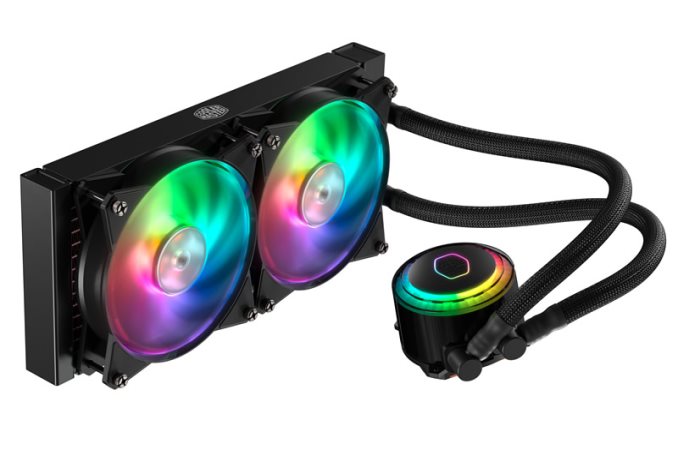 Cooler Master has unveiled new coolers in their MasterLiquid line of closed loop AIO cooling that was released in late 2017. The MasterLiquid ML240R RGB (240mm) and ML120R RGB (120mm) feature a newly designed pump along with 12 addressable RGB LEDs on the water block and eight addressable RGB LEDs on each fan. Users are able to customize each LED individually through RGB lighting software through select ASUS, MSI, and ASRock motherboards as well as Cooler Master's MasterPlus+ software (in beta testing, due out in May) for complete control over your lighting and cooling ecosystem.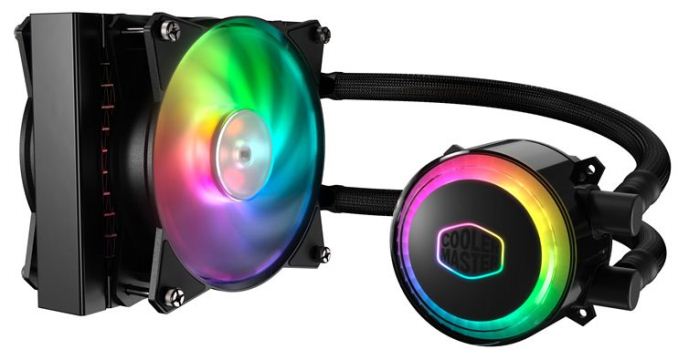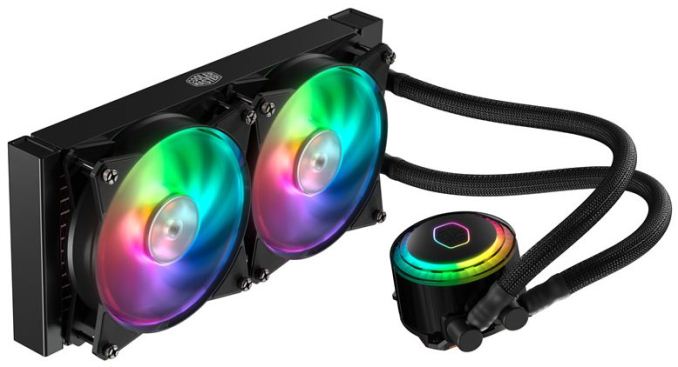 The outside of the pump has a gloss finish around the outside along with a ring of 12 addressable RGB LEDs with 16.7 million colors surrounding the cylinder-shaped CPU block/pump. The RGB LEDs shine through a frosted plastic diffuser in an effort to provide uniform color. In the middle of the circle is the Cooler Master logo, also illuminated. Both the ML120R and ML240R are equipped with an addressable RGB LED controller for use with non-addressable RGB components and easy lighting and mode control. Connecting the pump to the radiator is sleeved, double-layer FEP (Fluorinated Ethylene Propylene) tubing which is said to be durable and flexible as well as giving it a more premium aesthetic than those without the additional sleeving.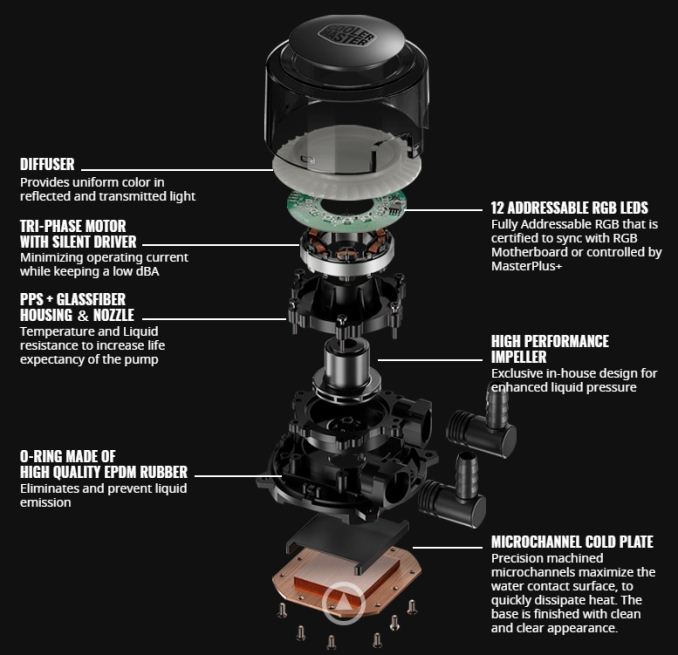 The internals on the newly redesigned pump is a low-profile dual chamber unit constructed from PPS (Polyphenylene Sulfide) and glass fiber said to resist chemicals and remain unaffected by moisture or immersion in water. Cooler Master also says it is impervious to oxidation and corrosion. The pump itself uses a tri-phase motor intended to help keep power use and noise level down (less than 15 dBA). In addition, the pump is also dual chambered and keeps the cooled and warmed water separate. The cold plate uses machined microchannels for additional water contact surface to help get rid of the heat while the base of the cold plate has a brushed finish.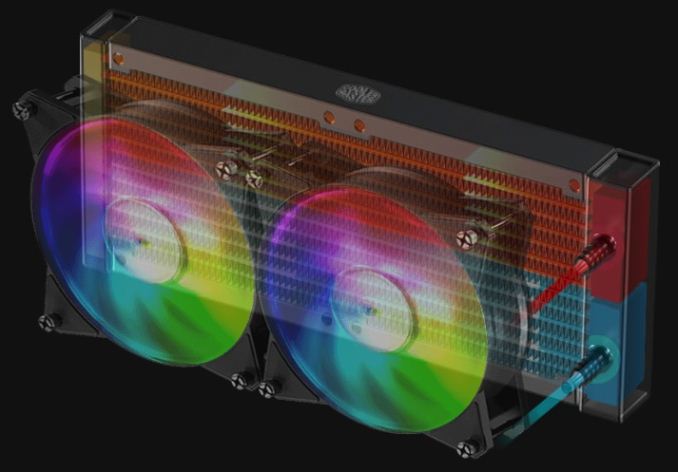 The matte black aluminum radiators are custom designed low resistance radiator said to allow for a higher flow rate and heat exchange efficiency for good cooling performance. Fin density is not listed in the specifications. Airflow through the radiator is handled by the MasterFan MF120R ARGB fans Cooler Master says are designed to maximize air pressure for AIO liquid cooling. Each 4-pin PWM controlled fan has eight ARGB LEDs able to be controlled through MasterPlus+ or motherboard software. These are the same fans used on the previous ML liquid coolers.
The MasterLiquid ML120R/ML240R RGB are available for purchase today. The 240R is priced at $119.99 and the 120R is $99.99. The Cooler Master MasterPlus+ lighting software should be available in May. Users are still able to use the provided addressable RGB controller for lighting mode control through the compatible RGB Sync Motherboards. These are not quite as inexpensive as the ML120L we saw a few months ago using the same radiator and fans, but still pretty inexpensive with ARGB LEDs and control through the included controller and motherboard software.
MasterLiquid ML120R / ML240R
CPU Socket Compatibility
Intel- LGA 2066/ 2011-3 / 2011 / 1151 / 1150 / 1155 / 1156 / 1366 / 775
AMD - AM4 / AM3+ / AM3 / AM2+ / AM2 / FM2+ / FM2 / FM1
Radiator
Material
Aluminum
Dimensions
ML120L - 157 x 119.6 x 27mm
ML240L - 277 x 119.6 x 27mm
Fan
Dimensions
120 x 120 x 25mm
Speed
650 ~ 2000 RPM (PWM) +/- 10%
Air Flow
66.7 CFM (Max)
Air Pressure
2.34 mmH2O (Max)
MTTF
160,000 Hours
Noise Level
6 ~ 30 dBa
Connector
4-Pin (PWM)
Pump
Dimensions
83.6 x 71.8 x 52.7mm
MTTF
70,000 Hours
Noise Level
< 15dBa
Connector
3-Pin
Price
ML120R RGB -
ML240R RGB -
Warranty
2 Years
Motherboard Compatibility
ASUS
ROG Maximus X Formula
ROG Maximus X Code
ROG Maximus X Hero (Wi-Fi AC)
ROG Maximus X Hero
ROG Strix Z370-E Gaming
ROG Strix Z370-F Gaming
ROG Strix Z370-I Gaming
Rampage VI Extreme
Prime X299-Deluxe
ROG Strix X299-E Gaming
ROG Strix X299-XE Gaming
ROG Zenith Extreme
ROG Strix X399-E Gaming
ROG Strix X370-I Gaming
ROG Crosshair VI Extreme

MSI
Z370 Godlike Gaming
Z370 Gaming Pro Carbon AC
Z370 Gaming Pro Carbon
Z370I Gaming Pro Carbon AC

ASRock
(Launches in April)
Related Reading:
Source: PRWeb