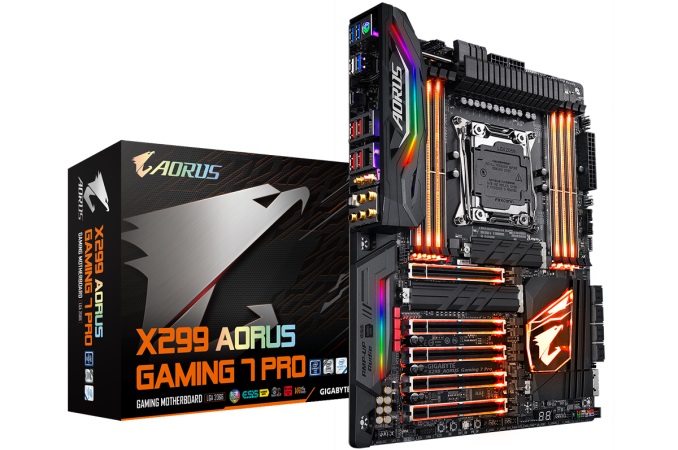 We have reviewed a lot of X299 based motherboards over the past couple of months, but our first Gigabyte/AORUS offering is the X299 Gaming 7 Pro. The G7P promises a slew of full-length PCIe slots, three M.2 slots with heatsinks, more USB 3.1 ports than most could use, and enough RGB LED lighting to have a full-on disco in a PC. See the details in our review, and bring sunglasses!
The X299 Gaming 7 Pro Overview
The Gaming 7 Pro fits in at towards the top of the GIGABYTE X299 product stack, slotted just below the Gaming 9 and flagship Designare EX. The G7P offers users 3-Way SLI and Crossfire capabilities, three M.2 slots each with their own heatsink, a robust dual heatsinked power delivery with an additional fan, several USB 3.1 ports, and enough RGB LEDs to light up a room. If a user wanted a PC disco, this is the motherboard to have.
GIGABYTE started its premium brand of gaming-focused AORUS products a couple of years back, with the intention to offer 'the most extreme gaming experiences for enthusiasts worldwide'. The AORUS product line ranges from gaming laptops to graphics cards, mechanical gaming keyboards, motherboards, and other hardware, aiming to give the brand a presence in the market. The devices are easily distinguished by the name itself as well as the Falcon symbol representing the lineup gracing the packaging and products.
The GIGABYTE motherboard lineup for X299 has, at the time of writing, eleven motherboards. To emphasise the the AORUS brand importance, there are seven boards in that mix with the AORUS name. There are only a few non-AORUS boards available, in fact. The lineup starts at the entry level with the X299 AORUS Gaming and tops out at the Gaming 9.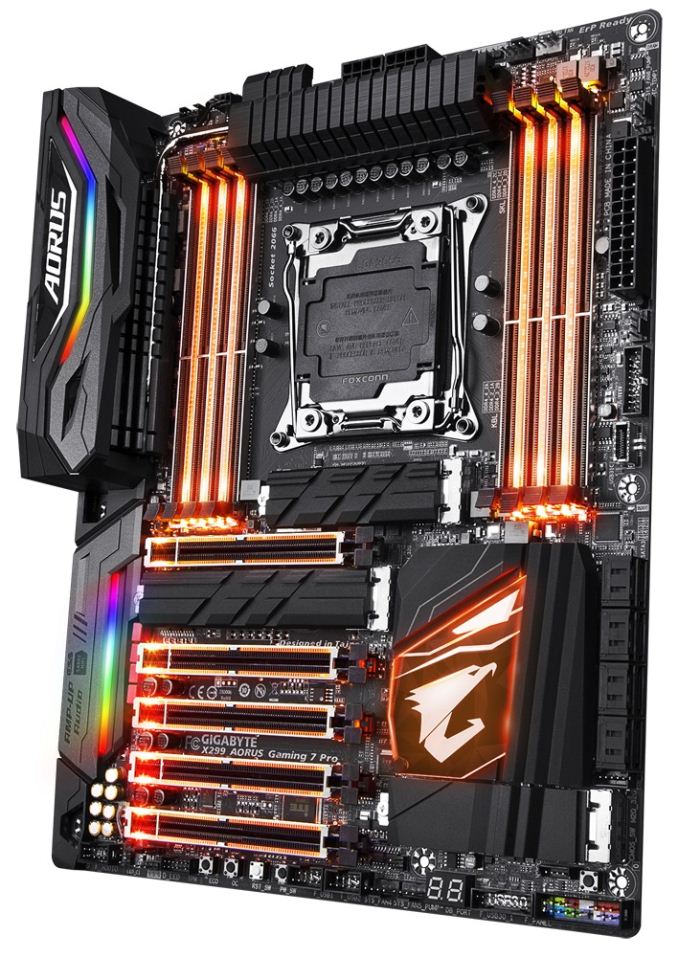 On the performance side, the X299 Gaming 7 Pro performed well overall, running with the pack on nearly all of the benchmarks. The G7P has a form of Multi-Core Enhancement (MCE) enabled by default as it takes all benchmarks to the 3.6 GHz range. The board did excel in boot times, taking over the crown as the fastest board we have recently tested. The rest of the results were right in the middle of the boards we have looked at.
Overclocking was simple, with our new 7900X CPU topping out at 4.7 GHz and we hit our temperature limit (unfortunately we have had to swap out the previous CPU). This 7900X sample is a lot better of an overclocker, and so we should expect subsequent boards to also reach this value. With that said, the power delivery heatsink on the G7P stayed warm to the touch, peaking at 63C in our extended stress testing while clocked to 4.5 GHz.
The G7P allows users to have nearly the full run of storage connectivity. There are eight SATA ports and three M.2 slots, with the M.2 slots all coming with pre-supplied heatsinks. The top and bottom M.2 slots support both PCIe and SATA drives while the middle slot supports PCIe type modules only. There is some sharing going on, as when using the bottom M.2 slot, SATA ports 4/5/6/7 will be disabled.
The board comes with five full-length PCIe slots with positions 1, 3, and 5. These are the CPU connected slots and intended for use with video cards. PCIe slots 2 (x4) and 4 (x4) are both connected via the chipset. For connectivity, there is a total of five USB 3.1 10 Gbps ports on the back (4x Type-A, 1x Type-C) with another onboard header for additional front panel ports. Some of these are handled by ASMedia 3142 controllers, while others are using a Realtek solution, and this is the first board we have seen to use a Realtek USB 3.1 (10 Gbps) solution so far. This is also the most USB 10 Gbps connectivity we have seen on an X299 board so far.
For networking, GIGABYTE has enabled an Intel I219-V NIC as well as a Rivet Networks Killer E2500 NIC alongside 802.11ac Wi-Fi. Audio comes via the Realtek ALC1220 codec.

As far as pricing goes, we do not have anything concrete at the time of this writing and have reached out to GIGABYTE for an answer. The Gaming 7 (non-Pro) is priced at $400 from both Newegg and Amazon, so we expect the Pro version with the added Wi-Fi to be priced a bit higher. The $400+ price tag puts it at the higher end and competing with boards like the MSI X299 XPower Gaming AC ($440), The ASUS ROG Rampage VI Apex ($430), and the ASRock Fatal1ty X299 Professional Gaming i9 XE ($423). Prospective buyers will have to dig into the features to really see differences at this price point. For example, some boards offer a U.2 port or more than eight SATA ports, or buyers may look for a board with specific features.
GIGABYTE/AORUS X299 Strategy
GIGABYTE has brought a total of eleven boards to market on the X299 chipset so far, 7 of them under the AORUS branding. The pricing starts at $210 with the entry-level AORUS Gaming and goes up to the Gaming 9 which hits the $500 mark. Sprinkled between the bookends are boards that will vary in features, appearance, and price filling in the gaps. The only thing missing in the lineup are MicroATX and Mini-ITX boards.
GIGABYTE X299 Motherboard Lineup (12/19)
AnandTech
Review
Amazon
Newegg
X299 AORUS Gaming 9
upcoming
$500
$500
X299 Designare EX
-
$450
X299 AORUS Gaming 7 Pro
this review
-
-
X299 AORUS Gaming 7
$400
$400
X299 AORUS Ultra Gaming Pro
-
$350
X299 AORUS Ultra Gaming
$340
$340
X299 AORUS Gaming 3
$263
$268
X299 UD4
requested
$240
$263
X299 UD4 Pro
-
-
X299 UD4 EX
-
-
X299 AORUS Gaming
-
$210
Information on Intel's X299 and our other Reviews
With Intel's release of the Basin Falls platform, encompassing the new X299 chipset and LGA2066 socket, a new generation of CPUs called Skylake-X and Kaby Lake-X were also released. The Skylake-X CPUs range from the 7800X, a hex-core part, all the way up to an 18-core 7980XE multitasking behemoth. Between the bookend CPUs are five others increasing in core count, as in the table below. The latter HCC models are set to be launched over 2H of 2017.
Skylake-X Processors
7800X
7820X
7900X
7920X
7940X
7960X
7980XE
Silicon
LCC
HCC
Cores / Threads
6/12
8/16
10/20
12/24
14/28
16/32
18/36
Base Clock / GHz
3.5
3.6
3.3
2.9
3.1
2.8
2.6
Turbo Clock / GHz
4.0
4.3
4.3
4.3
4.3
4.3
4.2
Turbo Max Clock
N/A
4.5
4.5
4.4
4.4
4.4
4.4
L3
1.375 MB/core
1.375 MB/core
PCIe Lanes
28
44
44
Memory Channels
4
4
Memory Freq DDR4
2400
2666
2666
TDP
140W
140W
165W
Price
$389
$599
$999
$1199
$1399
$1699
$1999
Board partners have launched dozens of motherboards.
Other AnandTech Reviews for Intel's Basin Falls CPUs and X299
Prices checked Jan 25th
To read specifically about the X299 chip/platform and the specifications therein, our deep dive into what it is can be found at this link.
X299 Motherboard Review Notice
If you've been following the minutiae of the saga of X299 motherboards, you might have heard some issues regarding power delivery, overclocking, and the ability to cool these processors down given the power consumption. In a nutshell, it comes down to this:
Skylake-X consumes a lot of power at peak (150W+),
The thermal interface inside the CPU doesn't do much requiring a powerful CPU cooler,
Some motherboard vendors apply Multi-Core Turbo which raises the power consumption and voltage, exacerbating the issue
The VRMs have to deal with more power, and due to losses, raise in temperature
Some motherboards do not have sufficient VRM cooling without an active cooler
This causes the CPU to declock or hit thermal power states as to not degrade components
This causes a performance drop, and overclocked systems are affected even more than usual
There has been some excellent work done by Igor Wallossek over at Tom's Hardware, with thermal probes, thermal cameras, and performance analysis. The bottom line is that motherboard vendors need to be careful when it comes to default settings (if MCT is enabled by default) and provide sufficient VRM cooling in all scenarios – either larger and heavier heatsinks or moving back to active cooling.