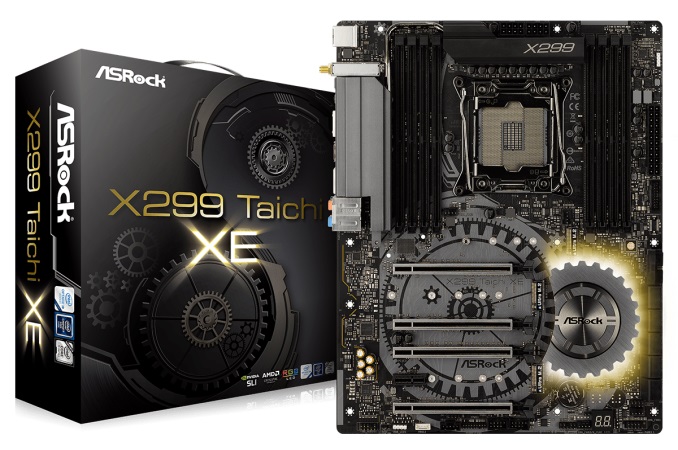 This week ASRock has released "XE" editions of two of its popular X299 motherboards: the X299 Taichi XE and the flagship X299 Professional Gaming i9 XE.
The XE versions have a larger main heatsink, and an additional power delivery heatsink connected via heatpipe located behind the back panel VRM. Along with being larger, there are more fins cut out increasing surface area and heat dissipation capabilities. The original(s) had a single, smaller heatsink to cool the 13-phase VRM underneath and not a lot of surface area. Both boards now also add a second 8-pin EPS 12V connector for additional power to the CPU. In order to fit the updated cooling solutions, the shroud covering the back panel IO and audio sections have been removed.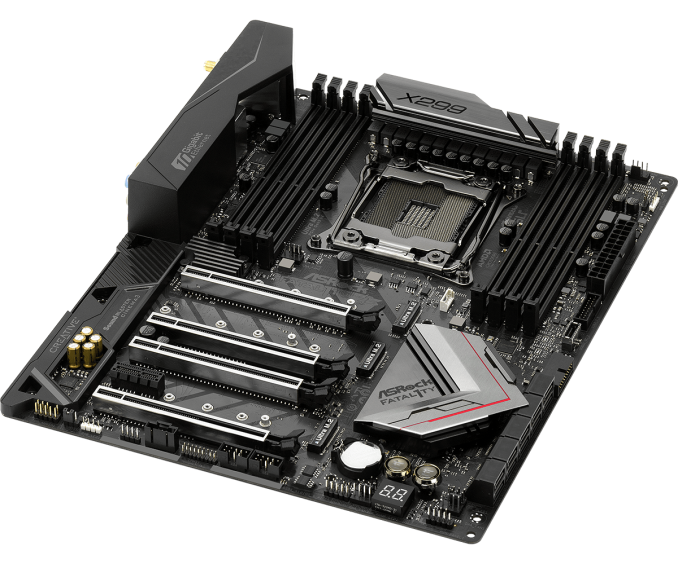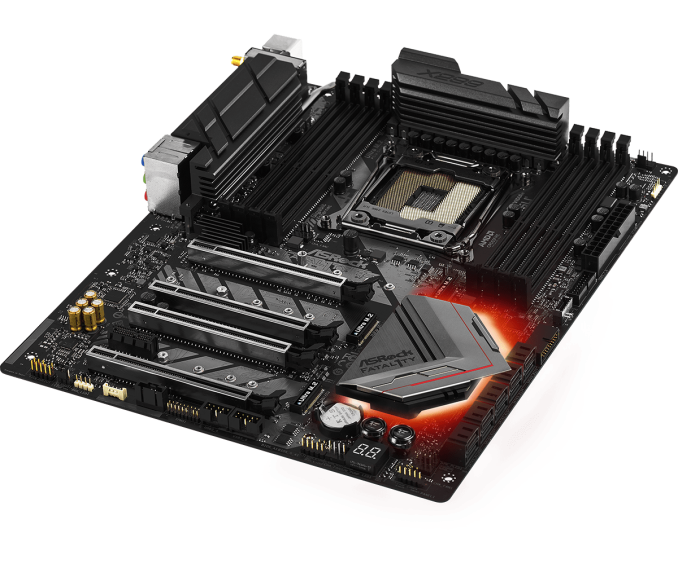 ASRock X299 Professional Gaming i9 (left)
ASRock X299 Professional Gaming i9 XE (right)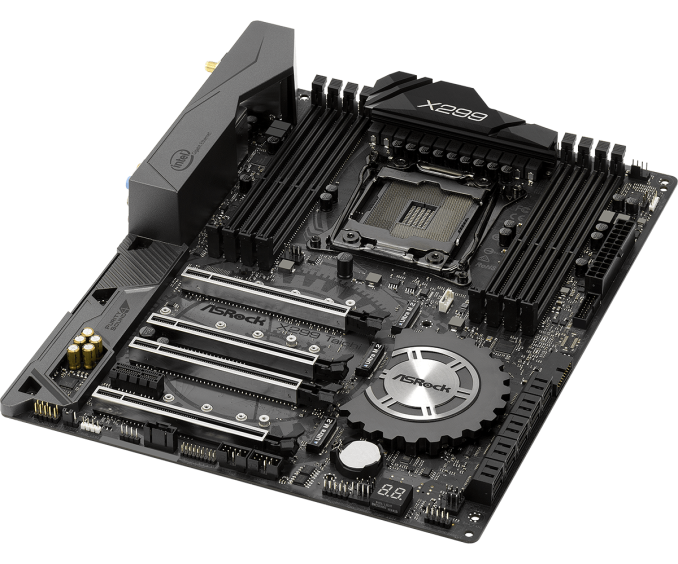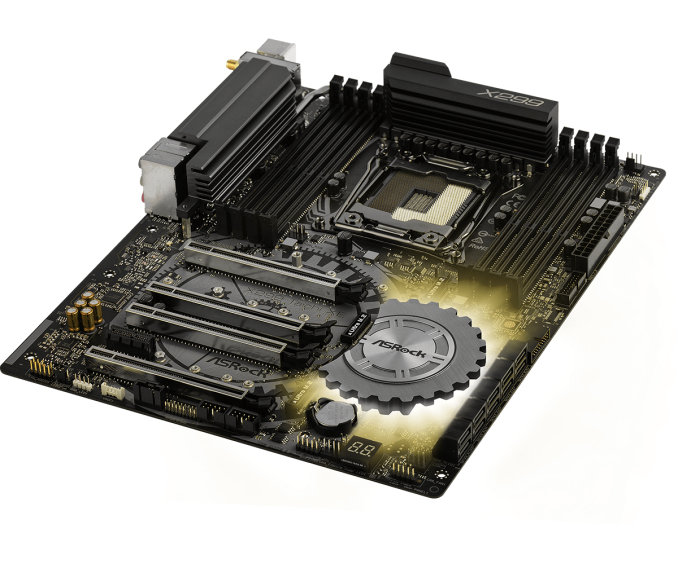 ASRock X299 Taichi (left)
ASRock X299 Taichi XE (right)
In the weeks after the Skylake-X and Basin Falls (X299) chipset release, concerns were brought up with the platform's VRM and cooling. Igor Wallossek from Tom's Hardware looked into this issue in depth. In the end, it was found that these 140W+ CPUs, such as the i9-7900X, can use around 250W when clocked around 4.5 GHz using all cores (through burn-in testing –a worst case scenario). All that power creates heat, both at the CPU and the VRM level delivering voltage to the FIVR. This was also a problem when motherboard manufacturers were implementing their own turbo modes over the top of Intel specifications.
The concern here there was that some motherboards do not have enough VRM cooling to dissipate the energy lost as heat from the power delivery. At base frequencies, in well ventilated cases, this doesn't appear to be a big issue, however some motherboard partners enable turbo-boosting features such as Multi Core Enhancement by default, raising clocks and voltages, and can be too aggressive with its enhancement. Of course, cooling a CPU using that amount of power isn't as easy as strapping down a $30 air cooler on it and calling it "OK" either. The point is some motherboards in certain situations can throttle the CPU at the VRM level due to the heatsinks not being able to dissipate such loads.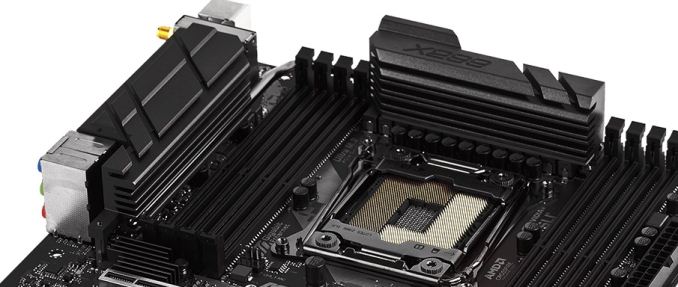 While our X299 motherboard reviews have not shown much of this behavior so far (there have been other problems to solve), some motherboard partners have realized that improvements can be made in their implementations and have recently started announcing and releasing updated boards.
Pricing on the XE versions of the motherboards will cost a little bit more to compensate. The Taichi is currently priced at $289 on Newegg while the Taichi XE is $322. The Fatal1ty Gaming i9 is priced at $389 with the Gaming i9 XE at $422. Both boards are asking a $33 premium. If pushing 140W processors or the 165W flagship 7980XE hard is in the plans, one may want to consider the XE versions (ASUS has a Strix XE as well with a larger heatsink) and pay the premium, if only for peace of mind and cooler operation.
ASRock Fatal1ty X299 Professional Gaming i9 XE and X299 Taichi XE
Taichi XE
Gaming i9 XE
Warranty Period
3 Years
Product Page
Link
Link
Price
Newegg US
Newegg US
Size
ATX
CPU Interface
LGA2066
Chipset
Intel X299
Memory Slots (DDR4)
Eight DDR4
Supporting 128GB
Quad Channel
Up to 4400 MHz
Network Connectivity
1 x Intel I219V GbE
1 x Intel I211AT GbE
1 x Intel AC3168 802.11ac Wi-Fi Module
1 x Aquantia 10 Gigabit
1 x Intel I219V GbE


1 x Intel I211AT GbE




1 x Intel AC3168 802.11ac Wi-Fi Module

Onboard Audio
Realtek ALC1220
PCIe Slots for Graphics (from CPU)
44 Lane CPUs: x16, x16/x16, x16/x8/x16/x0, x8/x8/x16/x8
28 Lane CPUs: x16, x16/x8, x8/x8/x8, x8/x0/x8/x8
16 Lane CPUs: x16, x8/x0/x4x0
PCIe Slots for Other (from PCH)
1 x PCIe 3.0 x1
Onboard SATA
Eight, RAID 0/1/5/10
Two Asmedia ASM1061
Onboard SATA Express
None
Onboard M.2
3 x PCIe 3.0 x4 or SATA
Onboard U.2
None
USB 3.1
1 x Type-A
1 x Type-C
(ASMedia ASM3142 Controller)

1 x Type-A


1 x Type-C
1 x Front Panel Type-C


(ASMedia ASM3142 Controller)

USB 3.0
4 x Rear Panel
2 x via headers (ASM1074 Hub)
USB 2.0
4 x via headers
2 x rear panel
Power Connectors
1 x 24-pin ATX
1 x 8-pin CPU
Fan Headers
1 x CPU (4-pin)
1 x CPU Opt/Water Pump
2 x Chassis Fan
1 x Chassis Opt/Water Pump
IO Panel
2 x Antenna Ports
1 x PS/2 Mouse/Keyboard Port
1 x Optical SPDIF Out Port
2 x USB 2.0 Ports
1 x USB 3.1 Type-A Port (10 Gb/s)
1 x USB 3.1 Type-C Port (10 Gb/s)
4 x USB 3.0 Ports
2 x RJ-45 LAN Ports
1 x BIOS Flashback Switch
1 x Clear CMOS Switch
HD Audio Jacks

2 x Antenna Ports




1 x PS/2 Mouse/Keyboard Port




1 x Optical SPDIF Out Port




2 x USB 2.0 Ports




1 x USB 3.1 Type-A Port (10 Gb/s)




1 x USB 3.1 Type-C Port (10 Gb/s)




4 x USB 3.0 Ports




3 x RJ-45 LAN Ports




1 x BIOS Flashback Switch




1 x Clear CMOS Switch




HD Audio Jacks
Related Reading