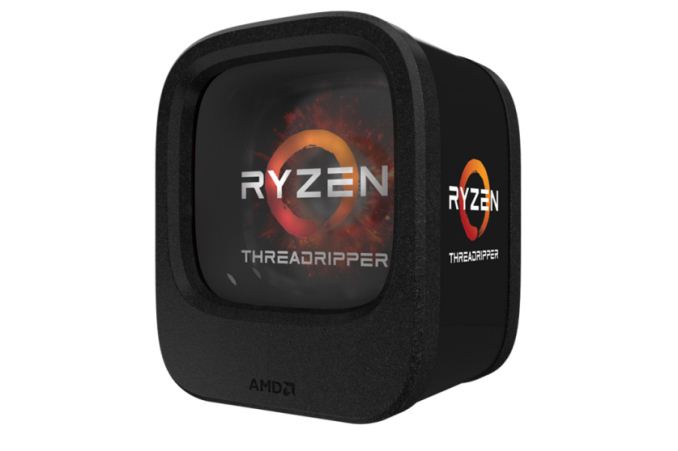 Back when AMD announced their leading-edge Ryzen Threadripper 1950X and 1920X, the company also tucked in an announcement that there would be a third, cheaper Threadripper: the 1900X. Now after about a month's wait since the first two chips launched, the 1900X is finally hitting the streets.
AMD High-End Ryzen SKUs
Cores/
Threads
Base/
Turbo
XFR
L3
DRAM
1DPC
PCIe
TDP
SRP
TR 1950X
16/32
3.4/4.0
+200
32 MB
4x2666
60
180W
$999
TR 1920X
12/24
3.5/4.0
+200
32 MB
4x2666
60
180W
$799
TR 1900X
8/16
3.8/4.0
+200
16 MB
4x2666
60
180W
$549
Ryzen 7 1800X
8/16
3.6/4.0
+100
16 MB
2x2666
16
95 W
$499
Ryzen 7 1700X
8/16
3.4/3.8
+100
16 MB
2x2666
16
95 W
$399
Of AMD's Threadripper product stack, the 1900X is easily the most unusual of the chips. Whereas the 1950X and 1920X were the full-fledged version and the cheaper-but-still-thread-heavy-alterative respectively, the 1900X doesn't really fit into either of those buckets. In fact with just 8 cores active, it has more in common with the Ryzen 7 1800X than it does the rest of the Threadripper family.
So why is AMD releasing an 8 core version of Threadripper when one Zeppelin die can accomplish the same thing at $100 less and almost half the TDP? Because while the 1900X may be a few cores short of a full Threadripper, it retains the platform's immense I/O and memory bandwidth capabilities. In other words, 4 DDR4 memory channels and 60 + 4 PCIe lanes, offering twice the cumulative memory bandwidth and three times as many freely available PCIe lanes as AMD's standard Ryzen processors. In fact other than cores, the only other thing it loses out on from the 1950X is L3 cache, with 16MB rather than the 32MB of its higher core counterparts. Conversely, its 3.8GHz base clockspeed makes it the highest base clockspeed of all of AMD's Ryzen CPUs, standard and Threadripper.
It does bear mentioning that Threadripper's multi-die layout does comes with the same potential caveats as the other SKUs, which is why the 1900X isn't going to be equal to or better than the 1800X in all scenarios. However with a MSRP of $549, the 1900X is now the cheapest way to get a high-I/O x86 processor. So for tasks that require a more limited number of threads and a lot of I/O and memory bandwidth, the 1900X should fit comfortably in its niche.
As for reviews of the new processor, unfortunately AMD did not sample the 1900X in advance. We're angling to get one in soon, so please stay tuned for that.
Meanwhile also shipping out the door from AMD today is their Ryzen PRO processors. Announced back at the end of July, these are enterprise IT -focused versions of AMD's standard Ryzen processors, offering longer support periods along with features such as enhanced security and added manageability features. Accordingly, AMD's partners have started showing off their latest enterprise-systems, with Dell, HP, and Lenovo all set to begin shipping Ryzen PRO-equipped systems in the following weeks.
AMD Ryzen PRO Specifications
Cores/Threads
Frequency
Cache
TDP
Base
Boost
L2
L3
Ryzen 7 PRO 1700X
8/16
3.5 GHz
3.7 GHz
4 MB
16 MB
95 W
Ryzen 7 PRO 1700
3 GHz
3.7 GHz
65 W
Ryzen 5 PRO 1600
6/12
3.2 GHz
3.6 GHz
3 MB
Ryzen 5 PRO 1500
4/8
3.5 GHz
3.7 GHz
2 MB
Ryzen 3 PRO 1300
4/4
3.5 GHz
3.7 GHz
8 MB
Ryzen 3 PRO 1200
4/4
3.1 GHz
3.4 GHz