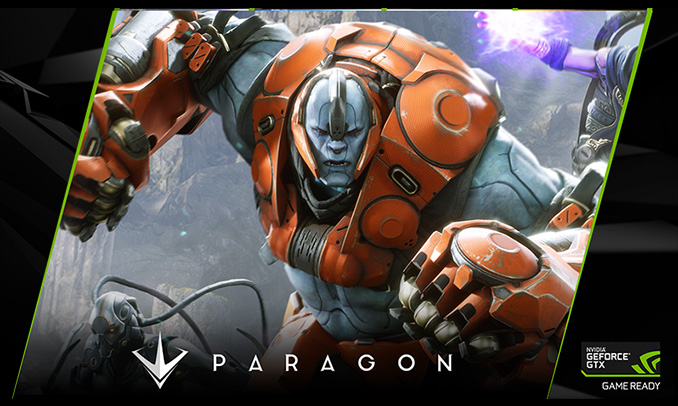 As game releases ramp up and GPU manufacturers build market interest approaching the fall season, bundles seem to be popping up like daisies. The latest to join the fray is NVIDIA's Paragon Game Ready Pack.
Paragon is the latest game out of Epic games. The Free-to-Play MOBA is set to release later this year and runs on Epic's own Unreal Engine 4. NVIDIA's newest bundle, starting today, includes a number of perks. These perks include both cosmetic and gameplay related benefits that NVIDIA values at $115. Included with the bundle is 1000 Paragon coins, which is in game currency usable to buy Master challenges, skins, and boosts. Two skins, one Snakebite Murdock Skin and one War Chief Grux Skin, are included. Last on the list, are Seven Master Hero Challenges which each include a Challenge skin for their character that bestows additional XP rewards form levels one through five and provides additional rewards form levels six through ten, after which the Master Skin and title of Master will be unlocked. The Paragon Game Ready Pack will run for a relatively short period of time, from now until September 19, 2016.
NVIDIA Current Game Bundles
Video Card
Bundle
GeForce GTX Titan X (Pascal)
None
GeForce GTX 1080/1070/1060
Paragon Game Ready Pack
GeForce GTX Titan X
None
GeForce GTX 980Ti/980/970
Paragon Game Ready Pack
GeForce GTX 960/950
None
GeForce GTX 980 For Notebooks
Paragon Game Ready Pack
GeForce GTX 980M/970M
Paragon Game Ready Pack
GeForce GTX 965M And Below
None
Many of NVIDIA's mainstream and high end cards are included. NVIDIA lists both NCIX and Newegg as parts vendors and various system builders as participating as well.Though as always prospective buyers are encouraged to check before purchase that their retailer and card of choice are indeed participating in the bundle prior to purchase.
Source: NVIDIA