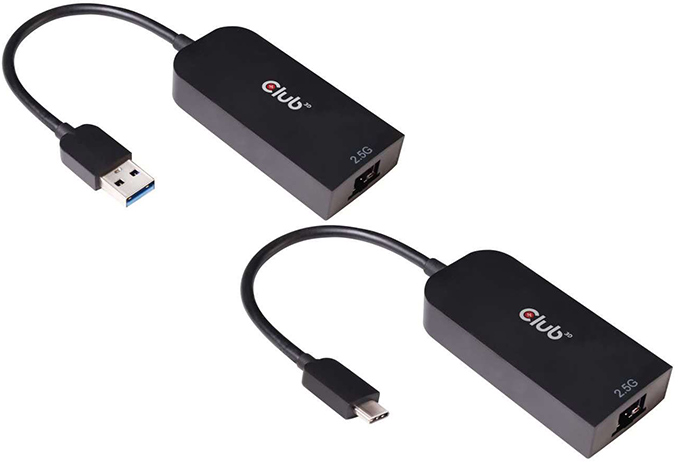 Club 3D has introduced its 2.5 GbE dongles featuring a USB Type-A or a USB Type-C interface. The adapters are designed to add 2.5 Gbps wired Ethernet to PCs without internal GbE controllers. For laptops, this is becoming increasingly more widespread.
Club 3D's CAC-1420 (USB Type-A to 2.5 GbE) and CAC-1520 (USB Type-C to 2.5 GbE) are extremely simplist devices: they feature an RJ-45 connector on one side, and a USB 3.1 Gen 1 (5 Gbps) interface on another. The dongles are USB-powered and therefore do not need any external power adapters. As for compatibility, they can work with PCs running Apple's MacOS X 10.6 ~ 10.14 as well as Microsoft's Windows 8/10.
The manufacturer does not disclose which 2.5 GbE controller it uses, but it is highly likely that the dongles use Realtek's RTL8156 controller specifically designed for such applications. The only other option is from Aquantia, who only offers a joint 2.5/5 GbE controller.
Apart from notebooks without a GbE port that have to work in corporate environments with wired networks (including those that use 2.5, 5, and 10 GbE networks), Club 3D's new adapters can be used to upgrade older desktop PCs that need a faster Ethernet connectivity.
Club 3D has not announced pricing of the 2.5 GbE CAC-1420 and CAC-1520 adapters.
Related Reading:
Source: Club 3D (via Hermitage Akihabara)