GTC 2013
In this morning's GTC 2013 keynote, one of the items briefly mentioned by NVIDIA CEO Jen-Hsun Huang was Kayla, an NVIDIA project combining a Tegra 3 processor and an unnamed GPU on a mini-ITX like board. While NVIDIA is still withholding some of the details of Kayla, we finally have some more details on just what Kayla is for. The long and short of matters is that Kayla will be an early development platform for running CUDA on ARM. NVIDIA's first CUDA-capable ARM SoC will not arrive until 2014 with Logan, but NVIDIA wants to get developers started early. By creating a separate development platform this will give interested developers a chance to take an early look at CUDA on ARM in preparation for Logan...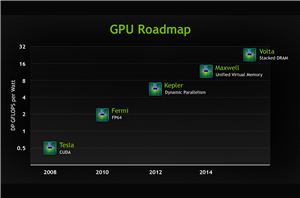 As we covered briefly in our live blog of this morning's keynote, NVIDIA has publically updated their roadmap with the announcement of the GPU family that will follow 2014's...
17
by Ryan Smith on 3/19/2013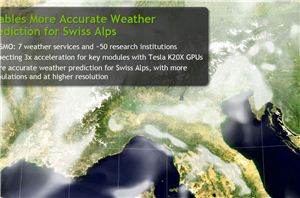 Along with NVIDIA's keynote this morning (which should be wrapping up by the time this article goes live), NVIDIA also has a couple other announcements that are hitting the...
9
by Ryan Smith on 3/19/2013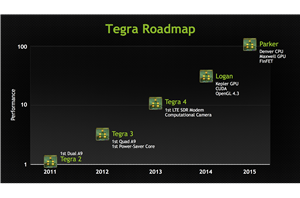 We're at NVIDIA's GTC 2013 event where team green just updated their official roadmap and shared some more details about their Tegra portfolio, specifically additional information about Logan and...
25
by Brian Klug & Ryan Smith on 3/19/2013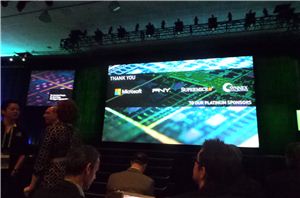 We're live at NVIDIA's 2013 GPU Technology Conference (GTC) press conference, seated and ready to go. Anand, Ryan, and myself are here and expecting Jen-Hsun's keynote to get under...
22
by Brian Klug, Anand Lal Shimpi & Ryan Smith on 3/19/2013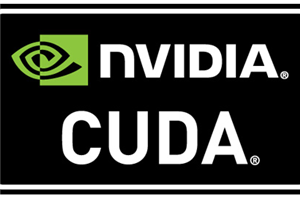 As NVIDIA's GPU Technology Conference 2013 kicks off this week, there will be a number of announcements coming down the pipeline from NVIDIA and their partners. The biggest and...
10
by Ryan Smith on 3/18/2013