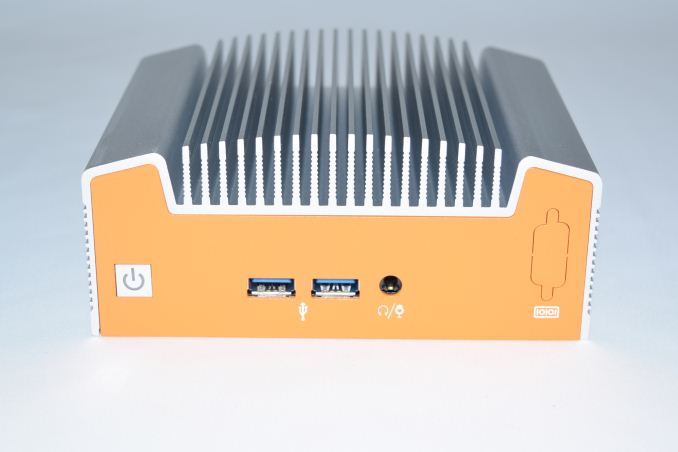 Introduction and Setup Impressions
Passively cooled computing systems carry many advantages. Most of these turn out to be very important for industrial and embedded applications. The low power nature of the Intel NUCs make them the ideal candidate for passive industrial computing platforms. We have already reviewed a number of industrial PCs from vendors such as Aleutia, Habey USA and Logic Supply. Logic Supply was one of the first vendors to come out with an off-the-shelf passively cooled NUC. We reviewed their Haswell NUC last year and came away impressed. Today, we have their recently launched ML100G-30 passively cooled Broadwell vPro PC in for review.
The characteristics of the Broadwell i5 NUC (based on the Core i5-5250U) are well known to AnandTech readers, but the ML100G-30 we are reviewing today comes with the vPro variant of the Broadwell-U i5, namely, the Core i5-5300U.
The full specifications of our Logic Supply ML100G-30 review configuration are summarized in the table below.
Logic Supply ML100G-30 Specifications
Processor
Intel Broadwell Core i5-5300U
(2C/4T @ 2.3GHz (Turbo 2.90 GHz), 14nm, 3 MB L2, 15W)
Memory
1x 8GB DDR3L 1600 MHz
Graphics
Intel HD Graphics 5500
300 MHz / 900 MHz (Turbo)
Disk Drive(s)
128 GB Transcend M.2 SSD
Networking
1x Gigabit Ethernet, 2x2 802.11ac
Audio
Capable of 5.1/7.1 digital output with HD audio bitstreaming (mini-DP)
Operating System
Retail unit is barebones, but we installed Windows 8.1 Pro x64
Pricing (As configured)
$919
Full Specifications
ML100G-30 Specifications
The Logic Supply ML100G-30 kit doesn't come with any pre-installed OS. The drivers and supporting software are available on their product support page. In addition to the main unit, the other components of the package include a 65 W (19V @ 3.42A) adapter, a US power cord, two 2.4 GHz / 5 GHz antennae for the Wi-Fi feature, adhesive rubber feet for the unit's base and a cable management tie along with some screws (probably for the wall mount / VESA mount - which is supported, but not included in our review package)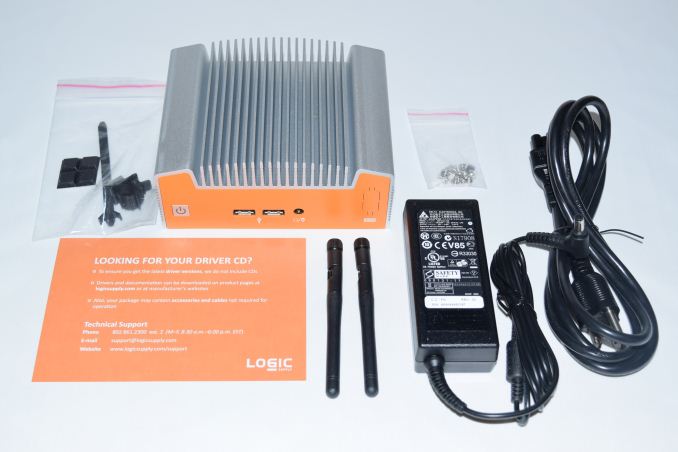 The gallery below takes us around the hardware in the unit.
In the table below, we have an overview of the various systems that we are comparing the Logic Supply ML100G-30 against. Note that they may not belong to the same market segment. Of particular interest are the Logic Supply Core ML320 and the Zotac ZBOX CI540 - both of them are passively cooled U-series UCFF PCs. The relevant configuration details of the machines are provided so that readers have an understanding of why some benchmark numbers are skewed for or against the Logic Supply ML100G-30 when we come to those sections.
Comparative PC Configurations
Aspect
Logic Supply ML100G-30
CPU
Intel Core i5-5300U
Intel Core i5-5300U
GPU
Intel HD Graphics 5500 (Broadwell-U GT2)
Intel HD Graphics 5500 (Broadwell-U GT2)
RAM
Transcend TS1GSK64WSH
11-11-11-28 @ 1600 MHz
1x8 GB
Transcend TS1GSK64WSH
11-11-11-28 @ 1600 MHz
1x8 GB
Storage
Transcend TS128GMTS800
(128 GB; M.2 Type 2280 SATA 6 Gb/s; 20nm; MLC)
Transcend TS128GMTS800
(128 GB; M.2 Type 2280 SATA 6 Gb/s; 20nm; MLC)
Wi-Fi
Intel Dual Band Wireless-AC 7260
(2x2 802.11ac - 867 Mbps)
Intel Dual Band Wireless-AC 7260
(2x2 802.11ac - 867 Mbps)
Price (in USD, when built)
$914
$914